"You know it's been an amazing week when you start getting regular texts from Mossy in the Netherlands, Paddy in Mullingar, and Josh in the UK..."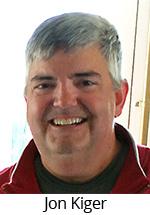 It has taken me a nearly three weeks (and getting over a nasty cold picked up over there) to compile my thoughts on just what our week of work at the Irish Open meant to me. It greatly exceeded my expectations on so many levels.
First -- I have the utmost respect and admiration for Course Manager Gerry Byrne. He and his team had to do so much in advance of our arrival that I can't imagine how the months leading up to the Irish Open stressed and demoralized the regular staff.  Even after we volunteers arrived and the staff swelled to 25 or so there was still so much work to get done in advance of the Wednesday Pro-Am. Gerry brought out the best in us. I personally worked harder that week knowing how hard the in-house staff worked before we got there.
Gerry, Jamie and Philip provided steady leadership for many of us who had to learn our way around the golf course (or in the case of the contract labor learn ABOUT a golf course.) There were few tense moments but then I realized that these crew leaders didn't have that much recent experience organizing a large staff.
Second -- I had always heard about the monotony of certain tasks around the golf course, but that week I gained a real appreciation for how the monotony challenges your motivation. Keeping a staff motivated and having them take ownership of their work must be a constant challenge.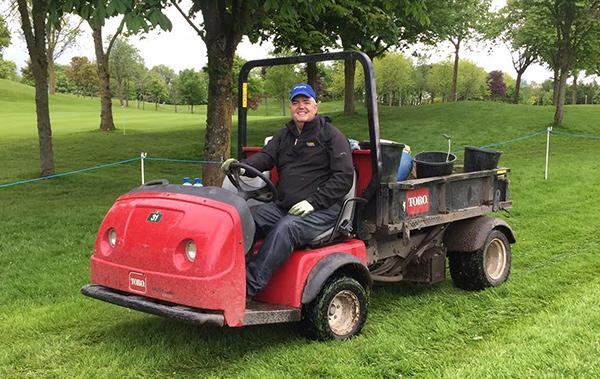 Third -- I learned that this profession really is meant for people who can accept that their performance will be judged by many factors that are out of their control. Weather is the primary factor, but sponsoring organizations, owners and other factors are all part of the challenge.
"These friendships were forged in the bunkers and the canteen but will be nurtured over many years to come..."
Fourth -- Responding to these outside forces and challenges helps people rise to a level of performance that they didn't know was possible. Working under these conditions also brings people together. Teamwork, bonding, friendship, and appreciation are all byproducts of being focused as a group on the tasks at hand.
Fifth -- It was confirmed to me that the golf maintenance industry is made up of some of the nicest and friendliest people one is ever going to meet. I was certainly looking forward to getting to know Team TurfNet/Irish Open a little better during our time together, but came away with so many more new friends from a variety of locales. It's great waking up to a text or instant message from Mossy in The Netherlands or Paddy from Mullingar. These friendships were forged in the bunkers and the canteen but will be nurtured over many years to come. Seeing Josh from The Belfry post photos of his son being born was especially meaningful after having gotten to know him over the course of the week.
Finally, thanks to everyone who played a role in this "Week of a Lifetime". I am indebted to our hosts, my fellow crew members, family and co-workers who carried on my absence, and of course our blog sponsors who supported the project. The only remaining question is, "Where do we go from here?"

Rory McIlroy poses with the greenkeeping staff after winning the Irish Open for the first time.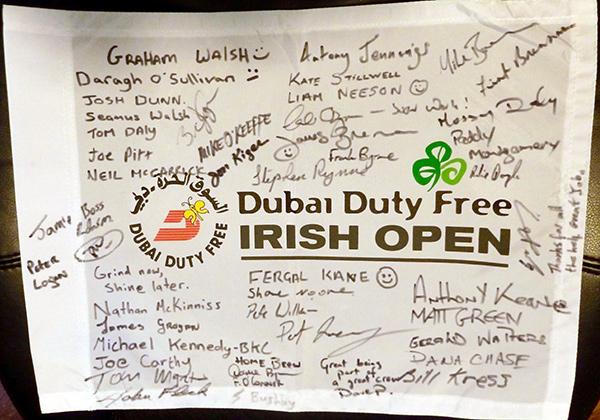 Dubai Duty Free Irish Open flag signed by the 2016 greenkeeping crew at the K Club. Note: Liam Neeson was NOT on the crew (Irish humor)