JON KIGER AUG 21 | If one of the goals for course set up between the Men's and Women's Olympic competitions was parity the organizers succeeded. South Korea's Inbee Park claimed the Gold Medal to end the tournament at 16-under the same score that Great Britain's Justin Rose shot to win Gold on the Men's side. The seven time major champion became the first woman in 116 years to earn Olympic gold.
New Zealand's Lydia Ko finished at 11-under to earn the Silver Medal and China's Shanshan Feng finished at 10-under for the Bronze.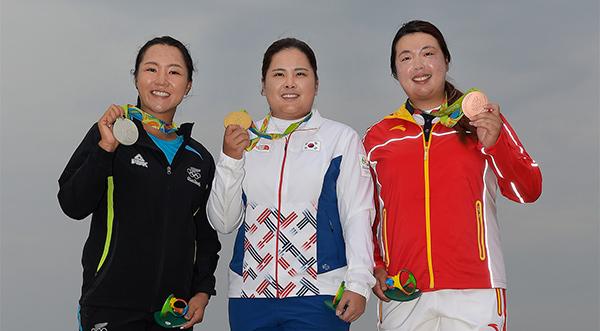 (L-R) New Zealands Lydia Ko - Silver, South Koreas Inbee Park - Gold, and Chinas Shanshan Feng - Bronze
While golf's usual refrain for those who don't win is "wait until next year" Olympic participants and those who stayed home will have a four year wait to have a chance at Olympic glory. And with such a long wait until the next competition it is only fitting that the top three competitors are honored compared to the "winner take all" attention paid to traditional tournament winners.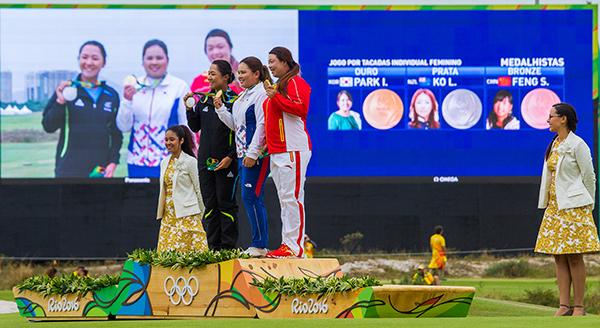 The 120 golfers who participated can forever add "Olympian" to their resume and the 41 countries represented have reason to take great pride in being a part of golf's return to the Olympic stage after 112 years.
If there is another Gold Medal to award it's to Olympic Golf Course superintendent Neil Cleverly, his local crew and the volunteers from around the world. To pull tournament conditions off (TWICE!) under these circumstances was nothing short of remarkable.
Working double shifts for three weeks and enduring travel, lodging, security and other logistical challenges was beginning to take its toll on the volunteer crew by Saturday morning. Several volunteers reported general fatigue. Being a part of history in a special setting and the camaraderie of the rest of the crew carried them through the final hours of preparation.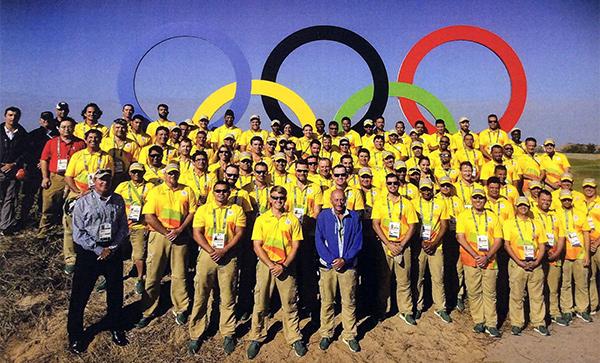 Neil Cleverly (front in blue jacket) with local crew and volunteers for the Olympic Golf competitions. 
One of golf's enduring qualities is its ability to bring people together whether you're joining a threesome at your local muni or meeting colleagues from around the world to do something never before accomplished in the modern era. In Rio in 2016 it definitely accomplished that in abundance.
Welcome Back, Golf. See you in Tokyo in 2020.