People and Places: Different yet Alike
Posted 14 July 2017 · 2,747 views
When I accepted my international internship, my primary focus was to build strong, professional relationships with managers and colleagues within the golf industry during my short time in Ireland. What I didn't realize was the amazing people that I would encounter, professionally and casually, that have not only been incredibly friendly but have gone out of their way to help me.
Being in a new place, especially a foreign country, can be a difficult transition but I've always been very interested in different cultures and learning of the people and their everyday life... both at work and at home. My time so far in Ireland and working my first international tournament, the 2017 Dubai Duty Free Irish Open held at Portstewart Golf Club in Northern Ireland, has provided me many opportunities.
Since I have been here, I have worked with Dave Edmondson, head greenkeeper at The Island Golf Club in Donabate. Through his guidance and patience, he was the first to show me how to maintain a links course.  He has encouraged me to question him; as well as to offer some of my ideas which I gained when working at Hazeltine National Golf Club. I appreciate all of his teachings and, also, understanding the importance of working an international tournament and allowing me the time away from The Island. In fact I was one of two Island Club staffers working at the tournament; Kevin Cavanan is the other.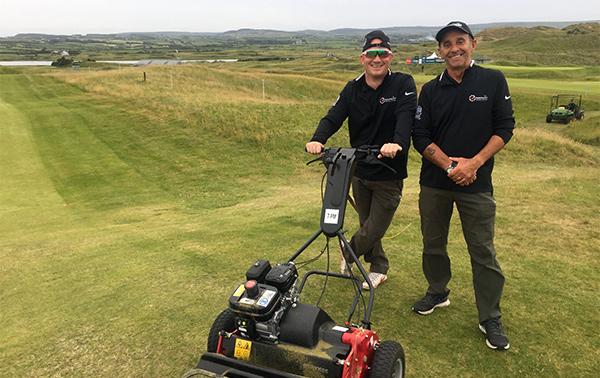 My Island Club compatriot, Kevin Canavan (left) with Billy Johnson of the Portstewart Golf Club staff.
One of the greatest joys about working abroad is that it makes you comfortable talking with strangers. It can be a little intimidating because you never know if they will understand the way you talk or how you do things. Two people that I had the pleasure of meeting over here were actually Americans: David Escobedo, head golf course superintendent at Westbrook Village Golf Club in Arizona and Dana Chase, long time equipment manager at Glen Ellen Country Club in Massachusetts. Along with Jon Kiger they became my bunkmates for a week and it was a blast. Between them the knowledge and experience in the turf industry is remarkable and I am very glad that I was able to pick their brains and get to know them. It was great to find like-minded travelers who are just as gung-ho on the tournament as I was. 
One of the greatest joys about working abroad is that it makes you comfortable talking with strangers...
Despite the long hours and catching up on our sleep we had a chance to have a few excursions away from the course during the week, such as a visit to Royal Portrush Golf Club to see their preparations for hosting The Open Championship in 2019.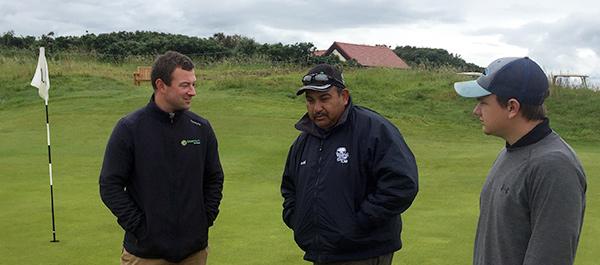 I'm all ears as Graeme Beatt of Royal Portrush Golf Club chats with David Escobedo. Royal Portrush will host The Open in 2019.
Going from one links course to another within the same country (actually, on the same island but two different countries... since The Island is in Ireland and Portstewart is in Northern Ireland) is fascinating. Immediately I noticed the differences such as wild lands and native grasses. Also, the use of sand was different as well. The Island is built mostly on natural sand dunes left as they were while Portstewart has many man-made mounds and undulations. Depending on the location within Ireland, links courses can vary greatly.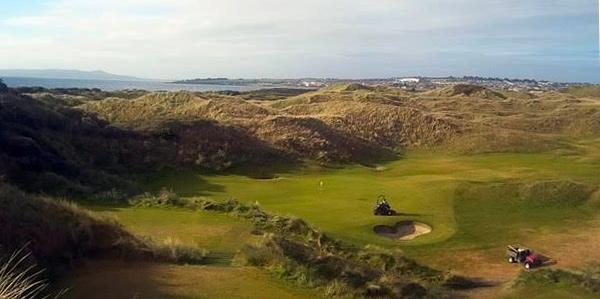 The terrain at the Island Golf Club (above) is mostly natural, while Portstewart Golf Club (below) incorporates man-made mounding... both to great effect.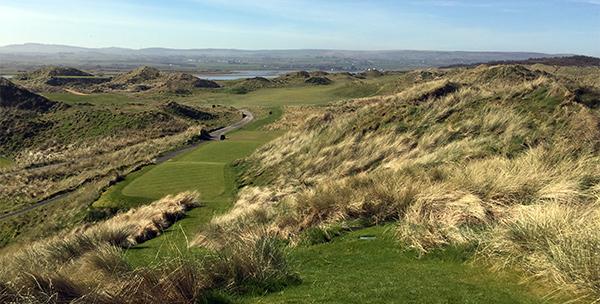 To understand all the natural elements of a course and use them to their full advantage in challenging golfers is the true testament of a head greenkeeper, and Bernard Findlay at Portstewart Golf Club did not disappoint. Through his direction, he guided the Course Team consisting of 60 others and myself with a schedule and expectations that delivered the golf course in its finest form for the Dubai Duty Free Irish Open. I appreciate that Bernard and the crew were accepting of my work and offered guidance to me when it was needed. I was anxious to learn about the terrain of this course and how it is maintained.
As my week progressed at the tournament, Portstewart provided all workers hospitality (food and beverages) and gave the Portstewart crew free tickets to attend to tournament when we weren't working. I have realized that one thing is certain whether I was in the States for the Ryder Cup or in Ireland for the Irish Open, that the great sport of golf brings people from all over the world together and that you can always depend on the kindness of strangers.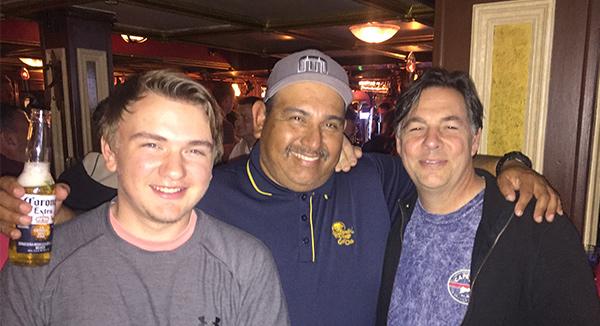 Me with David and Dana on a rare night out in Portstewart.
Working in Ireland has taught me to be more social, adapt quickly to new situations, and to better understand verbal and nonverbal communications. I am more independent, more open, and overall, just a better person. This will help me as I further my career within this industry as I work/volunteer at future tournaments. No matter what, I know that I am very fortunate to have these experiences and grateful to the many teachers along the way.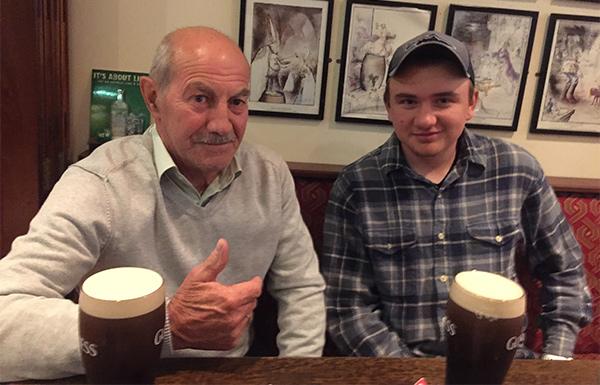 Jon Kiger introduced me to Eddie Donlon, who retired in 2015 after 42 years as head greenkeeper at Rush Golf Club near Dublin. Eddie is a fixture on all TurfNet visits to Ireland, as is Gibney's Pub in Malahide where we were able to enjoy a Guinness or two and talk turf.