Posted 06 December 2012 · 659 views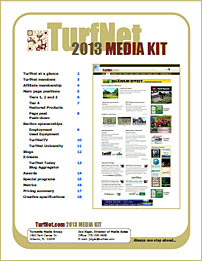 Several changes from previous years have been incorporated with some new opportunities into the  TurfNet 2013 Media Kit.
The Page Peel (top left corner) and Pushdown (full width, under the menu) banners on the main page have been made available separately in the Employment section as well.  Both sections are now available by the week as well as monthly.  High visibility positions, they are great for short-term promotions. See page 8 of the Media Kit.
As part of our site redesign (currently awaiting launch), the TurfNetTV section has been redesigned and restructured to display a matrix of 15 video thumbnails that launch individually in a Lightbox modal window.  TurfNet TV will now be presented by one Tips & Tricks sponsor along with series sponsors for individual series like Hectors Shop, On Course with Kevin Ross and Frank Rossi on Location at GIS.  Banner size has been changed from the previous 160×600 skyscraper to the 300×250 scorecard size used elsewhere throughout the site.
Sponsorship of  our TurfNet University Webinar program has been divided into three presenting sponsors.  Grigg Brothers is staying on as one of the three. so two others are available until sold.  Each sponsor will be sole sponsor of roughly ten Webinar events to be selected at random.
As always, please direct questions to Jon Kiger or Peter McCormick.