(If you're using Internet Explorer and don't see the two words to enter, check the bottom of your browser for a "secure content" box and click the "Show All Content" button.)
About us:
Happily, we are one of those "virtual" companies with a very small staff (4 people, in fact, of whom Eleanor is part time) that thrives on efficiency, productivity and enjoying what we do. We work from offices stretched out over 1200 miles of the east coast, from the Champlain Valley of VT to northwest Ohio to Atlanta GA to the Mother Ship in Orlando FL (1400 miles in the summer, when the Maestro migrates from Vermont to the Canadian Maritimes). Here's a quick take on who we are and what we do:

Peter McCormick
Founder & Maestro
Lives in Cornwall, Vermont and Campobello Island,
NB, Canada
Married to Patty. Two daughters: Colleen and Erin
802-659-0120 | Skype: peter.l.mccormick

Jon Kiger
Director of Media and Membership Sales
Resides in Dunwoody, GA
Married to Elaine. Two sons, David and Jonathan
770-395-9850 | Skype: jon.kiger

John Reitman
News and Editorial Director
Resides in Findlay, OH
Married to Susan. One daughter, Lauren

Eleanor Geddes
Director of Membership Happiness
Native of Scotland, resides near Atlanta
Married to Scott. Two daughters, Catriona and Eilidh
404-461-9602 | Skype: eleanorgeddes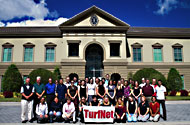 The Mother Ship:
Turnstile Media Group
1500 Park Center Dr.
Orlando, FL 32835