2013 TurfNet Technician of the Year Award, Presented by Toro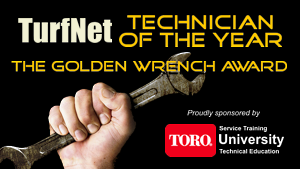 The nomination period for the TurfNet Technician of the Year Award, presented by Toro, is closed.
Thank you to everyone who participated this year.
Three finalists will be chosen from our panel of judges with the winner receiving the Golden Wrench Award and a slot in an upcoming Toro Service Training Academy session at the company's headquarters in Bloomington, Minn.
Previous winners include Jim Kilgallon, The Connecticut Golf Club (2011);Herb Berg, Oakmont (Pa.) Country Club (2010); Doug Johnson, TPC at Las Colinas, Irving, Texas (2009); Jim Stuart, Stone Mountain (Ga.) Golf Club (2007); Fred Peck, Fox Hollow and The Homestead, Lakewood, Colo. (2006); Jesus Olivas, Heritage Highlands at Dove Mountain, Marana, Ariz. (2005); Henry Heinz, Kalamazoo (Mich.) Country Club (2004); Eric Kulaas, Marriott Vinoy Renaissance Resort, St. Petersburg, Fla. (2003). No award was given in 2008.