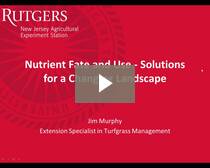 Jim Murphy, Ph.D., Rutgers University: Nutrient Fate and Use: Solutions for a Changing Landscape
Original Event Date: Sep 29 2014

Nitrogen and phosphorus use for modern turfgrass continues to evolve, and their fate should be understood when applied to sand-based or highly modified root zones. Golf course putting greens are managed very differently now than they were even 10-15 years ago, and more intensive management requires correct and efficient nutrient inputs. To complicate this situation, many states are passing laws which limit fertilizer use – potentially leading to unintended consequences.
This webinar will highlight these topics plus help attendees develop guidelines for the most efficient nutrient-management programs, including soil testing, dose, timing, and source of fertilizer applications.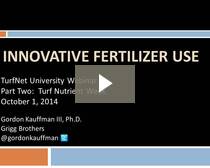 Gordon Kauffman III, Ph.D., Grigg Brothers: Innovative Nutrient Use
Original Event Date: Sep 30 2014

Nutrient management programs represent a key cultural practice necessary to maintain adequate turfgrass vigor. Turf managers must understand fertilizer formulations, dose requirements, and correct application timings for optimum performance. Soil type, irrigation water quality, and turfgrass species must be carefully evaluated when planning the schedule of nutrient inputs.
This webinar will address new information which may change the way we best determine the need for fertilizer inputs and investigate conventional and more currently constructed guidelines for fertilizer use recommendations. This will lead to an overview of the most current research highlighting plant requirements for specific nutrients, and the most cutting edge formulations designed to maximize plant use efficiency. These topics will be wrapped into a summary on an important innovation called nutritional integrated pest management (NIPM).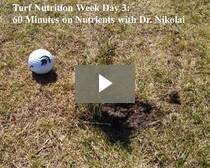 Thom Nikolai, Ph.D.: 60 Minutes on Nutrients with Dr. Thom Nikolai
Original Event Date: Oct 02 2014

Over the years, golf course superintendents have applied numerous nutrients on turfgrass in many different forms and for many different reasons. This Webinar by Thom Nikolai, Ph.D., of Michigan State University will investigate different nutrient carriers and their impact on plant health and playability.
Additionally, this session will revisit some tried and true soil science terminology while considering some of the most current and compelling turfgrass nutrient research.