TurfNet Technician of the Year 2012 winner

Kevin Bauer
Prairie Bluff Public Golf Club, Crest Hill, Illinois

Kevin Bauer knew something was amiss the moment he walked into the clubhouse for a regularly scheduled staff luncheon at Prairie Bluff Public Golf Club and noticed his father, Don Bauer, seated at a table in the middle of the room.

"When I saw him, I knew I had won," Bauer said moments after being named winner of TurfNet's Technician of the Year Award, presented by Toro. "He spilled the beans. He should have come in a little later because he doesn't dress up that much and he doesn't play that much golf anymore."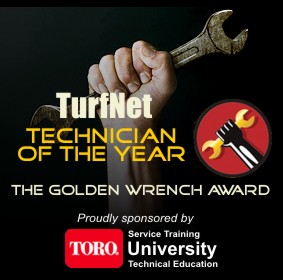 Since 2006, Bauer has been responsible the maintenance of $3 million of equipment at the Lockport Township (Ill.) Park District operation 35 miles southwest of Chicago that includes not just a golf course, but also 40 square miles of parks and athletic fields as well as a park district police department. From rough mowers to weed trimmers and chainsaws to dump trucks to police cruisers, Bauer and his crew that includes Jason Baker, Andrew Park and Ventura Cervantes service them all to the amazement of colleagues, co-workers and supervisors.

The entire operation at Lockport is home to a close-knit group overseen by park district executive director Sue Micklevitz. However, no one in the operation seems to be willing to accept credit for how smoothly its disparate pieces run in unison with each other. Instead, all seem to be willing to point to colleagues and co-workers when dispensing credit for the success of this unique and massive operation.

"When I was hired five years ago, when it was explained to me how golf and parks maintenance were going to work together I said 'oh my gosh, this is not going to work,' " said Jeff Loeschoen, superintendent of park services at Lockport. "I couldn't have been more wrong, because this is a perfect operation that we have. And it's because of Kevin, Andrew, Jason and Vennie that it's like that."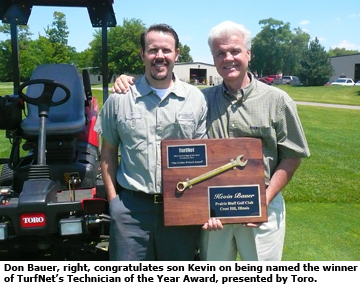 The award is given annually to a golf course equipment manager who displays expertise in one or more of several areas, including crisis management; effective budgeting; environmental awareness; helping to further and promote the careers of colleagues and employees; interpersonal communications; inventory management and cost control; overall condition and dependability of rolling stock; shop safety; and work ethic. The winner is chosen from a panel of judges including: Carl Osterhaus of The Toro Co.; Peter McCormick, Jon Kiger, John Reitman and Randy Wilson of TurfNet; Richard McGuinness of Horry-Georgetown University; and John Piersol of Florida Gateway College.

As the winner, Bauer, who turns 39 on June 14, receives the Golden Wrench Award and a weeklong training session at Toro's Service Training University at the company's headquarters in Bloomington, Minn.

Also named as finalists were David Blowers of East Lake Golf Club in Atlanta and Nick Groetsema of Knickerbocker Country Club in Tenafly, N.J.

Previous winners include Jim Kilgallon, The Connecticut Golf Club (2011); Herb Berg, Oakmont (Pa.) Country Club (2010); Doug Johnson, TPC at Las Colinas, Irving, Texas (2009); Jim Stuart, Stone Mountain (Ga.) Golf Club (2007); Fred Peck, Fox Hollow and The Homestead, Lakewood, Colo. (2006); Jesus Olivas, Heritage Highlands at Dove Mountain, Marana, Ariz. (2005); Henry Heinz, Kalamazoo (Mich.) Country Club (2004); Eric Kulaas, Marriott Vinoy Renaissance Resort, St. Petersburg, Fla. (2003). No award was given in 2008.

Ken Sheppard, who in the past served separate terms as superintendent of the golf course and the park services and has since come out of retirement to help Loeschoen tend a new athletic field facility, commended Bauer and his staff for maintaining the equipment of three departments in near perfect fashion, but also for doing so in a way that makes each department head feel as if his operation is paramount, especially in times of need.

Micklevitz credited a selfless attitude for Bauer's success and skill at juggling the needs of so many in what seems like an almost effortless manner.

"He really embodies professionalism, team spirit and loyalty," Micklevitz said. "He was a fantastic addition to our organization. As a park district we service over 73,400 people. That's a huge amount of people. And it takes everyone working together to make that happen."

A legacy of golf in the family doesn't hurt either.

Bauer's brother, Eric, is director of grounds at The Club at Carlton Woods in The Woodlands, Texas, and a former TurfNet Superintendent of the Year nominee. He was a finalist for the award in 2007, the same year another Chicago-area professional, Sam MacKenzie, CGCS at Olympia Fields Country Club, won the honor.

"He's one of those guys who just truly loves what he does. He's an innovator and resourceful," Eric Bauer said. "What I always liked about him is he also wanted to know the ifs and whys of growing grass. That makes him unique. He's open to understanding the agronomic side of the business to make himself better."

Kevin Bauer heaped praise on his co-workers in fleet maintenance for helping him achieve such success.

"Everyone in the park district should win one of these awards. Because they all take their profession to that extent," Bauer said. "That's why we have such a good team here. I'm just proud to be part of it."

Pride in Bauer's accomplishments also runs deep for his father, who seized upon the opportunity to praise one son, while taking a good-natured jab at another.

"There is a lot of competition between him and his brother," Don Bauer said. "His brother was up for an award for superintendent of the year three times, and hasn't won it once. (Kevin) is up for it once, and he wins it the first time.

"We tease each other a lot. You should see us on the golf course. But I couldn't be more proud of both of them."

Even Tom Okapal, who heads up Prairie Bluff's golf course ranger corps, said in so many words that even if Bauer didn't win an award for his skill in the maintenance shop, he is deserving of one for being such a loyal friend.

"Kevin is the kind of guy who does his job for the park district, but if you go to him on a personal basis with a personal problem, he steps up and he is willing to help all of us," Okapal said. "He never turned us down, never turned his back on us. I think that stands up high for what kind of person he really is."

Said brother, Eric: "He's made me so proud. He gives it 110 percent every day. You never hear him complain or say 'I wish I had this, or I wish I had that.' He just takes every situation and makes it better."