Ken Williams, Stanford University Golf Course

Classic era Stanford University Golf Course was built in 1930 by William Bell and George Thomas atop what superintendent Ken Williams describes as gummy, slow-draining clay soils.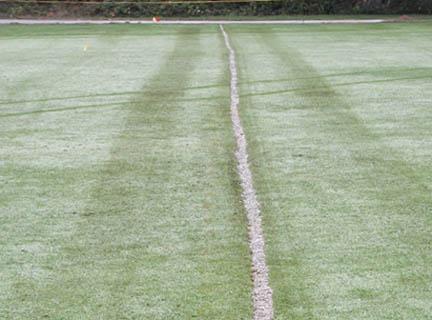 Although Palo Alto, which is located between San Francisco and San Jose, doesn't receive a lot of rain, when it does rain those clay soils can make for a mess thanks to those clay soils. The area receives an average of about 15 inches of rain per year, most of which typically falls throughout the winter months. Last year, 10 inches fell just in the first two weeks of December.
Poor draining soils during mean the potential for sheeting on the surface is very real during those wet winter months. To combat the threat of sheeting water hanging around for extended periods, Williams leaves the gravel above the French drains exposed. It might look odd to golfers playing the course, but the practice expedites the movement of water from the surface and into the drainage system. 
Williams tries to keep the channels to 4 inches or less in width since they are located in play on the golf course, however, the Rules of Golf do allow for relief.