Craig Loving, Lost Creek CC, Austin, TX

With a wingspan of about 3 feet and dagger-like talons, the great horned owl is a critter to be respected.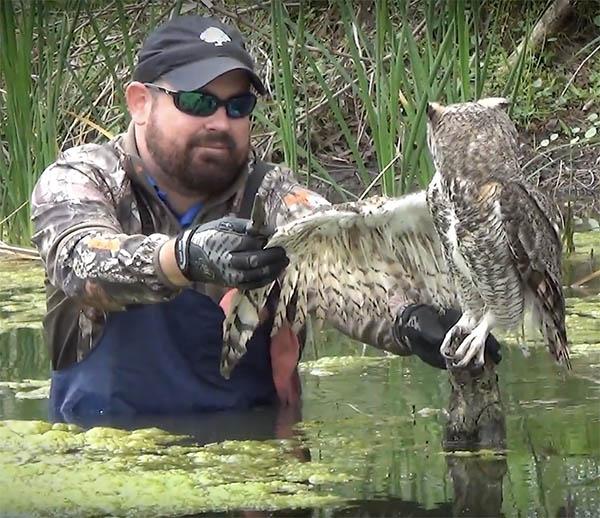 That didn't stop superintendent Craig Loving of Lost Creek Country Club from stepping forward when a great horned owl needed a helping hand after becoming ensnared in some fishing line last month at the course in Austin, Texas.
Fishing line had become wrapped around the owl, preventing it from flying. The problem, besides the fishing line, the beak and the talons, was that the owl was perched in a small tree in a pond. Loving slipped on some waders, grabbed a pair of pliers and went into the water to help the bird.
The owl, unable to escape, sat still for the most part. And although the bird protested a little, Loving said in a
that talking to the animal seemed to help keep it somewhat calm.
"I cut the fishing line. It was still wrapped around it. I unwrapped it a couple times," Loving said.
"He kept slamming his beak down . . . to say 'hey i don't like this,' but i kind of talked to it a little bit."
Once the bird was freed from its nylon captor, Loving coaxed it onto the handle of a shovel and walked it to shore. After resting on the ground under a large tree for a few minutes, the owl flew off, seemingly none the worse for wear.
"It was a little intimidating, especially when the beak started snapping at me, but it was cool, definitely was very cool.
"It was definitely the first time I've ever done that it was a new experience."