TurfNet Advance Team on the ground in Edinburgh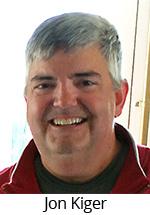 The TurfNet Members' Trip Advance Team (read that as me) is on the ground in Edinburgh making final preparations to greet our group of 20 and welcome them to the Home of Golf on Saturday morning.
Favorable exchange rates this year made this first trip to Scotland economically feasible, at long last. Planning has been in the works for over a year with the help of friends and contacts made through our activities with BIGGA and presentations at BTME over the past few years. Many had offered to help set us up with golf when we visited Scotland.

Where to "pitch our tent" for most of the trip was not a difficult decision: St. Andrews, of course! With that decision behind me, I enlisted the aid of Andy Campbell, a St. Andrews local who had been a golf course superintendent for many years and holds both the CGCS and MG (BIGGAs Master Greenkeeper) certifications.
Like so many entrepreneurs, Andy decided to go out on his own with a small St. Andrews-based golf tour company and later started representing a line of products in this industry.
Andy was a great host to our inaugural TurfNet Members Education Trip to BTME at Harrogate earlier this year. Our group was treated to local experiences that average visitors to the area just don't have access to. 

Andy Campbelll (far left) hosted us at the St. Andrews Golf Club, where he is a member, in January 2017.
We wanted to have a variety of experiences, but also wanted to ensure that we visited at least two different cities and that all golf was played on classic links courses. And of course everyone would like a chance to play The Old Course.
It wasn't until we got fairly well into the planning of the trip that I realized that Andy is very much cut from TurfNet cloth and of our same mindset regarding work ethic and "value travel". Many Skype calls were made at odd hours and over weekends. I was happy to defer to his local knowledge to ensure that our mix of courses, hotels and other activities would be of a high standard and in keeping with the great experience of past TurfNet trips.
When the group arrives Saturday morning, it's off to St. Andrews for five nights and golf at Kingsbarns Golf Links, the Burnside course at Carnoustie Golf Links, St. Andrews New and Jubilee... and we'll try our luck at the Old Course lottery as well.
We look forward to a great week with our UK friends and to experiencing all the golf and history Scotland has to offer. 

Kingsbarns Golf Links