Going Muni? Best Gird Thy Loins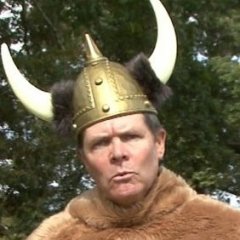 I don't know what "Gird Thy Loins" actually means, but I think I read it in an ancient text, the context being "Don your metal jockstrap, lest ye be kicked in the sensitives".
It takes a hard individual to work Municipal Golf, (MG) but with sufficient preparation, it can be fun.  I suggest:
Gird Thy Loins.  (Steel cup, fire retardant kevlar underwear, etc.)
Seek counsel from someone currently in Muni Golf.
I spent 15 years working MG and it was great, except for the low pay, skeletal budgets and a work environment rife with constant NSB contact.  (Numbskullian Bureaurats)
I began MG life on the crew--rowing in the galley, building pyramids--before ascending to Asst. Supt. and later, to actual GCS.  The agronomics were easy compared to dealing with the Overlords who held positions of great power.  Some Overlords were without any actual "real world" work experience.  They accomplish this through law school, followed by an election and a coronation.
They hate the term "real world" and prefer the phrase "Private Sector".  Be very careful using the PS term, as NSBs are sensitive and don't like to hear how things are done in the PS.  I learned the ways of MG by watching my Dad and adopting his strategy, known in academic circles as the "Colonel Hogan" method. 
There are great MG situations out there and there are some Stalag 13 situations.  To help those considering a career in MG, I have included a few entries from my extensive journals, about life in a world overrun with NSBs:
13 March '73.  Dad has taken over MV, big muni outside Atlanta.  The golf pro thinks he is in command.  There is no budget--the course loses money.  Might be because Golf pro gets 100% of cart, shop, beer revenue.  
Golf Digest ranks MV Top 50.  Golf pro hailed for miracle turnaround.
15 May '73.  Course has 44 acres of hardpan red clay.  Dad converts ancient sweeper into sprig-maker by running it too low in fairways.  He borrows Hydro-mulcher from Roads and Drainage Dept and Hydrosprigs entire course.  Did this by trading free golf to Roads Boss--golf pro reports Dad for illegal deal making.  
May '75.  Golf Digest ranks MV top 50.  Golf pro hailed for miracle turnaround. Movement afoot to name clubhouse for pro.
Jun '77.  Terrible winter, greens are dead, lost 40 acres of fairway.  Commissioners increase maint. budget by 1%.  Clubhouse to undergo extensive renovation.  Dad sprigs greens from 419 fairways.
Aug '76.  I'm the new asst. supt. at Foul Swamp GC, former Federal prison farm.  The builder only cleared fairways, left us to clear woods.  It's not woods, it's triple canopy jungle like Malaysia.  Saw Komodo dragon on #12.  
Sept '76.  Not due to open for a year, but new pro arrives.  "Poofy" sits in temp pro shop trailer watching soaps while we clear jungle.
Oct '76.  After someone complains? Poofy is ordered to help us clear jungle.  I put chipper in area with dense hickory population.  Poofy attempts to feed hickory saplings into chipper and receives worst chipper whipping we ever witnessed.  Unable to take him to clinic because of debilitating laughter spasms.
Nov '76.  Eldo, crew worker forced on us by HR Dept, steals our chainsaws to purchase drugs.  Our fiscal year is 3 years, so we are down to using axes to clear jungle.
Jan '77.  Haven't seen Poofy since Oct.  Eldo now robbing crew every payday.  Can't fire him due to HR regs.
Feb '77.  Eldo carries out mass murder--still can't fire him.  
Mar '77.  Cops carry Eldo off--still can't fire him.
Jun '92.  I have returned to Foul Swamp GC.  In first meeting, Parks Director asks if greens need rebuilding.  I say yes, greens have been dead for ten years.  Director asks Poofy--yep, still here--for his opinion.  Poofy says we should just rebuild one green per year.  Poofy's advice is accepted, because "He's a golf pro, he understands these things."  Someone leaves hickory sapling on Poofy's Mercedes.
Aug '92.  Ordered 50 bunker rakes, none left after last flood.  Purchasing Dept. intervenes to get better price, explains they are more experienced with procurement.
Sept '92.  50 pitchforks arrive.
Oct '92.  Mandatory 40 hours Safety Training.  While at training, crew wrecks my truck.  Safety officials halt training to give me official reprimand for being absent from work site when accident happened.  I refuse to sign reprimand, stating "It wasn't an accident, I did it on purpose, using telepathy."  They drop official reprimand.
May '93.  Ordered 300 gal. fairway spray rig with special flotation tires, as we flood once a month.  Purchasing Dept. intervenes, finds better price on tires.
Ordered 300 gal. fairway spray rig with special flotation tires, as we flood once a month.  Purchasing Dept. intervenes, finds better price on tires.
July '93.  Spray rig arrives.  Tires are 3" wide, solid rubber.
Aug '93.  Ordered fungicide, due to outbreak of Rhizoct.
Aug '94.  Fungicide arrives.
Jun '95.  Irrg. Tech. has missed 249 days over last 3 years.  Can't fire him due to HR regs and his buddies at Headquarters.
Sept '95.  Made secret deal--Irrg. Tech promoted to Senior Plumber at Headquarters.  HAHAHAHAHA!  I'm learning.
Oct '96.  Crew worker refuses to ride bunker rake, charges me with abuse.  Can't fire him due to HR regs.  During aerifying, I tell him to wait in break room until I need him.  By 3rd day, he is watching Price Is Right, boasting about "getting over" when exhausted crew comes in.  Crew tries to kill him.   
Jun '98.  Hot.  Africa Hot. Drought, 100 degrees. County official orders me to stop watering.  I explain stopped watering fairways last year, only watering bent greens.  He says "NO water means NO water."
July '98.  During massive rebuild of course, County Official returns and yells at me for hand watering smoking bent green.  I say I'm not watering.  He screams "Yes you are, I can SEE you!"  I say No I'm not.  He leaves in a rage to get a camera and call my boss.  I don't care.  It won't be his name on the history books for killing 20 bent greens.
Nov '99.  Due to successful rebuild/redesign of course, I am offered chance to design and build a course. I accept.  Next day, I am offered supt. job at a course close to home.  Discover it's a Muni.  I change my phone number.