En route to Bandon once again...
The sun was still low in the sky this morning as we crossed the lakeshore of Chicago on our way to O'Hare, the first leg of the seemingly interminable cross-country journey to Bandon Dunes.  Yes, folks, you have to want to go there.  It's a long way from anywhere. Everywhere.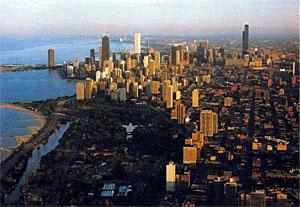 The city of Chicago was just awakening, the amber glow of streetlamps yielding to the sunrise. Most of the near-endless Monopoly board of homes and businesses, schools and ballfields were in shadow, with the treetops bathed in first light.  Ahead to the west, the checkerboard vista was interrupted in places by large swaths of trees. Some probably the Forest Preserve districts for which Chicagoland is known; others no doubt golf courses.
The first golf course we flew over was still deep in shadow, the tees, greens and bunkers  barely discernible. I've flown over golf courses hundreds of times, but this one struck me... not for the detail, but for the enormity and stature of this greenspace relative to its urban surroundings.
Sometimes one has to step back (or, in this case, up) to see things from a different vantage point, to take in the whole rather than the detail.
It struck me how privileged one would be to walk this green oasis, to recreate on it, chasing a little white ball around, so near yet so far away from the urban hubbub around it.  A privilege, not a right... regardless of the monies spent to belong to what I'm guessing is a high-end private club.
Maybe if more golfers considered the walk on their course a privilege they would relax a little more, be a little less demanding, a little more accepting of the vagaries of a natural playground... and a little less apt to run their golf course superintendent out on a rail when their perceived right to bitch and moan overwhelms their common sense.
That's one reason I love these trips to Ireland and Bandon Dunes.  The golf courses are near-sacred, blemishes and all. Everyone realizes the privilege it is to be there, to walk them and enjoy them... without regard for the occasional quirk of nature that so often adds to the character of the experience.
Play on, fellas!
-- Peter McCormick