Curtis Nickerson, University Park CC, Sarasota, FL

Sometimes, it's the little things that make the largest impact.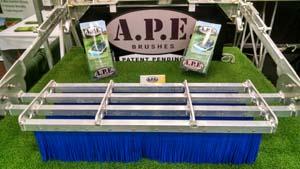 Few if any products on the trade show floor at GIS '15 in San Antonio clicked with Curtis Nickerson of University Park Country Club in Sarasota, Florida quite like the mower brushes from
A.P.E. Brushes
.
With brushes constructed from high-density nylon and aluminum mounting components on a system that attaches to the front of just about any walk mower and eliminates the deterioration of the brush mount.
Four strips of independently mounted, replaceable nylon bristles create the brush head. Greater bristle density combined with spacing between the bristle rows allows for even more effective operation than previous offerings. He learned about the brushes from fellow Florida superintendent Darren Davis, CGCS at Olde Florida Golf Club in Naples.
Nickerson ordered brushes for a couple of mowers at University Park after a recent demo from A.P.E., which is located in Palm City.
"They're pretty slick," Nickerson said. "I've got them on a couple of walkers. He brought them over for a demo. We mowed with our normal set up, and he put one on and we made the exact same green within a foot, just like that."