Anthony Williams, CGCS, Stone Mountain (Georgia) GC

Anthony Williams, CGCS, is one of the most inspiring people we know - in any profession.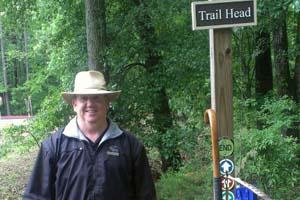 A two-time published author, Williams is a regular presenter at national and regional conferences who talks more about personal and professional development than he does managing Stone Mountain Golf Club?s bentgrass greens in Georgia?s summer heat.
We weren?t surprised when Williams developed a bucket list of 50 experiences he wanted to accomplish to commemorate his 50th birthday in 2014. Nor were we shocked when after he was briefly sidelined by open-heart surgery, that he picked himself up off the deck and busily tried to complete the list.
Never one to quit, Williams finished the 365-day period between his 50th and 51st birthdays having crossed 47 of the 50 items off his bucket list.
"No excuses, it is what it is," he said. "It was a journey in the realm of choice, possibility and opportunity and I have mapped quite a trail in the last 365 days. It has changed my life."
Some of the items on the list were easily accomplished, such as visiting the Alamo . . . during GIS in San Antonio. Others were bit more challenging, such as hitting a hole-in-one (one of the three he failed to accomplish). 
While his golf skills (or lack of them) had more to do with him missing out on what would be his first-ever ace on the golf course, the biggest threat to working through the list started when his wife, Phyllis, suffered a heart attack while the couple was in Hilton Head for a regional turf conference where Williams was a scheduled speaker. Three weeks later, Williams fell ill at the golf course and was transported to a nearby hospital. By that evening, he?d been flown to another hospital in downtown Atlanta and soon was spread open on the operating table.
Another simple bucket list item, sharing the experiences of New Orleans with son Luke took a turn when the pair was approached by a couple of local hoodlums who thought they?d spotted a couple of easy targets. They learned the hard way that both Williams is a sixth degree black belt and Luke a fourth degree.
Always thinking of ways to share his knowledge with others, Williams has plans to blog about his 50 for 50 exploits and his latest book, Noble Habits.
"The 50@50 has changed my life in so many ways. It made me more focused and it made me see the power of choice," he said. "I have become much deeper in my thought processes and much simpler in my actions. The truth is that I am now living yet another chapter of bonus years and I look forward to making the most of them."