Foxoborough (Massachusetts) Country Club

For some NFL fans, the New England Patriots can be a polarizing entity, even without Defategate.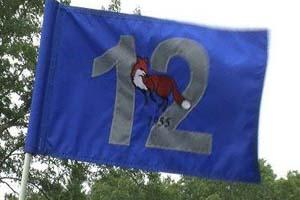 Whether it's envy for the franchise's success under the tandem of coach Bill Belichick and quarterback Tom Brady, or confounding decisions that seemed to grant the Pats favored status, like the Snowpolow Game in 1982, or the Tuck Rule Game in 2002, or other misgivings, such as Spygate or reports of repeated attempts to deceive opponents by including false information in the team's official injury reports, there is plenty of reason not to like the Patriots. But hey, who's counting?
Members at Foxborough Country Club banded together recently to show they support Brady and the Pats, even if few others do, by hoisting a No. 12 flag on every hole on the course. 
The flags originally were intended for a Father's Day event that was canceled due to rain. 
Several current and former players are members at the club. Many other members are season-ticket holders.
The club says it hopes the flags help attract new members.