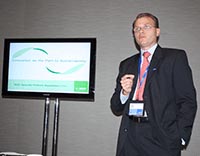 In an effort to better understand and meet the changing needs of its customers, BASF is merging its turf & ornamental and pest control divisions along with professional vegetation management and market business development units into the specialty products department.
 
The consolidation will help streamline the research and development process leading to new innovations, said Jan Buberl, director of specialty products.
 
In the short term, BASF customers probably wont notice any changes in their day-to-day interactions with the company, but that should change over time, Buberl said.
 
"They should see a difference in more innovation to the marketplace," Buberl said.
 
"Having these businesses come together as one strengthens BASF and its commitment to the specialty markets, and the acquisition of Becker Underwood underscores a continued commitment and investment to grow," Nevin McDougall, senior vice president of the companys North American crop protection segment said in a news release. "The new SPD unit will be built to last for the long term, while meeting the needs of customers in these markets."
 
New innovations will become more significant as some major chemistries near the end of patent protection during the next few years, as well as a natural coming together as well as overlap of efforts between business segments.
 
"The question we faced is how can we make sure we are ahead of the curve," Buberl said
 
"We want to put everything together as one team, one organization. We identified key trends. Innovation is a critical piece. It wasnt in the past, but it will be in the future."
 
Economic considerations were a factor as well.
 
While some indicators point toward some level of economic recovery, "the reality is that the marketplace will never be the same as it was prior to the U.S. economical crisis," Buberl said.
 
The change will mean relocating the companys pest control division from St. Louis to Research Triangle Park, N.C. That move involves relocation of 25-30 employees. Dan Carrothers, formerly business manager of the pest control division, and Brian Lish, formerly business manager of T&O, have been named the new divisions marketing manager and strategic account manager, respectively.
 
Buberl said the move is an investment in the future both for BASF and its customers. While the consolidation eventually should lead to a reduction in the cost of operations, any savings will be pumped back into the system to support new product development, he said.
 
"We will reinvest in research and development," Buberl said. "These are not savings to be put to the bottom line."
 
The newly restructured specialty products department will be in place by March 31.