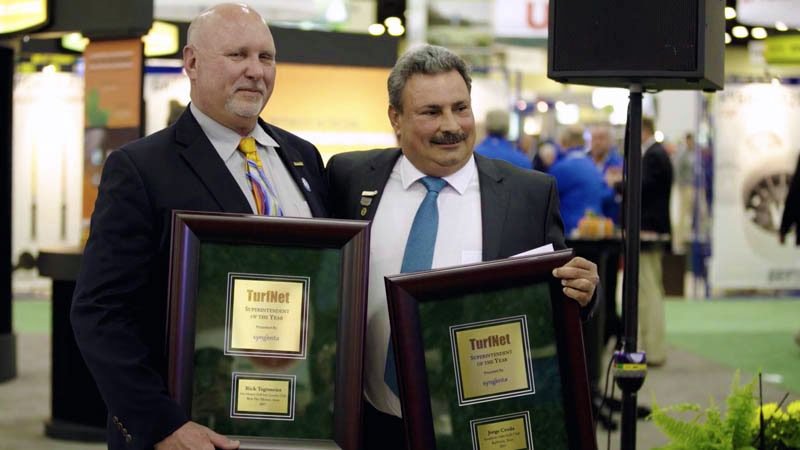 The ink is barely dry on Jorge Croda and Rick Tegtmeier's TurfNet Superintendent of the Year plaques, nonetheless it's time to start thinking about their successors. And with so many superintendents across the country experiencing a difficult summer this year, the list of potential suitors for the 2018 TurfNet Superintendent of the Year award presented by Syngenta should be a long one.
Today's golf course superintendent must wear many hats to provide the best possible playing conditions for the club's golf clientele with the resources at hand. 
 
To do that, he (or she) must be a self-disciplined, multi-tasking agronomist in charge of managing the clubs most valuable asset; a multi-lingual personnel manager; babysitter; therapist; accountant; electrician; politician; hydraulics expert; ditch digger; plumber; arborist; environmentalist; integrated pest management specialist; turfgrass pathologist; entomologist; irrigation expert; and mechanic. One only need look to the abundant seminars and educational programs for superintendents that focus on topics besides agronomy for proof of the evolving role of the golf course superintendent.
  
Since 2000, the Superintendent of the Year award has recognized dozens of nominees for their work in producing great playing conditions often during times of adversity. If this sounds like your golf course superintendent, or someone you know, nominate him (or her) for the 2018 TurfNet Superintendent of the Year Award.
 
Nominations can be submitted by golf course owners, operators, general managers, club members, golf professionals, vendors, distributors or colleagues, even by mothers and wives. The nomination deadline is Nov. 30.
 
The winner, who is selected by a panel of judges from throughout the golf industry, will be named at next year's Golf Industry Show in San Diego, and will receive trip for two on the 2019 TurfNet members golf trip, courtesy of Syngenta.
 
Nominees are judged on their ability to excel at one or more of the following criteria: labor management, maximizing budget limitations, educating and advancing the careers of colleagues and assistants, negotiating with government agencies, preparing for tournaments under unusual circumstances, service to golf clientele, upgrading or renovating the course and dealing with extreme or emergency conditions. 
 
To nominate a deserving superintendent for this year's award, visit the 2018 Superintendent of the Year Award nomination page. For more information, email John Reitman.
 
Previous winners of the award include Jorge Croda, Southern Oaks Golf Club, Burleson, Texas, and Rick Tegtmeier, Des Moines Golf & Country Club, West Des Moines, Iowa; Dick Gray, PGA Golf Club, Port St. Lucie, Florida, 2016; Matt Gourlay, Colbert Hills, Manhattan, Kansas, 2015; Fred Gehrisch, Highlands Country Club, 2014, Highlands, North Carolina; Chad Mark, Kirtland Country Club, Willoughby, Ohio, 2013; Dan Meersman, Philadelphia Cricket Club, Philadelphia, 2012; Paul Carter, The Bear Trace at Harrison Bay, Harrison, Tennessee, 2011; Thomas Bastis, California Golf Club of San Francisco, South San Francisco, California, 2010; Anthony Williams, Stone Mountain Golf Club, Stone Mountain, Georgia, 2009, Sam MacKenzie, Olympia Fields Country Club, Olympia Fields, Illinois, 2008; John Zimmers, Oakmont Country Club, Oakmont, Pennsylvania, 2007; Scott Ramsay, Golf Course at Yale, New Haven, Connecticut, 2006; Mark Burchfield, Victoria Club, Riverside, California, 2005; Stuart Leventhal, Interlachen Country Club, Winter Park, Florida, 2004; Paul Voykin, Briarwood Country Club, Deerfield, Illinois, 2003; Jeff Burgess, Seven Lakes Country Club, LaSalle, Ontario, 2002; Kip Tyler, Salem Country Club, Peabody, Massachusetts, 2001; and Kent McCutcheon, Las Vegas Paiute Resort, Las Vegas, 2000.