Longwood Golf Club is proof that every cloud has a silver lining. Literally.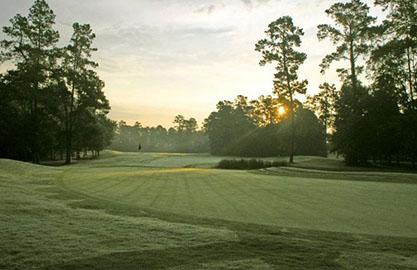 Hurricane Harvey made landfall Aug. 25 near Corpus Christi, Texas, as a Category 4 storm packing winds of 130 mph, ripping up lives and property for hundreds of miles over several days. As the storm slowly slogged its way through Texas, it dumped as much as 40-60 inches of rain across the Houston area 200 miles to the northeast of Corpus Christi.
The storm left much of the state devastated, including 27-hole Longwood in the Houston suburb of Cypress. Longwood already serves as an ad-hoc floodplain for the homes that surround it, so when Harvey dumped rain measured in feet rather than inches, it wasn't long before the creek that runs through the property became a raging torrent that overwhelmed everything in its path.
Harvey left Longwood flooded and covered in silt, and the clubhouse flooded up to nearly 3 feet. But eight days after the storm made landfall, the team there cobbled together 18 holes from the 27-hole layout so the club's members, most of whom also also were affected by the storm, could escape the horrors of the tragedy, even if only for a short time.
While repairs were being made to the clubhouse, the course was opened for member-only play on weekends the first two weeks after the storm. After a morning shotgun each day the course was closed and remained closed throughout the week so that personnel could shift their focus back to the badly damaged clubhouse."
"We were not fully operational, and we couldn't open to the public. We let members know whoever wanted to play in a shotgun on Saturday and Sunday mornings could just show up and register when they got here," said Longwood general manager Tim Sulak. "We had 40 to 70 people every day."
The makeshift 18-hole layout zig-zagged across Longwood's Palm, Pine and Post Oak courses, crossing from one layout to another six times. And although there never was much of a walk from one green to the next tee complex, Longwood's staff went the extra mile to ensure golfers knew where they were going.
"It was a seamless layout, but we did rope off cart paths so golfers knew where to go, and we created some signs on the golf course," Sulak said. "We also had maps and printouts at the counter for golfers.
"We were able to put something together to service our members and service our club, even though we were not fully operational. Really, we should have been closed for at least a month."
As a virtual floodplain for the homes that surround it, Longwood Golf Club often takes on vast volumes of water. The property now has flooded four times in the two years Martin Delgadillo has been superintendent there, but nothing like what happened when Hurricane Harvey crashed ashore.
"That was the fourth flood here in 17 months. The whole golf course was under water," Sulak said. "We're a giant retention pond for the subdivision here, and a creek bisects the golf course."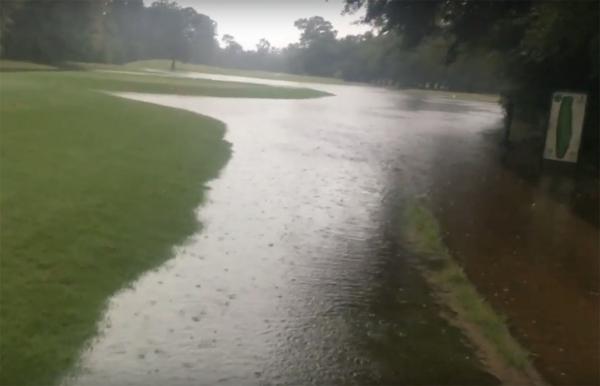 Last year, Delgadillo raised the irrigation satellites to protect them from floodwaters. After spending part of his career managing golf courses in Mexico, the native of Pasadena, Calif., has learned that preparing for disasters like Harvey can be the difference in opening up for play in less than two weeks, or losing an irrigation system entirely and eventually suffering through dead turf.
"You don't always have everything you need in Mexico," he said. "You can't call people for help and expect them to be there the next day. You have to learn how to do things yourself."
As luck would have it, work was nearly complete on a bunker renovation project when Harvey came through and wiped out just about everything that had been completed by Diamond Golf International. The good news was that company out of Murrieta, California, still had its equipment at Longwood, and they were only too happy to help Longwood's recovery.
"They helped us get the silt off the greens and get the course back in order," Sulak said. "If not for them, we would not be in the position we are today.
"I think the members appreciate it. They were happy to get back out onto the golf course."