more webinars »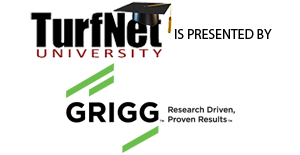 Hahn Spray Bug

posted Sep 25 2016 by Chris Flynn

"Was just wondering if anyone has any experience with using the Hahn Spray Bug and cost? Looking to make the switch from using a traditional sprayer to Hand Spraying due to the tight bunkering surro..."

Push Spreader for Top dressing Sand

posted Sep 25 2016 by Scott Fortier

"Does anyone use a specific push spreader for doing spot treatments of top dressing? I'll occasionally get a thin spots on the greens in areas where I don't won't algae to form this time of year. If..."

Core Hog

posted Sep 23 2016 by Jon Shreve

"Hi,   I was wondering if anyone has used the Par Aide Core Hog for plug cleanup. With a small and older crew I'm looking for ways to speed up the process.   Thanks,   Jon Shreve "
Kevin Ross on Location at Hazeltine: Day One Walk-Around
Hector's Shop: Repairing a Rewind Starter
Kevin Ross: Speed Up Course Setup with a Myer Stick
Latest from the blogs...

KEVIN ROSS ON LOCATION AT THE RYDER CUP
Sunday walk-around... before the real mania starts


"On Location isn't as easy as it sounds! The wind was blowing so bad at times on Sunday that my tripod could barely stay upright, and even my best microphone equipped with a windscreen sounded like a jet engine. I'm not even going to mention the internet in the hotel...."

Read more →

RANDY WILSON:
Here at the 'Rock
I Was Almost Killed For Not... Listening


"When I was young, I suffered from the delusion of indestructibility, triggered by hormones and too many Roy Rogers movies.  While Roy offered good advice, all I seemed to absorb involved fist fights and six-guns.Years later, I was offered the most valuable bit of wis..."

Read more →

FRANK ROSSI:
Frankly Speaking

THE TURFNET
RENOVATION REPORT


DAVE WILBER:
The Turfgrass Zealot


MATT LEVERICH:
Career & Tech Interchange
Export your career documents to PDF...


" I have covered this topic very briefly before in a larger article about cover letters, but it's worthwhile to include this as its own feature in our goal of providing excellent and easy to read career materials.  Portable Document Format (PDF) preserves document for..."

Read more →


THE PIN SHEET
regional updates


JOE FEARN:
Third Way Green
Don't Call It Sustainability (the "S" word)


"I don't know if it is me, or if there really is a hesitancy by people to adopt sustainable landscaping practices. It could be me, because I preach sustainability, and honestly my message can be fire and brimstone at times. But I also won..."

Read more →


PAUL MacCORMACK:
The Mindful Superintendent
LIVE from the Ryder Cup: It won't be long now!


"  Looking forward to things is half the pleasure of them... Lucy Maud Montgomery   This post will be the first in a "once on a lifetime event" series. The Mindful Superintendent is on the road this week in Chaska, Minnesota, volunteering with the..."

Read more →


SYNGENTA WELCOMES BACK GOLF!
THE LADDER TurfNetRADIO podcast series

Welcome New Members!
jim friend

Shepard Hills, Waverly, NY

Justin Wheeler

Banyan Tree Golf Course, Kadena Air Base, Okinawa, Japan

Tracy Haines

Running Deer Golf Club, Pittsgrove, New Jersey

Robert Stringer

Austin Country Club, Austin, TX

Victoria Angulo-sanchez

ClubLink US, Pompano Beach, FL

Mike McAleavey

Garden City Golf Club, New York

Chad Montgomery

Naples Heritage, Naples, Fl
THANK YOU TO OUR PROGRAM SPONSORS:
— PROGRAM SPONSORS —
— PROGRAM SPONSORS —
— PROGRAM SPONSORS —
QUOTABLE:
"Advice is what we ask for when we already know the answer but wish we didn't."


— Erica Jong
TurfNet.com