more webinars »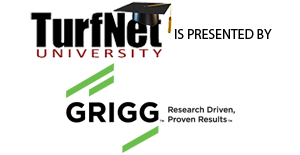 Pinpoint

posted Yesterday, 11:52 AM by Dave Schlagetter

"Anyone use pinpoint for dollar spot control yet?   Thoughts?   We sprayed tees and fairways yesterday.  13.5oz/A   Haven't seen much dollar spot yet but the long weekend coming..."

Rainbird GSP

posted Jun 26 2017 by Bill Brooks

"Recently just purchased the GSP plan through Rainbird?  Just looking for some feedback out there for those who have it.  Our system was put in 17 years ago so even though the plan has som..."

workman 3200

posted Jun 26 2017 by Jeff Moore

"i was just wondering if any of you guys have had to reset the front steering for these 3200s...and how you went about doing it?  i have read in the manual that the main steering cylinder ram h..."

Hickory, North Carolina
$18,500.00

Johnston, Iowa
$5,700.00

Johnston, Iowa
$3,000.00
Hector's Shop: Parasitic Drain Test
Kevin Ross: On Course with Joel Kachmarek
Ski rack makes great hose-pulling bracket
Latest from the blogs...
Welcome New Members!
Pat Finlen

The Olympic Club, San Francisco

Michael Schweizer

Thunder Bay Golf, Hillman, Michigan

George Kervern

St. Andrews Country Club, Boca Raton, Florida

Timothy Benedict

North Hills Country Club, Manhasset, NY, USA

Tim Kortanek

Herons Glen Golf and Country Club, Fort Myers, FL

William Kamerer

Grassmere Country Club, Enfield, CT

Vince Ferrante

Pebble Beach Company, Pebble Beach, CA
THANK YOU TO OUR PROGRAM SPONSORS:
— PROGRAM SPONSORS —
— PROGRAM SPONSORS —
— PROGRAM SPONSORS —
QUOTABLE:
"Our sages recommended that a father should spend less than his means on food, up to his means on dress, and beyond his means for his wife and children..."


— Maimonides
TurfNet.com