Ken Rost, Frost Inc.: Just How Smart are Smart Sprayers?

May 09 2017

Just as phones have become smart, so too have sprayers in the turf industry. In this TurfNet University Webinar, Ken Rost of Frost Inc. will discuss the features that constitute smart sprayers and how these technologies are revolutionizing the task of spraying. This presentation also will detail...
more webinars »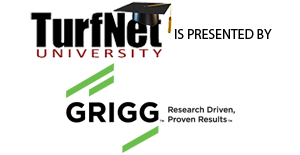 Rotating rear roller brush

posted Apr 26 2017 by Scott Fortier

"Will these eliminate my clippings mess on my tees and approaches? We don't use buckets, but we do have to blow the clumps most days unless clippings are light and dry. I'm using a Toro 3150. The re..."

Repacking Wheel Bearings in TyCrop Fairway Topdresser

posted Apr 26 2017 by Scott Axon, CGCS

"Anyone out there in Turfnet land ever done this?  Any suggestions or tricks would be helpful! "

2006 Toro 3200 Tuff Torq trans axle

posted Apr 25 2017 by Castle Jeremy

"I have a couple gears in the trans axle that need replacing.  The toro part number is 105-7983.  They want a lot of money for those parts.  I am going to take it to a couple transmis..."

Olmsted Twp, Ohio
$30,000.00
Akron, New York
$1,900.00 Naples, Florida
$500.00
Hector's Shop: Don't Blow Your Fuse
Kevin Ross: Ross & Rossi, Ranting!
Kevin Ross: "No spill, no mess" bulk liquid product delivery
Latest from the blogs...
Welcome New Members!
Derrick Wells

Colonial Country Club, Fort Myers, FL, 33913

Allen Buttner

Gypsum Creek Golf Course, Gypsum, CO

Peter Wilkes

Skyline G C, Black River Falls WI

Kevin Breuer

Springdale Golf Club, Princeton, NJ

Jeff Strother

The Gasparilla Inn & Club, Boca Grande, FL

David Delsandro

Oakmont,

Matthew Picurro

Aldarra Golf Club, Sammamish, WA
THANK YOU TO OUR PROGRAM SPONSORS:
— PROGRAM SPONSORS —
— PROGRAM SPONSORS —
— PROGRAM SPONSORS —
QUOTABLE:
"Why not go out on a limb? That's where the fruit is."


— Will Rogers
TurfNet.com