more webinars »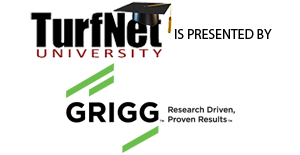 Toro 3555D Feedback

posted Aug 26 2016 by Clint Smith

"I'm looking to get feedback on the Toro 3555D lightweight fairway mower   We are currently using the Tried tested and true Jac LF3400 platform, LF550, LF510   With looking at the 3555D it..."

Golfboards

posted Aug 26 2016 by Jon Balch

"Have any of you purchased or leased the new golfboards?  Our course purchased four of these units and I am just curious on some feedback.   Thanks,   Jon "

Penneagle Greens Help Please

posted Aug 25 2016 by Chuck Barber

"I am hoping anyone in TurfNet world has Penneagle greens like I do.  I have Penneagle where I don't have Poa annua anyway.  I have had a rough go of it this summer with scalping, puffines..."
Hector's Shop: Locking Grease Coupler
Hector's Shop: Bondic Liquid Plastic Welder
University of Kentucky 2016 Field Day
Latest from the blogs...

SYNGENTA WELCOMES BACK GOLF!

RANDY WILSON:
Here at the 'Rock

FRANK ROSSI:
Frankly Speaking
Dr. Roch Gaussoin: Soil organic matter, percentages (?), topdressing, coring/not coring...


"In this episode of Frankly Speaking, I chat with one of my old pals, Dr. Roch Gaussoin of the University of Nebraska-Lincoln.  Roch did some fascinating research on managing soil organic matter, and the value of sand topdressing, coring/not-coring, spiking, solid-tining, slici..."

Read more →

THE TURFNET
RENOVATION REPORT


DAVE WILBER:
The Turfgrass Zealot
Take "The Dark Side" and Shove It

"A recent industry magazine (it doesn't matter who), is talking about sales with the moniker of "The Dark Side". I hate this shitty phrase. And I'm gonna let my anger turn to words here. Ok..it's a rant. I often give good rant. Or so I'm told. So h..."

Read more →


MATT LEVERICH:
Career & Tech Interchange
Rethinking the Superintendent Search


"Guest post by Greg Wojick, Playbooks for Golf -- I recently visited the CMAA (Club Managers Association of America) website. One of the first things I noticed was that more than two dozen executive search firms were listed..."

Read more →

THE LADDER TurfNetRADIO podcast series


JOE FEARN:
Third Way Green
What's Griping Me?


"That's it. For this blog I am not going to take the high road. I am not going to say to myself "put yourself in their shoes". I am not going to look to understand the other perspective. I am not going to be a good soldier. This is going..."

Read more →


PAUL MacCORMACK:
The Mindful Superintendent
For a limited time only...


"This post may sound like a bit of a rant. Okay, it's a flat out rant a Wilberesque "if it did not happen in a research trial, it did not happen"-style rant, if you will.  My kids were asked by someone the other day if they were ready for school. I..."

Read more →

JORGE CRODA:
On Tour in Italy and Spain
Trip highlight: Real Club Valderrama


" Valderrama Golf Club is the most prestigious golf course in Europe. Located in the resort of Sotogrande in the Andalusia region of southern Spain, Valderrama is a members-only club that has hosted several notable tournaments through the years.  Some of the..."

Read more →

THE PIN SHEET
regional updates
Audiocast: Willie Pennington, industry icon


"In this audiocast episode of the BASF Pin Sheet, Jon Kiger chats with long-time BASF Southeast Sales Representative -- and industry icon -- Willie Pennington. Jon and Willie cover a broad range of subjects, from Mother Nature t..."

Read more →


NATE McKINNISS:
Interning in Ireland
"Not where you go, but who picks you up..."


""It's not where you go, but who picks you up." I remember Dr. Danneberger saying this about his traveling stories. Personally experiencing this on my own excursions and adventures this summer, I couldn't agree more. My sid..."

Read more →


JEFF LENIHAN:
Interning at Arsenal FC
Hale End Youth Academy - London Trip Part 3


" Part of being a great sports organization is being able to develop young talent into the stars of tomorrow. This often means investing time and money into a facet of the club that doesn't get a lot of the attention. Think..."

Read more →
PRESENTED BY

Welcome New Members!
James Reese

The Club at 12 Oaks/Century Golf Partners, Holly Springs, NC

Chris Osborne

Bardstown Country Club, Bardstown, KY

Chad Berry

Golden Hills Golf & Country Club, Lexington, SC

Dian Berry

Golden Hills Golf & Country Club, Lexington, SC

George Olson

Trimalawn Equipment, USA

Tom Floberg

Abbey Course, St Leo, FL

Martin Galvin

GC Herzogswalde, Germany
THANK YOU TO OUR PROGRAM SPONSORS:
— PROGRAM SPONSORS —
— PROGRAM SPONSORS —
— PROGRAM SPONSORS —
QUOTABLE:
"To handle yourself, use your head; to handle others, use your heart."


— Donald Laird
TurfNet.com