more webinars »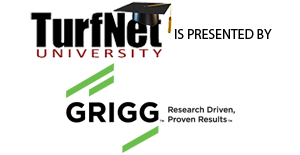 Wifi Hot Spot or range extender

posted Oct 21 2016 by Chuck Barber

"Our assistant superintendent installed a weather station right next to our shop that our members can view on wunderground.com:   https://www.wundergr...d?ID=KILSTCHA14   I REALLY like it..."

Pre-emergent on annuals

posted Oct 17 2016 by Jim Schmid

"Is anyone using pre-emergent herbicides on annual flowers with good success?  Someone had suggested trying out snapshot on annuals.  Thanks in advance for any responses "

Aeration Methods

posted Oct 16 2016 by Michael MacGillivray

"Looking for thoughts and experiences on fairway compaction relief.  We've got heavy clay soils and some fairways with fairly abrupt undulations, historically our Procore 880 has caused us some..."
UF Turf School I: Evidence-Based Turf Management
Hector's Shop: The Spark in Your Plug
Chris Tritabaugh: Stay humble and have fun
Latest from the blogs...

KEVIN ROSS ON LOCATION AT THE RYDER CUP

RANDY WILSON:
Here at the 'Rock
Steve Ventola and The Course at Sewanee


"Tucked away on a rugged mountain in Tennessee is a very special golf course.  Like many courses from the early days of golf in America, The Course at Sewanee looks and feels like it could have been a setting in a golf fairy tale.   Renovated by Gil Hanse in 2013, Sew..."

Read more →

FRANK ROSSI:
Frankly Speaking

THE TURFNET
RENOVATION REPORT


DAVE WILBER:
The Turfgrass Zealot
Let's Talk About Karma

"About this time of year, every year, I get some similar communications. They may be different in content, but the context is simple. Sometime, during the course of the season, someone did someone wrong. Be it a GM throwing a super under the bus, a..."

Read more →


MATT LEVERICH:
Career & Tech Interchange
Tech tip: Image headers in Word for a professional look


"I would estimate that close to 100% of superintendents have and use Microsoft Word for creating various documents for use around your clubs, and personally as well. While there are limitations to the software, one thing that works great is how it handles headers. The..."

Read more →


THE PIN SHEET
regional updates


JOE FEARN:
Third Way Green
Establishing Objectives


"One of the most common concepts that contributes to a team's success is to have clear objectives. Clear objectives provide direction and framework for how to proceed in your work. These objectives can be precise, such as increasing the t..."

Read more →


PAUL MacCORMACK:
The Mindful Superintendent
The Real Deal...


"The Ryder Cup was many things to many people, but for me it was the opportunity to see something up close that I have thought about a great deal. This blog has touched on many things and has hopefully created a balanced framework for many of us to..."

Read more →


SYNGENTA WELCOMES BACK GOLF!
THE LADDER TurfNetRADIO podcast series

Welcome New Members!
Dale Robinson

Spanish Oaks Golf Course, Spanish Fork, UT

Stephen Wickstrom

Burning Tree Country Club, Greenwich CT

Matt Eggerman

Ballpark of the Palm Beaches, West Palm Beach, Florida

Greg Hinton

Odessa Country Club, Odessa, TX

Joanna Sinacori

Service Plus Pest Control, Boca Raton, FL. USA

Greg Wadden

Nicowynd Golf Club, Surrey, British Columbia

Garrett Schultz

Prairie West Golf Club, Mandan, ND
THANK YOU TO OUR PROGRAM SPONSORS:
— PROGRAM SPONSORS —
— PROGRAM SPONSORS —
— PROGRAM SPONSORS —
QUOTABLE:
"Happiness makes up in height for what it lacks in length..."


— Robert Frost
TurfNet.com