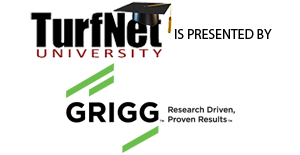 How worried should I be

posted Yesterday, 02:15 PM by David Smith

"Applied 3 pounds of ai / acre with Ronstar G around bentgrass greens.  Was supposed to get a nice steady drizzle of 1/4-1/2" of rain soon after.  Got closer to 2" and still coming down...."

Low profile tee signs

posted Mar 19 2018 by Adam Engle

"Hey fellas,   I have a few questions in my quest to find a less chunky looking tee signage setup.   1.) Any ideas or pics you seen that is less obtrusive? 2.) We like the idea of a small..."

Australian Style Bunker Maintenance

posted Mar 15 2018 by Andrew Mattison

"I was curious if anyone out there has experimented with the Australian style of bunker maintenance?  Most importantly did it save you any time when it comes to labor?  I have a reduced la..."
Akron, New York
$1,500.00
Akron, New York
$395.00
Rochester, New York
$3,300.00
Hector's Shop: Tire Repair w/Combo Patch
Kevin Ross: At GIS with Kasey Kauff
2017 Superintendent of the Year Award Presentation
Latest from the blogs...
Welcome New Members!
John Thompson

Sycamore Hills Golf Club, Fort Wayne, Indiana

Jerry Langreder

River Ranch, McCall, ID

Cliff Moore

Mountain Ridge CC, West Caldwell, NJ

Ryan Hall

The Pointe Golf Club, Powells Point, NC

Jeffrey Burgoyne

Legends Golf and Country Club, Fort Myers, Florida USA

Chase Walden

Old Oakland Golf Club, Indianapolis, IN

Jim Kilburn

southington country club, Southington, CT
THANK YOU TO OUR PROGRAM SPONSORS:
— PROGRAM SPONSORS —
— PROGRAM SPONSORS —
— PROGRAM SPONSORS —
QUOTABLE:
"Experience is what allows us to repeat our mistakes, only with more finesse!"


— Derwood Fincher
TurfNet