more webinars »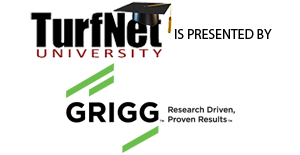 Unique Tee Markers with a Story

posted Today, 09:49 AM by Kevin Ross, CGCS

"I have visited with a few courses this year that have some very unique tee makers that have a story behind them for the club. I've started compiling photos and writing the details of these unique t..."

Jacobsen Fairway Mowers

posted Today, 08:44 AM by Greg O'Heron

"Ok so I'm not alone? I bought a Jacobsen fairway mower last year the reels seem to be made of pop cans breaking at ends.... any one else? "

Burst synthetic acid

posted Jul 17 2017 by Justin Woodland

"Has anyone sprayed fairways/greens with Burst? I see on the label it says DO NOT SPRAY but I'm not sure if that's just a CYA issue. Please let me know rates and success/failure. I've heard 10oz/acr..."

Basking Ridge, New Jersey
$2,900.00

Sioux Falls, South Dakota
$9,900.00

Akron, New York
$2,200.00
Hector's Shop: Repairing a Clutch Cable End
TurfNet Technician of the Year: Tony Nunes
Kevin Ross: Doggin' it at the GoPro Mountain Games
Latest from the blogs...
Welcome New Members!
Matt Madsen

The Woodlands and Diamond Ridge Golf Courses, Windsor Mill, MD

Darin Ford

Agrivision Equipment, Macedonia Iowa

Gerald Thompson

Pickering Valley Golf Club, Phoenixville, PA

Lukus Harvey

Atlanta Athletic Club, Johns Creek, GA

Pat Finlen

The Olympic Club, San Francisco

Bayne Caillavet

Trilogy at Ocala Preserve, Ocala, FL

Michael Schweizer

Thunder Bay Golf, Hillman, Michigan
THANK YOU TO OUR PROGRAM SPONSORS:
— PROGRAM SPONSORS —
— PROGRAM SPONSORS —
— PROGRAM SPONSORS —
QUOTABLE:
"You can observe a lot just by watching."


— Yogi Berra
TurfNet.com