more webinars »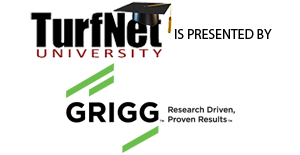 Procore Quad minis vs Needle

posted Yesterday, 06:48 PM by Scott Fortier

"I'd like to get a different set of tine blocks for my procore 660. It looks like either the quad mini blocks with 8 tines each and the needle tine heads with 6 tines each will both work. Can anyone..."

Bunker rake placement

posted Jul 25 2017 by Jason Barndt

"My Pro is pushing to have bunker rakes placed outside the bunkers. We have always kept them in to make it easier for the rough mowers. However I just dedicated a mower to green surrounds so I can m..."

Take-all patch

posted Jul 25 2017 by Alden Maddocks

"Our fairways and approaches have been experiencing a lot of take-all patch this summer.  The course is over 100 years old and we have not needed to grow-in any of the areas that area experienc..." Olmsted Twp, Ohio
$15,550.00 Olmsted Twp, Ohio
$750.00 Olmsted Twp, Ohio
$7,000.00
Hector's Shop: Repairing a Clutch Cable End
TurfNet Technician of the Year: Tony Nunes
Kevin Ross: Doggin' it at the GoPro Mountain Games
Latest from the blogs...
Welcome New Members!
Paul B Latshaw

Merion Golf Club,

Michael Steiner

Beaver Creek Country Club, Hagerstown, MD

Richard Tacconelli_12155

Raritan Valley Country Club, Bridgewater, NJ

Jamison Bushman

Capital Canyon Club, Prescott AZ

Matt Madsen

The Woodlands and Diamond Ridge Golf Courses, Windsor Mill, MD

Darin Ford

Agrivision Equipment, Macedonia Iowa

Gerald Thompson

Pickering Valley Golf Club, Phoenixville, PA
THANK YOU TO OUR PROGRAM SPONSORS:
— PROGRAM SPONSORS —
— PROGRAM SPONSORS —
— PROGRAM SPONSORS —
QUOTABLE:
"A ship in harbor is safe, but that is not what ships are built for."


— William Shedd
TurfNet.com