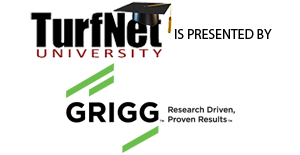 Superintendent Revenge idea

posted Aug 27 2015 by Peter McCormick

"Saw this on Twitter today, posted by Luke Knutson at Rockville Links on Long Island.  Hadn't seen this one before.   "

Perfectly Timed PRG pause?

posted Aug 26 2015 by Dustin Riley

"I am a fairly aggressive PGR user.  Primo, Trimmit and Cutless are included within my annual Greens program in one way or another.  I am fortunate to have the 3rd Monday in August re..."

Wetting Agent Injection System

posted Aug 25 2015 by David Soltvedt

"Survey: What systems/pumps are you running for injecting wetting agent through your irrigation system?...and for everyone that injects there will be a guy that says he prefers to spray wetting agen..."
Randy Wilson: Rise of the Machines (3:31)
Picatinny Tip: Wheel and Lock System for Portable Scoreboard (1:38)
Giese on the Green, Part Three: Supporting the Wee One (3:20)
Check out the Toro Video of the Month here »
Welcome New Members
Rollie Torkelson

Cumberland Golf Club, Cumberland, WI

RJ Graham

Tanner Valley Golf Course, Syracuse, NY

James Leonard

Houston Oaks Family Sports Retreat, Hockley, Texas

Eric Rodriguez

Shady Canyon Golf Club, Irvine

Christopher Turner

Hunt Valley Golf Club, Phoenix, MD

Shane Wright

Vero Beach Country Club, Vero Beach, FL

Brian Stiehler

Highlands Country Club, Highlands, NC
A HUGE SHOUTOUT TO OUR BLOG SPONSORS:
— BLOG SPONSORS —
— BLOG SPONSORS —
QUOTABLE:
"Have a go. Anybody can do it."


— Alan Parker
Welcome to TurfNet.com