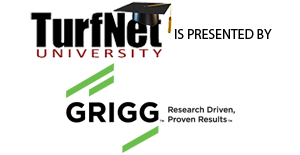 relief grind on 14 blade reels

posted Today, 10:21 AM by Thomas DeKoning

"We recently updated to Toro Flex 2100 walkers with 14 blade reels and are having difficulties doing the relief on our Neary 550 SR grinder.  It is difficult to find the clearence and not have..."

TDR 100 Handle

posted Yesterday, 07:35 PM by Jack Tripp, CGCS

"Can someone post a picture of a handle they have made for a TDR 100 moisture meter so you don't have to bend over to take readings?  I know I have seen some good ideas before, but can seem to..."

Tru-Turf Vibe Triplex Roller

posted Yesterday, 07:04 PM by Mike Armstrong

"I know this topic has come up in past threads, but I wanted to re-ask the question: What are your guys feelings on triplex rollers vs traditional side to side rolling. He's why I bring it up. We..."
Jim Alwine: Colorize wood chips to blend with mulch
Sports Turf Management at historic Trinity College Dublin
Hector's Shop: Troubleshooting charging systems
Welcome New Members
Michael Campbell_1799

Montclair Golf Club, West Orange, NJ

Jim Guinn

Desert Mirage Golf Course, Glendale, AZ

Michael Sokolowsky

Hampton Golf Village, Cumming, GA

Mark Stencel

Dismal River Golf Club, Mullen, NE

Patrick Reilly

Maderas Golf Club, Poway, CA, USA

Doug Spofford

Kwiniaska Golf Club, Shelburne VT

John Heldman

Clear Creek, Lake Tahoe, Ca
THANK YOU TO OUR PROGRAM SPONSORS:
— PROGRAM SPONSORS —
— PROGRAM SPONSORS —
— PROGRAM SPONSORS —
QUOTABLE:
"Ideas are a dime a dozen. People who implement them are priceless..."


— Mary Kay Ash
TurfNet.com