Jason Ferrell, Ph.D., University of Florida: Glyphosate: Friend or foe

Apr 26 2018

Glyphosate is the most commonly used herbicide in the world, with more than 250 million pounds of active ingredient applied annually. It has long been seen as an ideal herbicide with a clean toxicology and environmental profile. In recent years, this molecule has become the center of a great deal...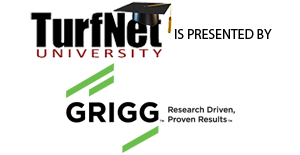 tips for quick green up on a driving range tee

posted Today, 08:34 AM by Bill Brooks

"Last year just before snowfall we renovated our driving range tee.  4lb/80-20blue-rye mix per/1k, starter fertilizer, light app of topdressing, and finished with a white seed guard fabric...."

Well pipe

posted Today, 07:04 AM by Stephen Curry

"Has anyone used Kwik-set plastic sched 120 pipe for a well pump?   Thanks, Steve "

Standard Golf Force Flex Stakes

posted Apr 20 2018 by Terry Davio

"Has anyone ever installed Standard Golf's Force Flex Stakes? My club has been using the Flex Stakes from R&R Products for the past few years to mark our 150's, and we've decided to upgrade to w..."
North Barrington, Illinois
$1,500.00
Akron, New York
$3,950.00 olmsted TWP, Ohio
$750.00
Kevin Ross: DIY Drive Assembly Puller
Kevin's Tips & Tricks: Dating T&O Containers
Hector's Shop: Tire Repair w/Combo Patch
Latest from the blogs...
Welcome New Members!
Douglas Wildt

The Principia Schools, St. Louis, Mo

James Dennison

Carroll Valley Golf Course @ Liberty Mountain Resort, Carroll Valley, PA

William Walsh

Traditions at the Glen- hotel-golf-spa, Johnson City, NY.

Tim Ross

Fox Chapel Golf Club, Pittsburgh, PA

Jason Hurwitz

Fox Chapel Golf Club, Pittsburgh, PA

Kris Kalil

Huntmore Golf Club, Brighton

Brian Thomson

Biltmore Country Club, North Barrington, IL
THANK YOU TO OUR PROGRAM SPONSORS:
— PROGRAM SPONSORS —
— PROGRAM SPONSORS —
— PROGRAM SPONSORS —
QUOTABLE:
"If you are losing a tug-of-war with a tiger, give him the rope before he gets to your arm. You can always buy a new rope."


— Max Gunther
TurfNet