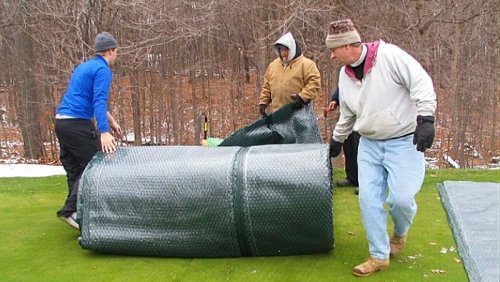 Covers can help protect turf from the threats of winter. Photo by Kevin Frank The question of whether to cover putting greens is a conversation usually reserved for January or February. Once in a while, it might be the subject of water cooler conversation in December. But November? Never.
OK, so with turkey, stuffing, cranberry sauce and pumpkin pie not on the dinner menu for another couple of weeks, chances are that you are probably a long way from needing greens covers. However, a recent bout of colder-than-average weather throughout much of the country is a reminder that it is time to begin thinking about them. If you have them, is it worth the hassle to drag them out, and remove them and drag them out again who knows how many times? If you don't have them, are they worth the expense?
How cold has it been in parts of the country in mid-November? Churchill Downs in Louisville, site of the Kentucky Derby each May, historically is open for live racing throughout November. Temperatures for that time of year usually are about 60 during the day and 40 overnight, according to the National Weather Service. The track closed Nov. 13 when the high temperature was just 37 and the morning low dropped to a record 16 degrees. It was only the 22nd time in the track's 150-year history that activities were canceled due to cold.
Covers can protect greens from ice, extreme cold and wind damage. However, they also are expensive and require a lot of room to store, and deploying and removing them is a labor-intensive process.
Warm-season and cool-season greens have different tolerance levels to such conditions. Even cool-season grasses have different needs throughout winter. Some varieties of creeping bentgrass can survive three or four months under ice cover, while annual bluegrass typically needs relief from ice cover after about 30 days.
Warm-season grasses susceptibility to freezing temperatures can be measured in days, even when covered.
During the winter of 2017-18, dozens of the 100 or so golf courses in the Myrtle Beach area were affected by extreme cold. Many suffered varying levels of damage, from a few spots to complete loss of turf over entire putting greens, forcing several to close in the summer of 2018 to make repairs.
According to the USGA, permeable covers prevent wind damage and promote early spring green up while providing minimal protection from ice cover. Impermeable covers provide the same protection, but come with some drawbacks, as well.
Kevin Frank, Ph.D., of Michigan State is one of the country's foremost experts on preparing golf courses for winter. He says permeable covers not only allow in some moisture and air and can help promote spring green up, they also can help accelerate recovery from winter damage during cold spring conditions and can offer protection from desiccation on greens where snow is removed.
Permeable covers, Frank says, do not offer protection from ice cover.
Impermeable covers, on the other hand, offer protection from ice cover and crown hydration injury. Their success is increasingly tied to use of a second insulator that helps create pockets of air between the turf and the cover, such as foam, an insulating blanket or even bubble wrap.
Frank recently presented a TurfNet webinar on preventing winter damage on annual bluegrass putting greens. Part of that presentation was devoted to use of covers.
In the transition zone, where many golf courses have made the switch from bentgrass to Bermuda, the relationship between greens and covers is completely different.
Research conducted from 2015 from 2017 at the University of Arkansas established thresholds for exposure of ultradwarf Bermudagrasses to cold temperatures, allowing superintendents to minimize the threat of winter damage and improving spring green up.
Conducted by current University of Arkansas doctoral student Eric DeBoer when he was working toward a master's degree in Fayetteville, tested Champion, TifEagle and MiniVerde using covers at 25 degrees, 22 degrees, 18 degrees and 15 degrees Fahrenheit. TifEagle and MiniVerde proved to be more cold tolerant than Champion. The research showed that Bermudagrass greens covered when temperatures reached 15 degrees survived throughout the winter with improved spring green up. Covered greens even survived two days of extreme cold temperatures where overnight lows dropped to 0 degrees on consecutive nights.
That information could have been helpful along the South Carolina coast two years ago when Bruce Martin, Ph.D., then the turf pathologist with Clemson University, called the damage he witnessed in Myrtle Beach the worst he's seen in that area at any time in his career.
Just like on cold season turf, damage to Bermuda likewise can be lessened by using two layers of protection, such as a cover placed atop a blanket of pine straw or a layer of pool noodles that can help promote airflow.