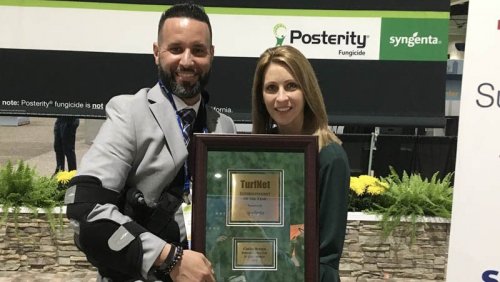 Carlos Arraya of Bellerive Country Club receives the 2018 Superintendent of the Year Award from Stephanie Schwenke of Syngenta. His successor will be named Jan. 30 at this year's Golf Industry Show in Orlando. This year's finalists for the TurfNet Superintendent of the Year Award, presented by Syngenta come from a variety of backgrounds. These experiences include opening an entire industry to the once-taboo subject of mental health, following a legend, dealing with the effects of a devastating natural disaster, managing a sprawling property under tough conditions and overcoming personal challenges most others take for granted.
The finalists for this year's award are: Kyle Callahan, Victoria National Golf Club in Newburgh, Indiana; Matt DiMase, The Abaco Club on Winding Bay in Abaco, Bahamas; Ryan Gordon, the Club at Snoqualmie Ridge in Snoqualmie, Washington; Paul MacCormack, Fox Meadow Golf Course in Stratford, Prince Edward Island; and Jake Mendoza, Detroit Golf Club.
Kyle Callahan
Meticulous planning and organization help overcome limited budget and staffing and wall-to-wall bentgrass at a sprawling 400-acre facility in southwestern Indiana - an area where all other courses are growing zoysiagrass. Click here to read more.
Matt DiMase
Stayed on the island during Hurricane Dorian and used his knowledge and experience as a superintendent to head up relief efforts on the golf course, for members of his team and for locals in his community. Click here to read more.
Ryan Gordon
Rather than let hearing loss hold him back, Ryan Gordon has used it to his advantage to redefine effective non-verbal communication at this Seattle-area course that is home to an annual Champions Tour event. Click here to read more.
Paul MacCormack
Began studying mindfulness to overcome the stress related to a job loss, then used a blog to spread the benefits of this movement to fellow superintendents, opening the door to discussing a difficult topic - mental health. Click here to read more.
Jake Mendoza
In just two years at historic Detroit Golf Club has proven to be a natural leader with what a member of his team has called unmatched agronomic skill and ability to handle anything that comes up while also prepping for the inaugural Rocket Mortgage Classic. Click here to read more.
Finalists are chosen from our panel of judges spanning the golf industry on criteria that include: labor management, maximizing budget limitations, educating and advancing the careers of colleagues and assistants, negotiating with government agencies, preparing for tournaments under unusual circumstances, service to golf clientele, upgrading or renovating the course and dealing with extreme or emergency conditions.
The winner will be named Jan. 30 at the Syngenta booth during the Golf Industry Show in Orlando and will receive a trip for two on the TurfNet members golf trip to Ireland.
Previous winners include: Carlos Arraya, Bellerive Country Club, St. Louis (2018); Jorge Croda, Southern Oaks Golf Club, Burleson, TX & Rick Tegtmeier, Des Moines Golf and Country Club, West Des Moines, IA (2017); Dick Gray, PGA Golf Club, Port St. Lucie, FL (2016); Matt Gourlay, Colbert Hills, Manhattan, KS (2015); Fred Gehrisch, Highlands Falls Country Club, Highlands, NC (2014); Chad Mark, Kirtland Country Club, Willoughby, OH (2013); Dan Meersman, Philadelphia Cricket Club (2012), Flourtown, PA; Paul Carter, The Bear Trace at Harrison Bay, Harrison, TN (2011); Thomas Bastis, The California Golf Club of San Francisco, South San Francisco, CA (2010); Anthony Williams, Stone Mountain (GA) Golf Club (2009); Sam MacKenzie, Olympia Fields (IL) Country Club (2008); John Zimmers, Oakmont (PA) Country Club (2007); Scott Ramsay, Golf Course at Yale University, New Haven, CT (2006); Mark Burchfield, Victoria Club, Riverside, CA (2005); Stuart Leventhal, Interlachen Country Club, Winter Park, FL (2004); Paul Voykin, Briarwood Country Club, Deerfield, IL (2003); Jeff Burgess, Seven Lakes Golf Course, Windsor, Ontario (2002); Kip Tyler, Salem Country Club, Peabody, MA (2001); Kent McCutcheon, Las Vegas (NV) Paiute Golf Resort (2000).