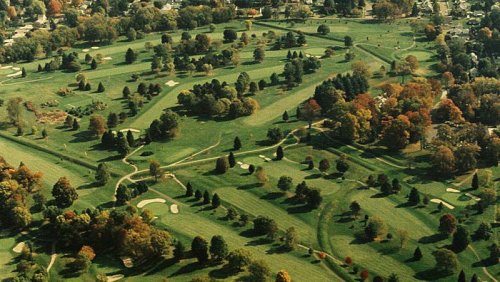 Hexagon- and circular-shaped earthen mounds are visible at Mound Builders Country Club in Newark, Ohio. Mound Builders CC photo Time could be running out for a golf course that has operated for more than a century on the site of an ancient earthworks complex.
Since 1910, Mound Builders Country Club, a Thomas Bendelow design in Newark, Ohio, has operated on the site of the ancient Octagon Earthworks, part of the Hopewell Earthworks complex on several locations throughout central and southern Ohio. 
Unlike the other earthwork compounds in Ohio that are believed to be ancient tribal burial sites, the Octagon and Great Circle complex at Mound Builders was erected more than 2,000 years ago by the Hopewell tribe to align with the moon during certain lunar phases. It is thought to be the oldest manmade earthworks complex in the world.
The land where the club is located is owned by the Ohio History Connection, a state-funded entity that leases the property to the club. The lease agreement was to run through 2078, but the Ohio Supreme Court voted 6-1 last year to clear the way for the OHC to end the lease early. OHC wants to acquire the property through eminent domain and make the Octagon complex accessible to the public, like the other mounds throughout Ohio.
Steps to make the area around the Hexagon mound complex accessible to the public intensified this week after the United Nations Educational, Scientific and Cultural Organization decided to recognize the entire Hopewell earthworks, which includes eight total sites, to be included on the World Heritage List.
UNESCO's World Heritage List is a collection of 1,200 locations around the world, including 25 in the United States, deemed to be of outstanding universal value that includes places like the Great Wall, the Grand Canyon, the Pyramids of Giza, Babylon, Pompeii and Jerusalem.
A sticking point between the club and the OHC has been compensation for the club so it could relocate elsewhere. According to reports, the OHC has on more than one occasion offered the club between $1 million and $2 million as a buyout of sorts. Club administrators have been on record saying it would cost as much as $25 million for the club to relocate.
According to reports, a jury will decide the amount of the buyout.
The Hopewell earthworks, including the Octagon and Great Circle at Mound Builders CC, were nominated by the U.S. Department of the Interior for inclusion on the UNESCO list last year.