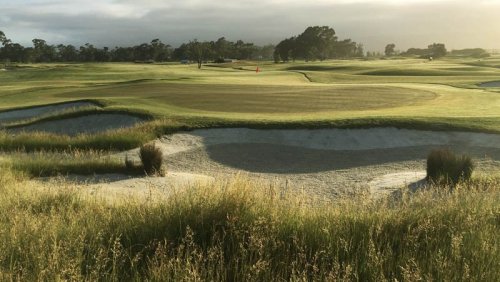 Bunkers at Corica Park are lined with artificial turf, including some from the nearby Oakland Raiders practice facility. If any of the Oakland Raiders show up to play a round at Corica Park Golf Course in nearby Alameda, they should feel right at home.
As part of a recent renovation project, bunkers on the redesigned South Course at Corica Park were lined with pieces of artificial turf, including some from the Raiders practice facility located just a mile down the street.
"It works pretty well, it's cheap and it's not tossed into a landfill," said Jason Cook, regional superintendent for Greenway Golf, which has managed Corica Park since 2012. "If you see any green, it's a good indicator that you're light on sand. I wouldn't say this is a new philosophy, but on a large scale like what we're doing here, it is. We have a high volume of bunkers."
The use of artificial turf to keep rocks out of the bunkers and sand in is just one example of some of the ingenuity that went into the three-plus-year renovation of the South Course at historic Corica Park.
Formerly known as the Chuck Corica Golf Complex, Corica Park is a 45-hole, city-owned facility that abuts the northern edge of Oakland International Airport. Greenway Golf has a 40-year contract to operate Corica Park, and is making significant long-term investments to make it more attractive to local golfers.
"This project focuses on water recapture, target irrigation, native grasses, the design and playability," said Cook. "The cost of water, the cost of labor, aging infrastructure all are impacting golf significantly, especially in California. Investing in infrastructure now saves money down the road. I don't see the cost of water going down."
The original routing, now Corica Park's North Course, was designed in 1927 by William Park Bell. The South Course, added in 1957, was the work of architect William Francis Bell. That layout recently was renovated by Rees Jones and Steve Weisser along with Greenway Golf principal and chief agronomist Marc Logan, the architect of Greenway's fertility program.
The new-and-improved version of the South Course, which reopened June 22, is an Australian Sandbelt design patterned after such historic Aussie layouts like Royal Melbourne and Victoria Links. The North Course is being renovated nine holes at a time.
Key elements of the South Course renovation, which was precluded by rebuilding the practice range and par-3 course, include multiple turf types, target irrigation and adding landforms all designed to help minimize inputs and improve playability at a city-owned muni in one of the country's hottest golf markets. 

Several types of turf are grown at Corica Park in an effort to better manage water and golfer traffic. Most of the 120-acre South Course was capped with a 6-to-8-inch layer of sand to add contouring and interest to the once-flat layout and to help manage water. More than 600 catch basins installed throughout the South Course help to capture rainwater for irrigation use.
"We are putting in an extensive drainage system that is going property-wide, but on the South Course alone we've installed 172,000 linear feet of drainage and more than 670 catch basins that are able to capture stormwater. The entire property drains into a closed system for irrigation.
The South's large greens were grassed with Pure Distinction creeping bentgrass. At an average of 7,500 square feet, each has enough contouring for three exit points for surface water and enough to make them interesting yet not too difficult for golfers.
At one time, among California golf courses, only Torrey Pines was busier than Corica Park. Since then, the South Course sees about 200-220 rounds per day
"With all that sand, you have to do everything three times. You have to shape and finish then sand and refinish again," Cook said.
"It's enough subtlety to make them fun, but also to be able to move golfers around."
Nearly 34 acres of fairways were sprigged with drought-tolerant Santa Ana Bermudagrass, believed to be the first successful sprigging of that variety on the Northern California coast. Collars are Seaside II seashore paspalum to handle mower and roller turns, and bunker edges are covered in Agrostis pallens, a cool-season grass native to California that Cook says looks and performs like a tall fescue.
Water use in the fairways is down about 60 percent since grassing with Santa Ana, says Cook. In fact, everything here was done to handle golfer traffic and minimize water use. Even the irrigation system, with 5,300 heads, was designed to target the specific needs of each variety.
"We're not trying to overwater or waste water in a non-target area," Cook says. 
"The water requirements of warm- and cool-season grasses are different."
The investments by Greenway are aimed at making the property a viable competitor in the San Francisco area golf market for decades to come.
"This is about water recapture, target irrigation, use of native grasses, innovative design and improving playability," Cook said. "That's all very important, especially now and especially in California."