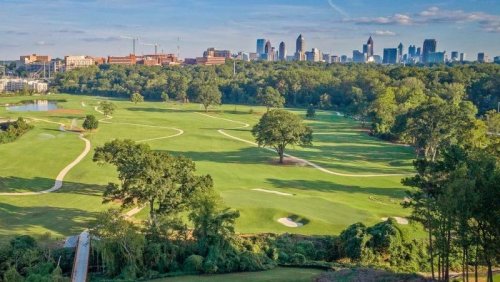 Bobby Jones Golf Course brings a private golf experience to daily fee golfers in Atlanta. Photos by Bobby Jones Golf Course It is only fitting that the inspiration to remake a golf course named for the great Bobby Jones came from one of his favorite layouts.
When golf course architect Bob Cupp was hired in 2016 to redesign the compact Bobby Jones Golf Course from the ground up, he looked to The Old Course at St. Andrews and its numerous double greens as a way to get the most out of the 80 or so acres that comprise the state-owned track in Atlanta's Buckhead section.
Initially, Cupp told representatives of the Bobby Jones Foundation that oversees the property and members from the late player's family that he had two choices - design and build a short 18-hole course with no practice range, or a nine-hole layout with one.
"No one really liked that idea," said Bobby Jones superintendent Kyle MacDonald. "One night (Cupp) had an epiphany, and started thinking about St. Andrews and playing in different directions and double greens, and he came up with an idea that offered public golfers a better experience."
With a dearth of affordable public golf within the Atlanta city limits, Cupp, who resided locally in Buckhead, was brought aboard for what turned out to be his last project. He was tasked with the goal of creating a quality public layout worthy of Jones' name. A practice facility that could help introduce newcomers to the game was a critical part of the project.
"We need to get golfers back," MacDonald said. "A lot of younger people think golf takes too long, is too boring and is too rigid."
Cupp completed the design before he died in August 2016, and his son, Bobby, ushered the project through to completion. The result of his vision is a reversible nine-hole course with double greens that average 10,000 square feet and multiple teeing areas for a layout that truly can accommodate players of all skill levels, a practice area and short course designed for kids and beginners. The updates, that will include a new clubhouse, were funded through donations.
The project bucks golf's norms in more ways than one, including a fleet of Club Car golf cars with the Shark Experience. Developed in cooperation with the Greg Norman Co. and Verizon, the Club Car vehicles incorporate the Visage fleet-management system and come equipped with an array of music and entertainment options designed to appeal to an entirely new golfing segment.
The golf course is where things really are different, and staff at BJGC are still fine tuning the system. 
The property's Magnolia and Azalea layouts share nine double greens and each hole has eight teeing areas copied after the Longleaf teeing system that offers multiple teeing options allowing players to choose which best suits their game. Tees are marked only with plaques and are not color-coded or identified as men's or ladies' tees.
"It's all one height of cut," MacDonald said. "They are defined as teeing areas, but there is no definition. You can easily tee off and end up on a tee box going the other way. There is no definition of what is a tee and what is not. When you're playing, it just looks like you are hitting from the fairway.
"If you want to play 18, you play the same course twice. People think they can come in and play one way and turn around and play the other. We figured that won't work; you'll kill people out there. We alternate courses each day.
"We are doing things outside the box. We have a more relaxed dress code, you can listen to music on the golf course, or even watch the (NCAA) basketball tournament."
The TifEagle greens at BJGC currently are being mowed at 0.130 and the TifTuf turf grown everywhere else is maintained, for now, at about 0.75 inches. MacDonald does not even own a Stimpmeter and insists reaching a specific speed is never a goal.
"For 99 percent of golfers, 11.5 (on the Stimpmeter) is too fast. If we do that, we'll lose golfers and we'll lose revenue."
Ideal putting conditions instead are the result of working with the golf shop to find conditions that work for BJGC's clientele.
"We'll see if that works," MacDonald said. "I've worked at courses where we lived and died by green speed every day. We want to make sure players can get through here in two hours. Our greens are so big, you can have a 150-foot putt. If the green is too fast, you could have a four- or five-putt situation. We don't want that."
There will be times when golfers can play both directions at BJGC on the same day.
"When we have a shotgun start, you play one course, then when everyone is ready to make the turn, you turn around and play the other one," MacDonald said. "We are still learning as we go."
A graduate of the Auburn turfgrass program, MacDonald, 39, came to BJGC from private St. Ives Country Club in suburban Johns Creek.
"There are not a lot of nice public golf courses in the city of Atlanta," he said. "We're coming from a private background. The challenge is to provide daily fee golfers with the kind of golf experience private member golfers get on a daily basis. That is our goal, to provide private club conditions and experience."
Bobby Jones Golf Course opened in 1932 in response to the overwhelming interest in the game generated by Jones, an Atlanta native. The original routing was designed by Wayne Stiles and John R. Van Kleek and was part of Peachtree Creek Memorial Park. with its namesake striking the ceremonial first tee shot. 

All areas of Bobby Jones Golf Course except greens are mowed at one height of cut. Described by MacDonald as a typical short, city-owned urban golf course, BJGC eventually fell into a state of disrepair.
"There were dangerous blind shots, it was dilapidated, and there was no investment in it," MacDonald said. "It was a goat track. The Bobby Jones Foundation and the Bobby Jones family saw the course as a disgrace to Jones' name. They wanted to do something that would do justice to his name."
The property was transferred to the state of Georgia in a land swap that allowed a private developer to buy the old Underground Atlanta for redevelopment.
It was only fitting the elder Cupp turned to St. Andrews for inspiration. The Old Course was a favorite venue of Jones', and he was a favorite of the people of St. Andrews.
He won the Open Championship at the Old Course in 1930 and his run to the 1930 (pre-Masters) Grand Slam started with him winning the British Amateur Championship there. In 2002, the town of St. Andrews celebrated the 100th anniversary of Jones' birth. Jones, who won the U.S. Open four times and three times won the Open Championship, died in 1971 at age 69. He was diagnosed with  syringomyelia in 1948, a neurological disorder that affects the spinal cord and eventually confined him to a wheelchair.
Now, the course named after Atlanta's most famous golfer is hoping again to capitalize on his legacy to attract new players to the game.
The project has not been without its challenges for MacDonald, assistant Jeff Weeks and the rest of the team. Since golf course irrigation systems typically are laid out to accommodate greens, tees and fairways.
"We don't have roughs. My assistant and I went back and forth over how to catalog the irrigation system so that it makes sense," MacDonald said. 
"We've readjusted patterns more times than I could count. We never saw that coming."
Training his team on the nuances at Bobby Jones, like the number of the double greens on Magnolia and Azalea also has been a bit of a challenge.
"Each green is double, so greens are 1 and 8 or 2 and 7, etc.," he said. "Training the staff on which green to mow or meet at has been a challenge."