While Lahinch's signature par 3 and par 5 are givens, the best par 4 is up for debate, with many worthy holes. Out of personal taste, I believe the 13th ought to have the honor.
The 13th plays 270 yards from the member tees, and is the embodiment of a perfect risk/reward short par 4. The options off the tee are endless, with careful consideration a requirement.

The view from the tee. Largely blind, the player must trust his caddy or his own research on the best option for the hole.
Many players can reach it with a driver, but a slightly errant tee shot can result in a 5 or more very easily. At the same time, the fairway is wide and receptive, although blind, and leaves no more than a 100 yard approach shot after a mid to long iron.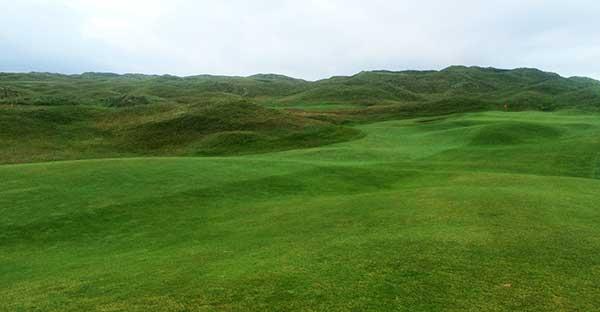 From 100 yards out on the right side of the fairway, with the green visible on the right. A large flat area is on the left, which is an ideal setup for the short second shot.
The danger on this hole comes in the form of two large, intimidating bunkers on the left, which collect any ball rolling off the left side of the green. The other threat is a large grassy hollow to the right, running the effective length of the hole. The hollow will grab a pushed 4 iron or driver just the same.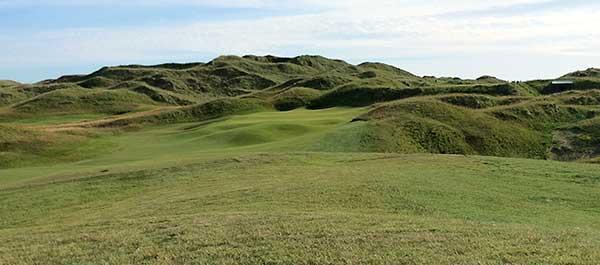 A view from 130 yards out, just short of the hollow to the right.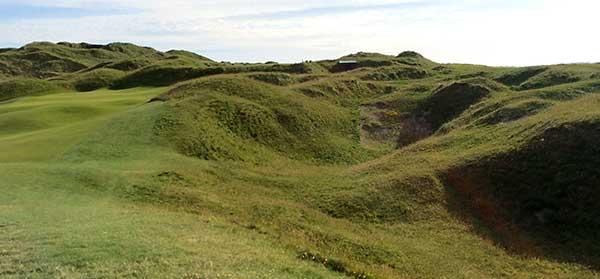 The grassy hollow to the right of the 13th. The picture does not do the angle and depth of this justice. The grass is wispy and balls are fairly easy to find, usually to the dismay of the golfer.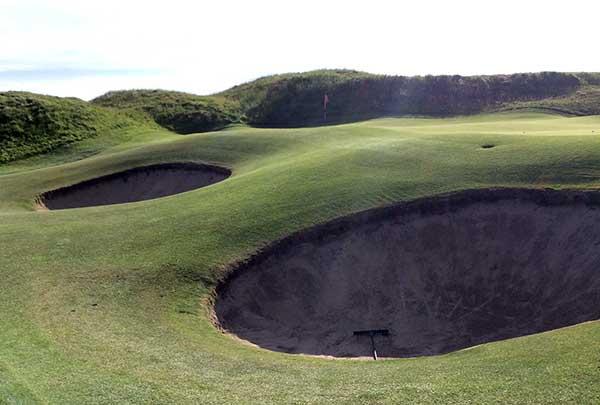 The two collection bunkers along the left side of the green. Any ball that just reaches over the left side of the green will find itself in one of these, resulting in a challenging bunker shot.
A 3-tiered green quickly reminds a golfer that the challenge of the hole is not isolated to the tee shot. Playing the hole safe with an iron, but following it up with an poor wedge can easily result in a 5 or more, just the same as a wild driver. It is demanding from start to finish, and a sigh of relief is common after retrieving one's ball from the cup.
I have a fascination with the short par 4, and the 13th at Lahinch is a prime example. It challenges the modern golfer without the addition of yards. Golf equipment technology is neutralized, and the burden is put back on the golfer's shoulders to meet the challenge.