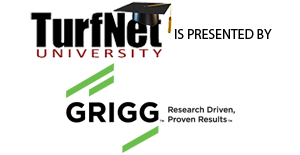 Freehand and Annual Flowers

posted May 26 2015 by Stanley Heidinger

"Is it safe to apply Freehand granular herbicide around annuals? We planted all of our flowers and are trying to keep weeds down this year without hand pulling. "

I am not really down with data; should I be?

posted May 26 2015 by Chris Tritabaugh

"While doing office work last week, I was listening to one of the video podcasts Kaminski and Watschke have been doing. This one was with Matt Shaffer and in it Matt was talking about all of the dat..."

greensmaster 3100 2wd...2006

posted May 25 2015 by Jeff Moore

"hey guys just seeing if anyone has had to  adjust their speeds on any of these motors..we have 2 of them..1 of them is a tad slower than the other..they have the briggs 16 hp engines....ive ad..."
Tips & Tricks: Quick-Convert a Utility Cart into a Golf Bag Shuttle (1:14)
Kevin Ross: Quick Sprinkler ID aids irrigation management (4:04)
Blower Modification at French Lick (1:12)
Check out the Toro Video of the Month here »
Welcome New Members
Gene Davis

Elk Rapids Golf Club, Elk Rapids Michigan

Rob Giampietro

Bull's Bridge Golf Club, S Kent, CT 06785

Keith Wood

Quail Hollow Club, Charlotte, NC

Tom Howard

Reynolds Plantation, Greensboro, GA

Doug Brooks

Castle pines golf club, Castle rock Colorado 80108

Michael Berning

Maplecrest Country Club, Goshen, IN, USA

Brian Velasquez

Rotolo Consultants Inc., Slidell, Louisiana

Frank Carino

Central Turf & Irrigation Supply Inc, Elmsford, NY

Timothy Haines

Mountain Meadows Golf Course/AGC, Pomona, CA

Patrick Janison

Blue Ridge Trail Golf Club, Mountaintop PA 18707
QUOTABLE:
"A torn jacket is soon mended, but hard words bruise the heart of a child..."


— Henry Wadsworth Longfellow
Welcome to TurfNet.com