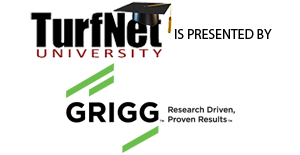 Terra Aerator

posted Today, 09:40 AM by Eric Peterson

"I have a Terra drum style aerator for fairways and rough and am wondering if anyone knows where to find parts.  We will be needing tines soon..."

Fertilizing in circles?

posted Yesterday, 08:56 PM by Jim Schmid

"Has anyone ever tried fertilizing in a outwardly moving circular type pattern?  This would be as opposed to the typical back and forth passes..."

Turf Nutrition Week - this week

posted Yesterday, 04:22 PM by Peter McCormick

"Dr. Jim Murphy kicked off our first Turf Nutrition Week webinar series, sponsored by Grigg Brothers, today with a talk on fertilizer use and fate...."
Welcome New Members
John McCarthy

Loggers Trail, Stillwater, MN

Matt Rostal

Interlachen Country Club, Edina, MN

Darren Irwin

The Links of Spruce Creek, Summerfield, Florida

Thomas Gosselin

Overbrook GC, Bryn Mawr, PA

Chris Ortmeier

Champions Golf Club, Hoston , TX

Dale Kuehner

7 Springs Golf Course, Elizabeth, PA

Elliott Lewis

High Mt GC, Franklin Lakes, NJ

Tom Higgins

Jumping Brook Country Club, Neptune, NJ

A Steven Willingham

Grand Ridge Golf Club, Luling, La

Craig Houseknecht

MTE Turf Equipment Solutions, Tewksbury, MA
QUOTABLE:
"There are only two things you "have to" do in life. You "have to" die and you "have to" live until you die. You make up all the rest..."


— Marilyn Grey
Welcome to TurfNet.com