NOMINATIONS ARE OPEN FOR TECHNICIAN OF THE YEAR >>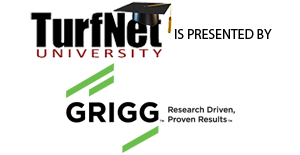 Aeration Calculator

posted Yesterday, 10:37 AM by Pat Sisk CGCS

"Would anyone know of an online calculator to determine how much actual surface area is disrupted when using various tine and spacing sizes for aerating? "

Winter damage recovery guidelines

posted Mar 25 2015 by Peter McCormick

"John Garcia of Atlantic Golf and Turf sent along the attached document detailing suggestions for recovery from winterkill.   "

Securing Tennis Court Windscreens

posted Mar 25 2015 by Chuck Barber

"We use 120# tensile strength cable ties to secure our tennis court windscreens.  During moderate storms or winds several of them will still break.  Does anyone have better ties or ideas o..."
Hector's Shop: Hector's First GIS (4:35)
Kevin Ross in the Kitchen: Slow-Cooked Flatiron Steak (5:21)
Growing the Game: First Green Field Trip (3:32)
Check out the Toro Video of the Month here »
Welcome New Members
Jordan Hill

Riverstone Golf and Country Club, Brampton, Ontario, Canada

Nick Smith

Wood Ranch Golf Club, Simi Valley, CA

William Parr

Country Club of the Poconos, Marshalls Creek, Pa

Paul Culclasure

Kilmarlic Golf Club, Powell's Point NC

Joe Chastenay

Essex Country Club, Essex Jct , VT

Scott Heron

The Toronto Hunt, Toronto, Ontario. Canada

Jon Vander Vliet

Lawn Wrangler, Millersville, MD

Doug Vanderlee

Penfield Country Club, Penfield, NY 14526

Donald D'Errico

Spring Valley Country Club, Sharon, MA 02067 USA

Keith Daury

Spring Valley Country Club, Sharon, MA 02067
QUOTABLE:
"The rainbow is more beautiful than the pot at the end of it, because the rainbow is now. And the pot never turns out to be quite what I expected..."


— Lawrence Cary
Welcome to TurfNet.com