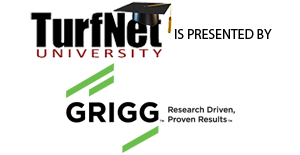 4th of July from a payroll standpoint

posted Jul 03 2015 by John Paquette

"I would appreciate any and all comments regarding how your club is handling the 4th of July from a payroll standpoint.   In the past we were always working this federal holiday as a ..."

Tournament Logo

posted Jul 01 2015 by Don Altman

"I am thinking about doing a logo on a fairway for our Member/guest tournament. For those of you that have done this, can you tell me how it is done, how time consuming, would you do it again?..."

Hand Raking Bunkers

posted Jun 30 2015 by Ben Rink

"So with our new bunkers we have gone to almost exclusively hand raking.  The problem is I haven't found the best rake to help even out the bunkers yet.  The new sand footprints easily so..."
Kevin Ross: Color Coding for Simplicity (4:39)
Chuck Barber: Custom Tool Rack for Triplex Greensmowers (2:02)
PIcatinny Golf Club: Charge Cord Retractor (2:16)
Check out the Toro Video of the Month here »
Welcome New Members
William Kennedy

Chechessee Creek Club, Okatie, SC

Scott Cummins

Dubs Dread Golf Club, Kansas City

Mike Sams

Lake Nona Golf and Country Club, Orlando, FL

Brandon Richey

Lake Nona Golf and Country Club, Orlando, FL

L.J. Robinson

Cherokee Town and Country Club, Sandy Springs, GA

Matthew Castagna

Skyway Golf Course, Jersey City, NJ

Michael Powers

Buck Ridge Golf Course, Marysville, Ohio

Ryan D. Golay

Trenton Country Club, West Trenton, NJ
A HUGE SHOUTOUT TO OUR BLOG SPONSORS:
— BLOG SPONSORS —
— BLOG SPONSORS —
— BLOG SPONSORS —
QUOTABLE:
"Have a go. Anybody can do it."


— Alan Parker
Welcome to TurfNet.com