THE DEADLINE FOR SUBMITTING DOG CALENDAR PHOTOS IS JULY 31! HURRY >>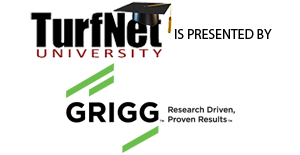 Sprayable gypsum

posted Today, 02:41 PM by Jack Tripp, CGCS

"Is there any sprayable gypsum products? I know of Anderson's DG gypsum, just wondered if there was any gypsum I could apply through the sprayer.   Jack Tripp La Crosse Country Club Onalaska, W..."

Boomless Nozzles for new Toro MP 1750 Sprayer

posted Today, 05:35 AM by Paul Van Buren

"We are finally coming to the end of our lease on our MP 1250 and we are looking forward to getting our hands on the new Toro MP 1750.  I know there are archived posts with information regardin..."

95 sandpro 5000 model08881

posted Yesterday, 10:30 AM by Richie Brown

"Can someone help me with the specs an valve adjustments on a sandpro 5000?Ive tryed one thing an it didnt help..004 for both or am i doing it wrong is there a sertain way to adjust them? "
Spotlight on Syngenta: Giese on the Green (2:57)
Jim Alwine: Saving Water, One Drop at a Time (3:02)
Hector's Shop: Roland McPhearson... The man behind the Roller Tamer (4:07)
Check out the Toro Video of the Month here »
Welcome New Members
Shane Wright

Vero Beach Country Club, Vero Beach, FL

Brian Stiehler

Highlands Country Club, Highlands, NC

Joseph Hills

Blue Mash Golf Course, Laytonsville MD

Bill Emch

Emch Bros, Woodville, OH

Erik Smith

TPC Prestancia Heritage Golf Group, Sarasota Florida

Michael Straus

TPC Prestancia/Heritage Golf Group, Sarasota, FL

Mike McNamara

TPC Prestancia Heritage Golf Group, Sarasota Florida
A HUGE SHOUTOUT TO OUR BLOG SPONSORS:
— BLOG SPONSORS —
— BLOG SPONSORS —
— BLOG SPONSORS —
QUOTABLE:
"Make each day your masterpiece."


— John Wooden
Welcome to TurfNet.com