Balancing work and family
Event details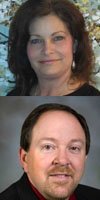 With long hours and working six or even seven days a week for months on end, being a golf course superintendent can put a strain on personal relationships. 

In this TurfNet University Webinar, Lisa Goatley, a licensed counselor with The Cascade Group, and her husband, Mike Goatley, Ph.D., professor of turfgrass management at Virginia Tech, will discuss how to work toward achieving work-life balance in today's hectic world. 

Together, they will discuss ways families can stay engaged and connected even when they are not together and how creating rituals and habits can help keep things on track when they are together. 

Their presentation is based on Lisa's experiences as a professional therapist as well as Mike's travel-heavy job at Virginia Tech and how that has affected their own lives and those of their children. 


FAQsHow do I attend a webinar?

It's easy. Register for the event by clicking the

Register

button (TurfNet members must be logged in to see it). You will be sent a confirmation email with a webinar ID code, along with reminder emails 24 hours and one hour before the scheduled event.

To join a webinar at the scheduled time, click the link in your confirmation or reminder emails. Or, go to

www.joinwebinar.com

and enter the webinar ID (provided in the confirmation email) and your email address. Either way, a small file will be downloaded to your computer. Click

Yes

or

Always

(or

Trust

on a Mac) if prompted to accept the download. You will automatically be connected to the webinar.

What equipment do I need?

Windows or Mac computer, tablet or smartphone
Internet connection (broadband is best)
On an iPad, iPhone or Android device, get the free GoToMeeting app from the App Store or Google Play
WiFi connection recommended to use VoIP.

Having trouble

connecting?

Click here for solutions.