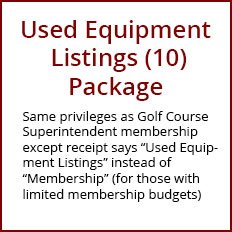 Used Equipment Listings (10) Package
$195.00
and $195.00 per year
The Used Equipment Listings (10) Package includes:
Free used equipment listings, for sale and wanted ($75 each for non-members). No limit on the number of listings per year; limited to ten listings live at one time. ($750 value).
Free job listings ($55 for non-members)
Three login accounts with full privileges
Full access to the TurfNet.com Forum
Hey, isn't this the same as the Golf Course Superintendent membership?  Yep, but for those whose "memberships and dues" budget line item is shot or overly scrutinized but who have funds for used equipment classifieds, select this package. Your receipt will indicate "Used Equipment Listings (10) Package".
---