Chicago GC's Tony Nunes named Golden Wrench Award winner
Jun 15 2017 | John Reitman
Tony Nunes dispels the stereotype of a typical golf course mechanic, so much so that the equipment manager at Chicago Golf Club might be due a new title.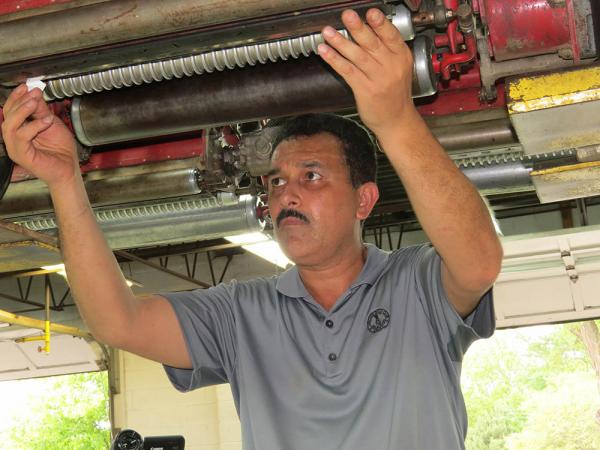 "A lot of people who walk through that door understand his value," said Chicago Golf Club superintendent Scott Bordner. 
"He is extremely diverse with his capabilities," said superintendent Scott Bordner. "If there is a fire (alarm) issue in the clubhouse, everyone calls Tony. If there is a leak in the clubhouse, everyone calls Tony. If we have an issue on the golf course, he's right there. He watches everyone come out of the shop every day and picks up on mistakes before they happen. He understands the entire operation, not just his position, and he pays attention to everything."
His is an attention to detail befitting a course billed as the oldest 18-hole layout in the country and one of the original five clubs that banded together to found the USGA.
On Wednesday, Nunes, 45, was honored for his willingness and drive to do anything and everything throughout the Chicago Golf Club operation when he was named the recipient of the
2017 TurfNet Technician of the Year Award, presented by Toro
. 
He was chosen by a panel of judges from a field of three finalists that included Trent Manning of Ansley Golf Club in Atlanta, and Aaron Brown of Highlands Falls Country Club in Highlands, North Carolina.
He understands the entire operation, not just his position, and he pays attention to everything."
Nunes was the benefactor of a half-dozen nominations, including one from a CGC member.
"Tony has played a significant role in maintaining all of our facilities and structures at CGC," Immekus said in his nomination letter. "As one of the founding members of the USGA and the oldest 18-hole facility in the country, maintaining our operation is no small task."
A celebration in Nunes' honor was disguised as a congratulatory staff luncheon in the afterglow of a recent successful member-guest tournament. Not only was Nunes nominated by a member of CGC, a handful of other members sat in the shop with Bordner's crew on a hot, sweaty afternoon dining on hot dogs, hamburgers and bratwurst to show their appreciation for Nunes and the work he does.
"It was an honor to be remembered by all these people who took it upon themselves to write a letter or mention my name," Nunes said.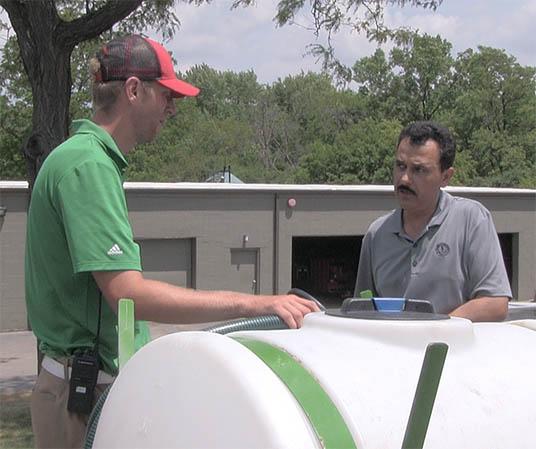 As the winner, Nunes received the Golden Wrench Award and a weeklong training session at Toro's Service Training University at the company's headquarters in Bloomington, Minnesota.
Criteria on which nominees are judged include: crisis management; effective budgeting; environmental awareness; helping to further and promote the careers of colleagues and employees; interpersonal communications; inventory management and cost control; overall condition and dependability of rolling stock; shop safety; and work ethic.
Previous winners include (2016) Kris Bryan, Pikewood National Golf Club, Morgantown, WV; (2015) Robert Smith, Merion Golf Club, Ardmore, PA; (2014) Lee Medeiros, Timber Creek and Sierra Pines Golf Courses, Roseville, CA; (2013) Brian Sjögren, Corral de Tierra Country Club, Corral de Tierra, CA; (2012) Kevin Bauer, Prairie Bluff Golf Club, Crest Hill, IL; (2011) Jim Kilgallon, The Connecticut Golf Club, Easton, CT; (2010) Herb Berg, Oakmont (PA) Country Club; (2009) Doug Johnson, TPC at Las Colinas, Irving, TX; (2007) Jim Stuart, Stone Mountain (GA) Golf Club; (2006) Fred Peck, Fox Hollow and The Homestead, Lakewood, CO; (2005) Jesus Olivas, Heritage Highlands at Dove Mountain, Marana, AZ; (2004) Henry Heinz, Kalamazoo (MI) Country Club; (2003) Eric Kulaas, Marriott Vinoy Renaissance Resort, Sarasota, FL.
Every nomination submitted on behalf of Nunes mentioned his preventive maintenance program that Bordner said is extremely important considering the short window of Chicago's golf season.
"Equipment is just like a car: the better you are at taking care of it, the longer it will last. Tony understands that," Bordner said. "He takes responsibility for the equipment, and he treats everything like it is own vehicle. He makes sure everything is done preventively to try to make sure when our short golf season is here that nothing breaks down."
By keeping everything running smoothly, Nunes is able to make sure that everyone on the crew is able to get on the course to do their job, which is providing the best playing conditions possible for the club's members.
"I don't just sit inside and do nothing every day," Nunes said. "I like to get out and drive the golf course every morning and look at the place. I take it to heart how the golf course looks, and I feel proud when the golf course looks good."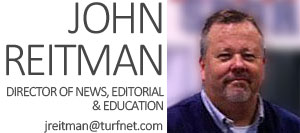 Article: Chicago GC's Tony Nunes named Golden Wrench Award winner