Old school management style has worked for superintendent of the year winner Dick Gray
Apr 21 2017 | John Reitman
In a world overrun with political correctness, Dick Gray is an exhilarating breath of fresh air.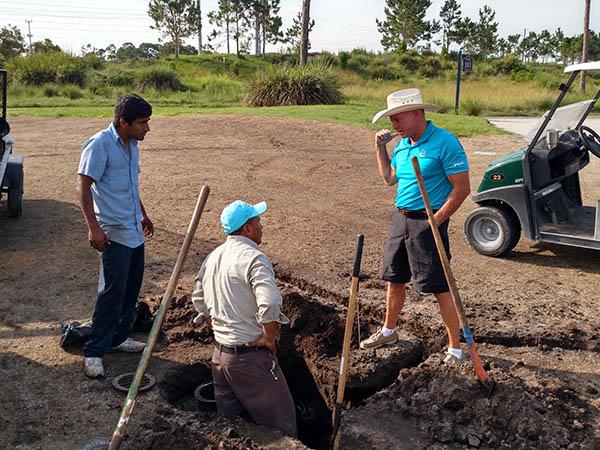 After 50 years as a superintendent, including the past four at PGA Golf Club in Port St. Lucie, Florida, the 74-year-old Gray still approaches every day on the job with old-school style. He pushes the envelope every day on playing conditions and doesn't believe you have to spend a ton to do it.
"My philosophy is terminal velocity every day," said Gray, who in February received the TurfNet Superintendent of the Year Award, presented by Syngenta. "We don't always get there, but we try.
"I always thought the best guys came from upper low-level clubs, or lower mid-level clubs, because you couldn't hide behind a budget. You can hide behind a budget and be mediocre. It looks like you did something, but really it was the money that got you there. Then there are other guys, you go to their golf course and wonder 'how in the hell did you get this done for this amount of money?' "
He holds in the highest regard golfers who entrust him with their course and members of his team who help him maintain it.
"I always remember him telling me 'you have to water your horses. You have to take care of your people and treat them with respect,' " said John Cunningham, CGCS, a former assistant under Gray in the late 1990s at Martin Downs Country Club in Palm City, Florida, and now the assistant general manager and director of agronomy at Bellerive Country Club in St. Louis. "He believes in treating everyone equally and treating everyone like they are important."
Admittedly Gray has a history for being a bit salty toward those who get in the way of his passion - building a great team that can produce great greens. When he was the superintendent at a private club in Palm Beach County, a member asked him if it was necessary to keep the greens running so fast all the time. His reply cut to the chase: This is Jupiter Hills. Get your game in shape.
Gray's career spans parts of six decades and a handful of courses around Florida's southeastern coast, including Jupiter Hills and the Dye-designed Loblolly Pines in Hobe Sound where he was the project manager for Pete and P.B. Dye during construction in the 1970s and where he returned years later as superintendent.
He is the total package. He can build it, he can grow it, he can maintain it and he can grow a crew."
"The one thing that Dick has that makes him different is great compassion for the people who work for him," said longtime Loblolly pro Rick Whitfield. "He treats his crew like family. That's what people don't see in Dick. He knows the product that he produces is only as good as his crew. And wherever he worked, that's what stood out, the product that he produced."
While he has showed a deep reverence for his crew everywhere he has worked, his feelings for general managers, whom he calls "bartenders who have taken some night courses", have been a different story.
A graduate of Wabash College in his native Indiana where he earned a degree in botany, Gray went back to school years later and earned a master's degree from Texas Tech in restaurant, hotel and institutional management, not because he wanted to become a general manager, but because he didn't trust them.
"A lot of general managers come from that program," he said. "I thought I might have to report to them one day, and I want them to know damn well that I'm every bit as educated as they are. I can do their job and manage the asset. They can't manage the asset.
"It gives me credibility that is undeniable. I know their language and their formula. I'm not just mouthing words like a parrot."
Gray's tell-it-like-it-is philosophy has cost him a two-stroke penalty on occasion, but he goes to bed each night with a clear conscience.
His professional career essentially began at Crooked Stick in Indiana, where he first met Pete Dye. Along with Martin Downs, Jupiter Hills and Loblolly Pines, he was the superintendent at Sailfish Point, an oceanfront Jack Nicklaus design near Stuart, Florida. He dabbled in architecture, designing and building the nearby Florida Club where he also was the GM. Over a long and storied career managing some of South Florida's finest layouts, Gray has never had to move even once.
"He is the total package," Whitfield said. "He can build it, he can grow it, he can maintain it and he can grow a crew."
At PGA, he has rebuilt two of the club's four courses (one of which is for sale), is working on a third with plans to rework the fourth in the future. Only now is he coming around on his view toward GMs, thanks to Jimmy Terry, who brought a small army to this years Golf Industry Show in Orlando to support Gray at the superintendent of the year announcement.
Id heard (the stories), but Ive never seen any of that here, Terry told TurfNet in February. We have a great relationship.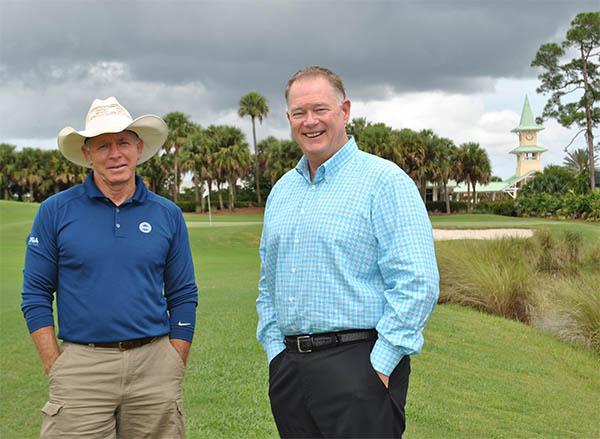 When Gray accepted the job as superintendent at PGA Golf Club, he did so with the understanding that he wouldn't work for a general manager. When the PGA of America, which owns the property, hired Terry, Gray told the association's Darrell Crall "This wasn't part of the deal. (GMs) are incompetent and they're insecure, and that's a bad combination."
He quickly learned that Terry, who stands head and shoulders above him, is no pushover.
"I've had to temper myself since I've made those statements about bartenders taking night courses," Gray said.
"Jimmy's a 6-foot-6 golf pro from Texas. He's not incompetent and he sure as hell ain't insecure. We get along well, and the good part is he gives you the ball and lets you run with it."
How others view Gray's style depends on whom you ask.
"He is a very smart man with a great sense of humor. He knows what the hell he's doing, but he doesn't know s--t about dealing with people," Whitfield said.
"A lot of people take Dick the wrong way. I've been to his wedding, and we're still good friends.  He doesn't make time for idle chatter. He has a job to do and he's going to do it."
Those who have worked for him paint a different picture of the hard-nosed superintendent underneath the brim of his trademark cowboy hat.
When Gray started at PGA he described his crew as a rag-tag group who wore whatever they could pull out of their closet. He got them uniforms and turned them into a laser-focused team. That uniform included wearing the same hat to shield them from the Florida. He allowed his team to pick their hat, with the understanding they all wore the same one. The mostly Spanish-speaking crew, who showed instant respect for Gray, chose a cowboy hat just like his.
"He's the best communicator and motivator I've ever worked for," Cunningham said.
"He and I forged a relationship from Day 1. He talked, and I just shut my mouth and listened. Ever since, he's been my mentor for turf and other things. I think those are the best mentors, who you not only can talk turf with, but talk life with."
To this day, when he passes members of his team on the course, Gray stops to check in on each and the status of the job they are performing. He calls them by name, asks about their families.
"Dick sees himself as a coach," Terry said. "And he coaches them up every day."
It was while working for Walker Hood at Dykeman Park Golf Course in Logansport, Indiana during summers home from college that Gray learned the true role of a superintendent.
"I played that golf course all through high school. On my first day, Walker takes me out to mow greens. He was 56 and I was 20," Gray said. "He says, in this razor-thin drawl, 'Diiiick. You see this here file? Take care of this here file, and this file will take care of you.' That meant don't lose the file. Then he reaches up and grabs a mowing scythe and says 'Diiiick. Take care of this here mowing scythe and this here mowing scythe will take care of you.' I've never forgotten that. That's my mantra: 'Take care of your job, and your job will take care of you.' "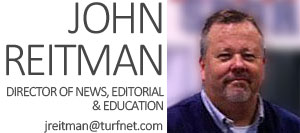 Article: Old school management style has worked for superintendent of the year winner Dick Gray