Propane-powered equipment needs a spark to catch on in golf
May 18 2017 | John Reitman
Superintendents who use propane-powered equipment recognize that it can help them reduce operating costs and emissions. Those incentives, however, have not been enough to spark widespread use in the golf industry.
The
Propane Education & Research Council
, an advocacy group that represents the propane industry, says low fuel prices prices have stifled the demand for alternative fuels.
"Gas and diesel prices took a nosedive and have continued to stay low," said PERC's director of business development Jeremy Wishart. "That has taken the pressure off superintendents in terms of budget dollars and allocating funds toward fuel expenses."
In 2015-16, PERC recruited superintendents at eight courses around the country to participate in a pilot program designed to educate end users and original equipment manufacturers about the benefits of propane.
The benefits, the group says, are obvious: lower fuel costs compared with gas or diesel, no chance of spillage in the maintenance yard or on the golf course and reduced carbon emissions.
The Marriott Vinoy Renaissance in St. Petersburg, Florida was one of those eight test courses. After the program. 
The test program resulted in reduced fuel costs of 13 percent, a 40 percent reduction in carbon monoxide emissions and reduced greenhouse gas emissions of up to 15 percent.
One of the stumbling blocks is that the only OEM to send equipment off the line propane-ready is R&R, which was the equipment used in the pilot program. Those who used the equipment said it performed fine, but brand loyalty to orange, red and green mowers makes widespread adoption of OEM equipment unlikely until that technology is offered by one of the big three equipment makers.
There are ways around that.
After the program, Marriott Vinoy Renaissance equipment manager Eric Kulaas converted a wide array of gasoline-powered equipment to propane, including five triplex mowers, two fairway units and two bunker rakes. And he'd like to do more.
"I'd like to convert two blowers, but I haven't been able to come to grips with that yet," Kulaas said. 
"We're happy with it. Anything we buy new I'd like to convert."
Georgia's Stone Mountain Golf Club also was a test site for the PERC program. Former Stone Mountain superintendent Anthony Williams was on site there when the program started. 
"Across the board, there was little difference in the operation of the machine. In fact, the fairway unit was the real standout. It had plenty of power and that's where most of the savings came in," Williams said. "It proved to be viable, environmentally friendly and economical.
"Propane was cheaper than gas or diesel, it ran quieter. We probably saved 20 to 30 percent on fuel costs before the price of fuel went down."
It has been more widely accepted in the lawn and landscape market where many of the operators are small private owners.
"I think it would be tough for superintendents not to see green, red or orange out on the golf course," Williams said. "If one of them went propane, I think you'd see more interest."
Now at the Four Seasons Las Colinas Resort at Irving, Texas, Williams said he probably would have adopted its use after the program had he not taken an early retirement offer from Marriott. He added that he hopes to incorporate propane use in the future in Texas. 
"Being in a new job and having to get ready right away for a PGA Tour event, the timing just hasn't been right to get it in here yet," he said. "It's definitely on our radar."
The OEM equipment did take some time to get used to, said Kulaas, and when one of the fairway units broke down under warranty, he had to send it to the dealer.
"I was able to figure out what was wrong with it, but it's not an engine any techs are going to be familiar with," he said.
Reduced emissions is a key point for Williams, who has built a career on environmental stewardship. 
He has won multiple Environmental Leaders in Golf Awards at the public and resort level, and envisions propane use playing a part in pursuing yet another award.
"We are eligible to enter it again now in the private category," he said. "I'd love to win the triple crown."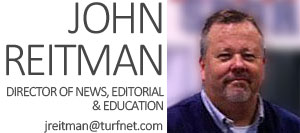 Article: Propane-powered equipment needs a spark to catch on in golf