TurfNet heats it up at TOCA awards contest
May 04 2017 | John Reitman
The only thing hotter than the weather this week in Tampa Bay, was TurfNet's run through the awards ceremony at the Turf and Ornamental Communications Association annual conference.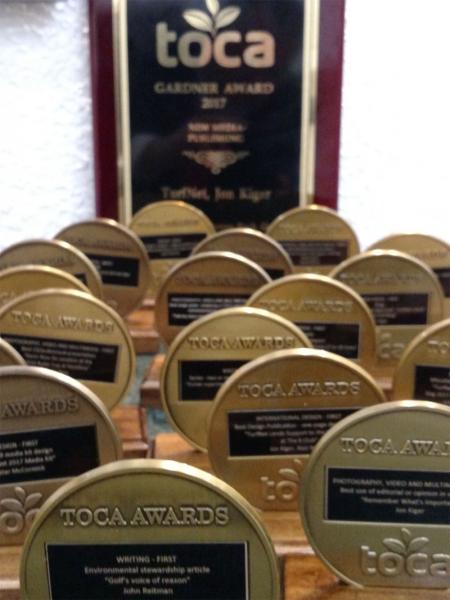 TurfNet came away from the annual meeting held May 2-4 at Saddlebrook Resort with a total of 19 awards. The haul included seven merit (second place) awards, 11 first place entries and a best-in-category Gardner Award.
Jon Kiger and John Reitman won seven awards each, Randy Wilson earned two awards, and Peter McCormick, Kevin Ross and Hector Velasquez each won an award.
Kiger won a Gardner Award and a first-place mention in the publishing category for his blog series Syngenta Welcomes Back Golf that celebrated the return of golf to the 2016 Summer Olympics in Rio de Janeiro.
His other contributions that won first-place recognition were Remember What's Important (Photography, Video and Multimedia: Best use of editorial or opinion in video/DVD) and Reducing Braemar Golf Course from 27 to 18 holes (New Media: Podcasts). Kiger, along with Alan Mahon of the Golf Course Superintendents Association of Ireland, collaborated on the first-place winning one-page design article TurfNet Lends Support to the Irish Open at the K Club in the International category.
Reitman, who the day before was named the winner of TOCA's Plant Health Writer of the Year Award picked up four firsts and three seconds.
His winning entries were: Olympics fallout a black eye golf does not need (best editorial/opinion), Former superintendents find peace on the other side (best series) and Golf's voice of reason (best environmental stewardship article). Reitman and Syngenta's Mark LeFleur shared first place for their work on the 2017 TurfNet's Superintendents' Best Friend calendar: Success of a Turf Dog.
Peter McCormick won first place in the design category (overall media kit design) for the 2017 TurfNet Media Kit.
Last summer, Kevin Ross was applauded my many for his video coverage behind the scenes at the 2016 Ryder Cup at Hazeltine. On May 4, he was recognized again when his work won first place in the Photography, Video and Multimedia category for best CD/audiovisual presentation.
For years, Hector Velasquez has been providing quick and easy tips for equipment managers through his series entitled Hector's Shop. His entry Repairing a Rewind Starter was recognized as a first-place winner in the TOCA contest for best instructional video.
Merit awards (second place) were "TurfNet on Tour, Volunteering at the 2016 Irish Open" (New Media: blogs - Kiger), "Fabricating a Turkey Feeder at Bear Trace at Harrison Bay" (Photography, Video and Multimedia: instructional video/DVD - Kiger), "Colleagues remember Bengals' Daily off the field as well as on" (Writing: general feature article) - Reitman, "Field day shares experiences with organics and native grasses" (Photography, Video and Multimedia: photograph - Reitman), "California golf faces some high hurdles" (Writing: writing for website - Reitman), "Skeletal Golf Theory 101" (Photography, Video and Multimedia: editorial or opinion in a video or DVD - Wilson) and "Rivermont Country Club Organic Field Day Video Series" (Photography, Video and Multimedia: CD/audiovisual presentation - Wilson).
The Turf and Ornamental Communicators Association is a 200-plus member association comprising editorial, advertising and marketing professionals working in the green industry.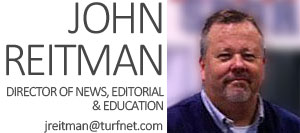 Article: TurfNet heats it up at TOCA awards contest