Former PGA Tour player and family expand legacy of growing the game
Jun 09 2017 | John Reitman
At age 59, John Cook might be among the last people anyone would expect to see cruising down the fairway, standing on a GolfBoard and music blaring from his golf bag. But the former PGA Tour player and current member of the Champions Tour is a forward thinker when it comes to golf. So, on June 6, when he had a chance to play Red Hawk Run, the course in Findlay, Ohio that he and his father bought last December, that's where Cook could be found, surfing the front nine - along with Stevie Ray Vaughan and ZZ Top.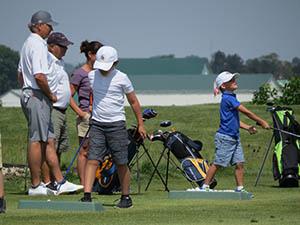 A member of the broadcast team at the Golf Channel, Cook had just spent the previous week in the Columbus suburb of Dublin working the Memorial. The trip back to his native Ohio gave Cook, who played his college golf at Ohio State, a chance to catch up with family and play for the first time the course his father, Jim Cook, had been managing for four years before they decided to buy it. 
"The GolfBoard appeals to kids who skateboard, or surf or wakeboard. Now, we're starting to connect different sports together," Cook said. "We're coming up with innovative ways to grow the game."
Many in the golf business failed to recognize a need to change, failing to notice the world changing before its collective eyes. Video games forced many a kid into a near-permanent location on the couch. And those who did venture outside were choosing travel sports, like soccer, baseball and volleyball over golf, while their parents went along for the ride - literally.
Golf became stagnant. It was always the same with no breaks - 18 holes and a cart. Not everyone has five hours to spend on the golf course."
Golf provided three options to this changing world: nine holes, 18 holes or a windmill through which one could only putt.
"Golf became stagnant. It was always the same with no breaks - 18 holes and a cart. Not everyone has five hours to spend on the golf course. But just about everyone has two hours. People are coming up with 12-hole-golf and six-hole golf. Give people a GolfBoard and let them play a few holes in an hour at a cut rate."
Cook's Columbus-area golf course has four GolfBoards, which are in high demand. Joe Jiamechello, the local GolfBoard rep, was on this day, too, as the Cooks negotiate a deal for Red Hawk.
"If they're all taken, or one of them is broken down and under repair, people get upset," Jim Cook said. "They're new, and people want to ride them."
The Cook family has a long history of growing the game - or at least trying to - long before it became a necessity across an industry with a history of being resistant to change. John Cook's sister, Cathy Cook, is a pioneer in the First Tee program and developed Ohio's first chapter nearly 25 years ago at Cooks Creek. She also was a key figure in writing the curriculum that today is used to teach life skills to more than 5 million children at 1,200 golf facilities around the world.
Both were on hand at Red Hawk to teach a clinic that attracted about two-dozen players from elementary school high school.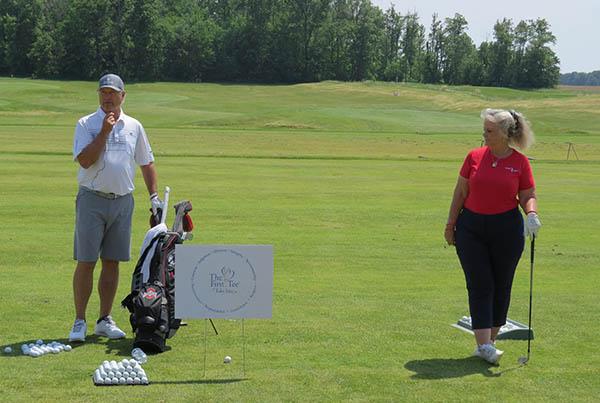 "Junior golf was good to us growing up in Ohio and Southern California. It was a big part of our lives and it's what we did in the summer growing up," Cook said. 
"To have programs that get kids out and about and active rather than indoors and inactive is important, and golf is a game you can play for a lifetime. You don't have to be great at golf to enjoy it. You have to be exposed to it in the right way. Cathy has helped grow the game for thousands of kids. She teaches them something they can enjoy for the rest of their lives. It's all about growing the game and teaching kids life skills."
The Cook family started the First Tee of Hancock County in 2015 as part of the larger First Tee of Lake Erie. Today, the Red Hawk chapter includes nearly 220 members, up from the 150 or so who started with the program three years ago.
"Sports is the greatest classroom for life," Cathy Cook said. "No one ever perfects any of it. I think bowling is the only one you can perfect, even then no one can do it all the time. And that is what is so important about this, sports helps kids make difficult decision under pressure and under control."
The program also is a way to introduce kids who years ago might have gotten their start in the game as a caddie.
"That's the way I learned the game," John Cook said. "I had to caddie before I was able to get full golf privileges at a club where my father was a member. I had to take tests to earn yellow cards, green cards and blue cards. I had to get a blue card before I could play by myself, and I never questioned it. That's how golf was then.
"Golf was big, but it became so saturated with product: 'Here's the course, now go play.' There was no competition for business. Now, you have to offer more amenities, better service and a better experience. We get that. We know what works and what doesn't. At the end of the day, people will say they had a great day, or they didn't, and here's why. That's what we bring to the table. And we're opening programs that promote the game to kids and gets their families involved. If we give them the experience and the tools to play, it can only help grow the game. It's a start."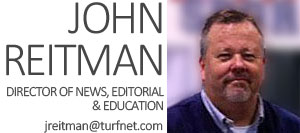 Article: Former PGA Tour player and family expand legacy of growing the game