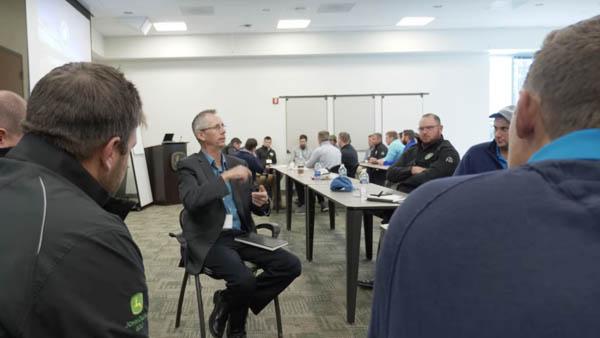 As an assistant superintendent at Oakmont Country Club for many years, David Delsandro always knew the importance of staying up to date on turf and personnel management issues in the golf industry. As the head superintendent at the Pittsburgh-area course that has become synonymous with the U.S. Open, Delsandro also knows how important it is for he and others in a similar position to share their knowledge with the next generation of golf course superintendents.
That's why Delsandro, who was a member of the inaugural
Green Start Academy
12 years ago has since become a member of the executive board that leads the education for tomorrows superintendents. 
The three-day series of seminars and discussions presented by
Bayer
and
John Deere
provides assistants with networking and educational opportunities in subjects such as career development, budgeting and labor management. The event is scheduled for Oct. 24-26 at the the Bayer and Deere facilities in the Raleigh, North Carolina area. 
"Attending the inaugural Green Start Academy in 2006 was a defining moment in my professional development," Delsandro said in a news release. "Interacting with and listening to the distinguished panel of contributors was a great opportunity. The ability to network with similar, driven assistant superintendents only provided greater motivation in my daily work. John Deere and Bayer provided a first-class, fantastic experience that proved to be very beneficial. I recommend applying to Green Start Academy to our current assistant superintendents on an annual basis." 
Those interested in attending can apply through an
online submission form
on the Green Start Academy web page. All applicants must submit an application, resume, cover letter, letter of recommendation and an essay that includes three ideas to initiate change in the golf maintenance industry in the next decade.
The advisory panel will choose 50 applicants from the pool to attend this years event. The application period is open through 5 p.m. on June 25.
Other members of the advisory board include: Bob Farren, CGCS, Pinehurst Resort; Pat Finlen CGCS, The Olympic Club; Lukus Harvey, Atlanta Athletic Club; Andy Morris, Country Club of Peoria (IL); Grant Murphy, The National Golf Club of Canada; Tyler Otero, North Jersey Country Club; Michael Stevens, Billy Casper Golf; Billy Weeks, Houston Country Club.