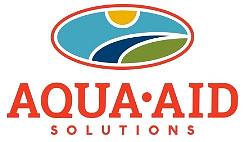 Aqua-Aid has rebranded it's stable of moisture management, soil amendment, nutritional and equipment products under the umbrella of Aqua-Aid Solutions. An entirely new website launched today at aquaaidsolutions.com, with new Facebook, Twitter and Instagram handles (@Solutions4Turf) as well.
Long known for high-value or "affordable" surfactant and wetting agent products -- starting with the now legendary Aqua-Aid pellet and proportioner system back in 1986 -- Aqua-Aid has gradually added ancillary product lines to offer golf course superintendents and other turf managers a wide range of solutions to optimize growing conditions.
Within the last decade, AQUA-AID Solutions expanded their portfolio with Verde-Cal products (enhanced lime, gypsum and potassium products), Imants and Vredo turf equipment from Europe and most recently Worm Power Turf vermicompost extract. Rather than disparate websites for each brand, all have now been consolidated into one comprehensive information source at aquaaidsolutions.com
AQUA-AID Solutions current portfolio includes technologies that focus on each element of a turfgrass system: water, air, soil and sunlight. Their range of products provides synergistic moisture management, biological, soil and cultural solutions. Each technology is focused on long lasting agronomic value through improved aesthetics and playability on turfgrass systems in the golf and sports field arena.
"We can touch any part of a turf managers agronomic program and deliver a solution to the challenges they may be facing," explains Sam Green, president of AQUA-AID Solutions. "This new platform will allow us to continue our mission of delivering unique technological advanced products to support agronomic programs while reducing environmental impact." 
Before joining Aqua-Aid in 2013 as director of business development, Green was the golf course superintendent at the Country Club of Landfall and Eagle Pointe Golf Club in the Carolinas. Before his promotion to president of Aqua-Aid Solutions, Green was Chief Operating Officer of Aqua-Aid.
The mission of Aqua-Aid Solutions moving forward is to "continue delivering customized innovations that solve turf and ornamental challenges by improving soil and plant health for agronomic programs around the globe".