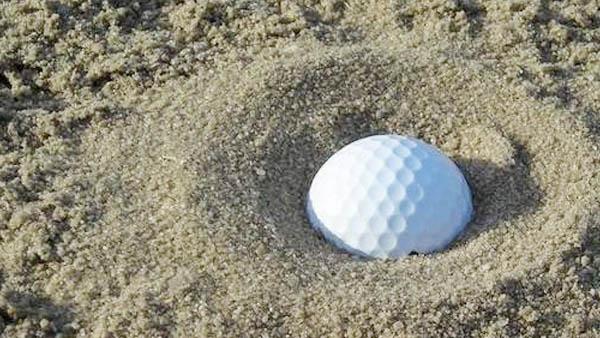 Hazard: an unavoidable danger or risk, even though often foreseeable;
something causing unavoidable danger, peril, risk, or difficulty;
the absence or lack of predictability; chance; uncertainty.
According to the USGA's Rules of Golf, bunkers on golf courses are supposed to be hazards, and should be maintained as such. Golfers, on the other hand, appear to be split on that issue.
There are golfers who view hazards as the USGA does, and those who believe they should have a perfect bunker lie every time; the latter meaning the only hazard on a golf course is the cost of maintaining them.
Finding ways to reduce bunker maintenance is the easy part. Convincing some golfers of the merits of reducing the amount of labor spent maintaining hazards and redirecting it elsewhere can be another matter entirely. Since it doesn't appear that the economics of golf are going to get better anytime soon, it's always a challenge worth taking on.
According to
Brad Klein of Golfweek
in a story written more than a decade ago, bunker rakes were not used on golf courses, even during major championships, until the 1950s. Before that, "bunker" and "maintenance" were two words that had no business appearing in the same sentence.
Recently, the USGA Green Section published a short piece on an
alternative method to bunker maintenance
that minimizes the time workers spend hand raking by devoting attention only to disturbed areas, allowing superintendents to devote resources where they are needed most. Known as the Australian Method, it also all but eliminates fried egg lies and results in bunkers that are playable, but not perfect, retaining some of that original intent of penalizing golfers for hitting a wayward shot.
This raking technique produces finely raked and consistent bunker floors and smooth edges. It is something the USGA has been promoting for more than five years when it was the preferred method of bunker maintenance during the 2011 Presidents Cup at Royal Melbourne in Australia. 
Superintendents and their teams that have used variations of this method have used brooms, squeegees and other implements to produce the smooth outer edges. But the technique was tweaked, if not perfected, by the green staff at Pinehurst as they prepared for the U.S. Open and U.S. Women's Open, held on No. 2 in successive weeks in 2014.
Unable to produce the desired smoothness with other tools, the staff their found the look and conditions they sought simply by flipping the furrowed rakes and using the backside.
The results since include playable, but not perfect, conditions on the bunker floors and smoothed faces that only are groomed when disturbed. The infrequent maintenance time spent on those faces results in a crustiness, says the Green Section, that resists embedded fried egg lies.
The ability to produce more consistent bunker conditions while reducing maintenance costs and minimizing fried eggs is a solution any golfer should be able to support.