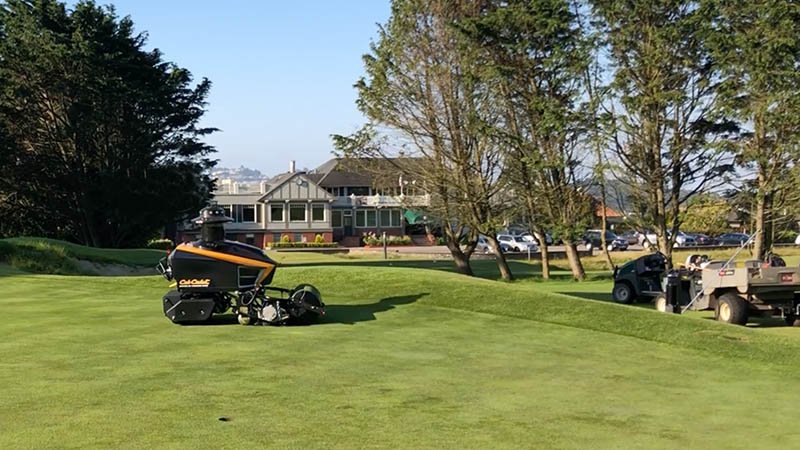 There was a time when golf course superintendents could not envision entrusting putting surfaces to autonomous mowers. But 12 months after incorporating the technology into his day-to-day routine at the Presidio Golf Club in San Francisco, Brian Nettz cannot imagine ever going back to walk mowing greens.
For the past year, Nettz has been leasing a fleet of five Cub Cadet R3 mowers at the Presidio. The mowers help him save on labor and fuel costs and reduce the club's environmental footprint.

"I first saw it on a video, I think on TurfNet," Nettz said. "I always thought they were pretty cool, but thought they'd never work here. I thought they would be too expensive and we'd never get people to embrace it."
Turns out that some of the benefits of such technology made it a pretty easy sell.
As each autonomous unit mows greens, its "operator" is free to do things like rake bunkers and cup cuts. The units, each weighs in excess of 500 pounds, also roll as they mow, allowing allow five people to do more in one day than twice as many could accomplish a few days a week just one year ago. In fact, Nettz figures the units help save more than 70 labor hours per week. That's a big deal with help becoming increasingly hard to find. 
Historically, Nettz would have 15 people on staff, plus a mechanic. For the past few years, with help harder and harder to find, that number has been around 11. Based on that data, Nettz figures the units will offset the cost of a four-year lease in about two years. 
"We've been trying to hire for three years, and there is nobody out there," Nettz said. "This saves about 72 labor hours a week."
The Presidio Golf Club is located in Presidio National Park. Any new machinery used on the property must be approved by the Presidio Trust, a federal agency that manages the park for the National Park Service. Incorporating equipment that uses a renewable energy source was an important consideration in one of the country's environmental hotbeds, and made justifying the move to autonomous technology easier to defend.
"They are much more progressive than a board of directors at a country club. The environmental issues were a big driver," Nettz said. "It's all electric, which was in their wheelhouse of burning less fuel. We never really had to get into the justification of it."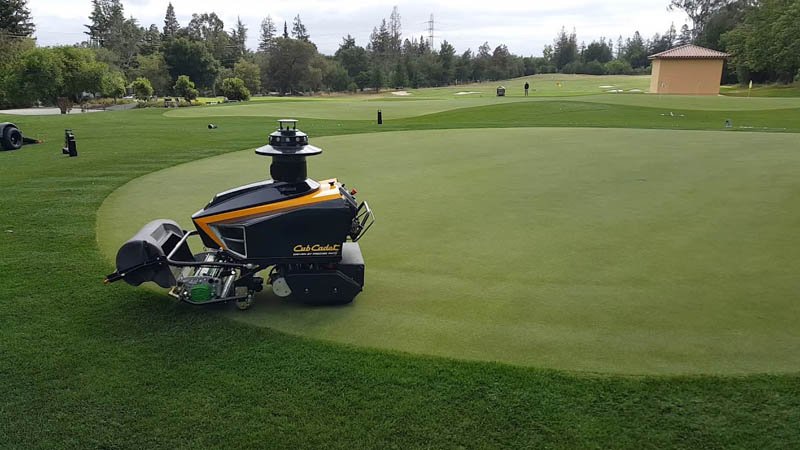 At La Rinconada Country Club in Los Gatos, just southwest of San Jose, Kevin Breen began using autonomous mowing technology about a year-and-a-half ago. He uses it on his practice green and the No. 1 green so as to be in compliance with a local noise ordinance.
"I believe in it. I'm pretty happy with it," Breen said. "I think there are still some things that can be improved and that's why I'm hesitant to go to the entire golf course with it yet. But it's coming and it's worthwhile and it is going to change the industry and how we work."
Members at La Rinconada have been curious and supportive of the slow and subtle move toward autonomous technology.
"They've been pretty enthusiastic about it," Breen said. "Most of my members are in the tech industry, so they embrace technology and understand it can be beneficial. They are all for advancing what we are doing to maximize efficiency of the operation."
The Presidio was in the market to replace a fleet of 14-year-old walk mowers a year ago, and a few other courses in the San Francisco-San Jose area already were using them, including the California Golf Club.
"Once we saw them in action, it was a no-brainer," Nettz said. "The operator sets it up and walks off to rake bunkers. It's heavy, so it rolls and mows at the same time. It does three jobs at once."
The units are controlled by a series of four beacons that recognize perimeter wires buried underneath the surface to map mowing patterns around each green.
The decision of lease vs. buy came down to staying current with improvements to the technology down the road.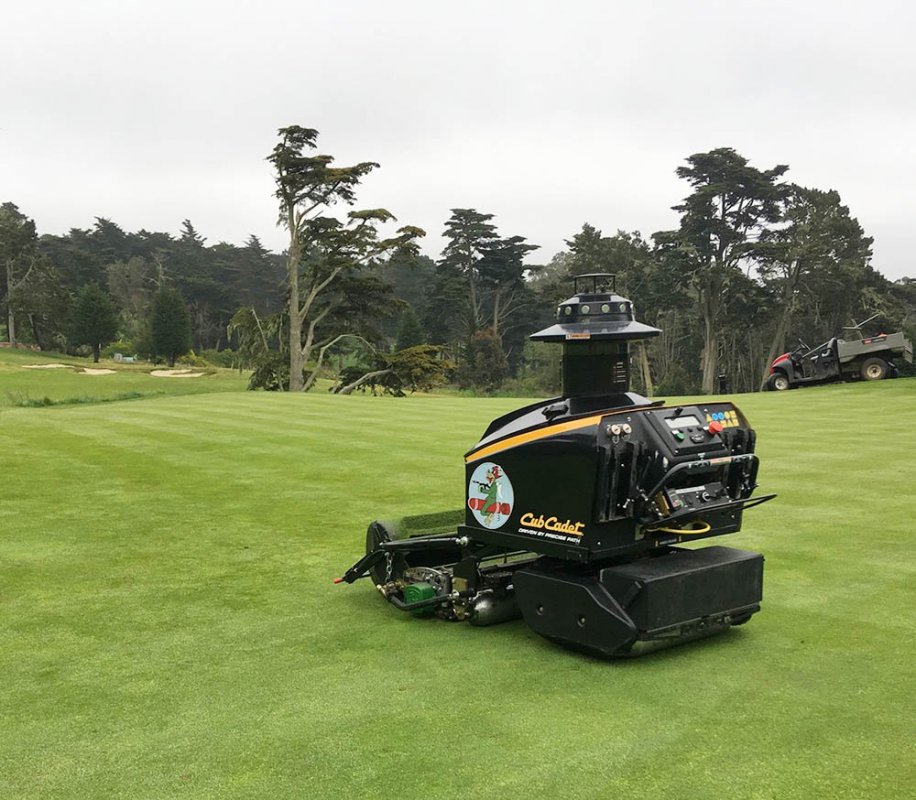 "Why own them when the technology will be outdated in a couple of years?" he asked.
The hilly terrain at the Presidio and the mowers navigating slopes in morning dew was a concern, and once in a while a unit might need a push up a grade to get going.
Nettz said the quality of cut is better than that produced by a walk mower. In fact, mowing Presidio's bent/Poa greens at 0.140 inches and rolling simultaneously has produced better putting conditions than in the pre-robot days, he said. 
"That's a good speed for us and it's a good height based on agronomic factors here and the chemistries we can use," Nettz said. "The quality of cut is better, the balls rolls farther and the greens put truer because we roll every day."
Something as dramatic as a change to autonomous technology has to be the cornerstone of an agronomic program, not just a piece of it, Nettz said.
"You really have to reinvent the wheel and how your do your greens sections," he said. "You can't just drop it into your current plan. You have to use them and plan everything else around that. That's how you really get the efficiency out of these. There are some limitations and you have to plan around those. You have to know who you are, and we know who we are, and we know we're not Augusta. But when you plan around those limitations, there is no other way to do it. I can't ever see going back to regular mowers."