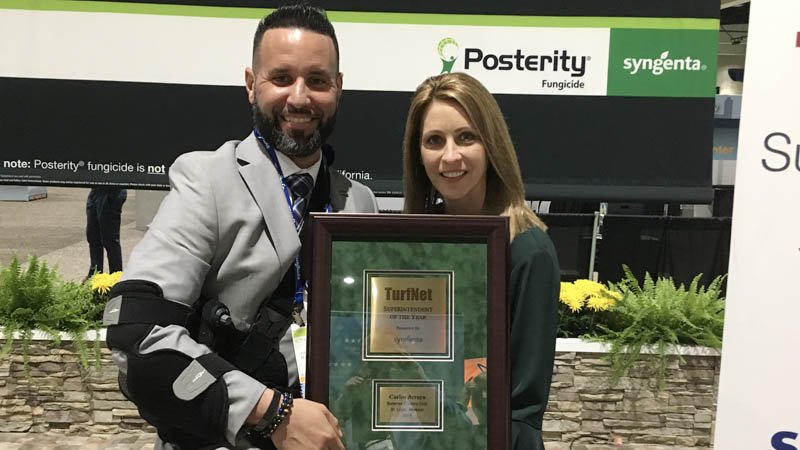 Personal tragedy once caused Carlos Arraya to question whether he had made the right career choice by becoming a golf course superintendent. If he ever has those thoughts again, Arraya, the director of agronomy and grounds at Bellerive Country Club in St. Louis, probably has a future as a motivational speaker.
That tragedy, the death of his son, Isaih, in a car accident in 2016, was the impetus for some honest introspection and sobering changes to the way he manages his life and his team as the 2018 PGA Championship loomed at Bellerive. 
"Losing my son gave me a new perspective," Arraya said. "Tragedies really awaken people, or they make them go down a road they can't come back from."
Count Arraya among the former.
Tragedies really awaken people, or they make them go down a road they can't come back from.
The pillar management style he implemented since the tragedy emphasizes people first, from recruitment through training, with the idea that "the best people will produce the best conditions and is a big part of why, during this year's Golf Industry Show, Arraya was named the recipient of the TurfNet Superintendent of the Year Award, presented by Syngenta.
"The difficulty of this loss few of us will ever grasp," wrote Dr. Thomas Schneider, a Bellerive member and green chairman during the PGA Championship, in his nomination of Arraya for the award. "Carlos endured these dark days by crediting his deep faith."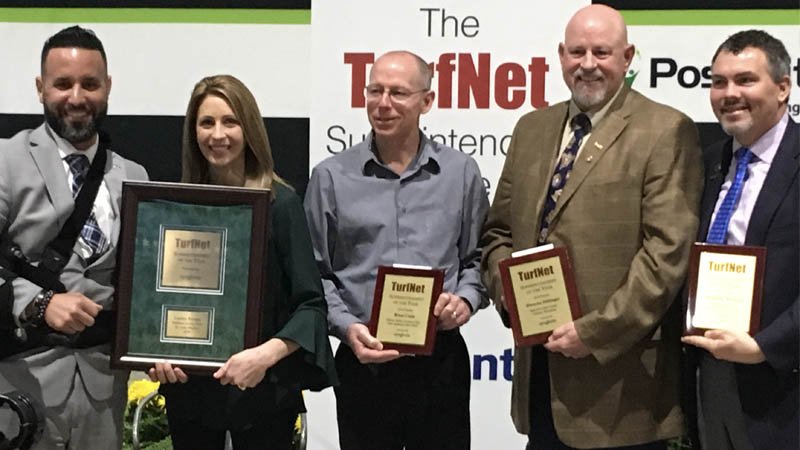 It was eight months after he started at Bellerive as superintendent under John Cunningham that Arraya's son died. When Cunningham left the following year to become general manager at Aronimink near Philadelphia, Arraya decided it was time for him to change.
"I told John I was going to do something different," Arraya said. "I didn't know at the time what that was, but I knew I wanted to do something different."
His team-building management style helps members of his staff focus on specific tasks, take ownership of conditions and pride in the knowledge that their work in a definitive areas help prop up the pillars that hold up the golf course.
The staff is separated into teams, and each member has six items as part of their routine and they have to take ownership of those six items. The pillar is the key to each team's success. This way, they know exactly what they are doing every day, they know our plan and how what they do impacts others.
"Culture has a variety of meanings," he said. "What does it mean to this group? Professional excellence comes from remembering life is more than work."
That even applied during the PGA Championship. Although preparing a golf course to challenge the world's best golfers on the game's biggest stage requires a lot of work, Arraya made sure members of his team were not overworked, especially those with young children at home..
Professional excellence comes from remembering life is more than work.
"We have to love each other, take care of each other and take care of our children," he said.
"The golf course has been here since 1897. A lot of generations have come and gone, one day I'll be gone, but the golf course will still be there."
Arraya was chosen from a field of five finalists that included Brian Conn of Transit Valley Country Club in East Amherst, New York; Dwayne Dillinger of Bell Nob Golf Course in Gillette, Wyoming; Pat O'Brien of Hyde Park Golf and Country Club in Cincinnati, Ohio; and Matthew Wharton of Carolina Golf Club in Charlotte, North Carolina.
Criteria on which nominees are judged include: labor management, maximizing budget limitations, educating and advancing the careers of colleagues and assistants, negotiating with government agencies, preparing for tournaments under unusual circumstances, service to golf clientele, upgrading or renovating the course and dealing with extreme or emergency conditions.
As the winner, Arraya receives an expense-paid trip for two on the TurfNet members golf trip to Ireland in October.
Previous winners include: Jorge Croda, Southern Oaks Golf Club, Burleson, TX, and Rick Tegtmeier, Des Moines Golf and Country Club, West Des Moines, IA (2017); Dick Gray, PGA Golf Club, Port St. Lucie, FL (2016); Matt Gourlay, Colbert Hills, Manhattan, KS (2015); Fred Gehrisch, Highlands Falls Country Club, Highlands, NC (2014); Chad Mark, Kirtland Country Club, Willoughby, OH (2013), Dan Meersman, Philadelphia Cricket Club (2012), Flourtown, PA; Paul Carter, The Bear Trace at Harrison Bay, Harrison, TN (2011); Thomas Bastis, The California Golf Club of San Francisco, South San Francisco, CA (2010); Anthony Williams, Stone Mountain (GA) Golf Club (2009); Sam MacKenzie, Olympia Fields (IL) Country Club (2008); John Zimmers, Oakmont (PA) Country Club (2007); Scott Ramsay, Golf Course at Yale University, New Haven, CT (2006); Mark Burchfield, Victoria Club, Riverside, CA (2005); Stuart Leventhal, Interlachen Country Club, Winter Park, FL (2004); Paul Voykin, Briarwood Country Club, Deerfield, IL (2003); Jeff Burgess, Seven Lakes Golf Course, Windsor, Ontario (2002); Kip Tyler, Salem Country Club, Peabody, MA (2001); Kent McCutcheon, Las Vegas (NV) Paiute Golf Resort (2000).