When tragedies such as hurricanes and wildfires strike, golf takes a back seat while the focus shifts to real-world problems.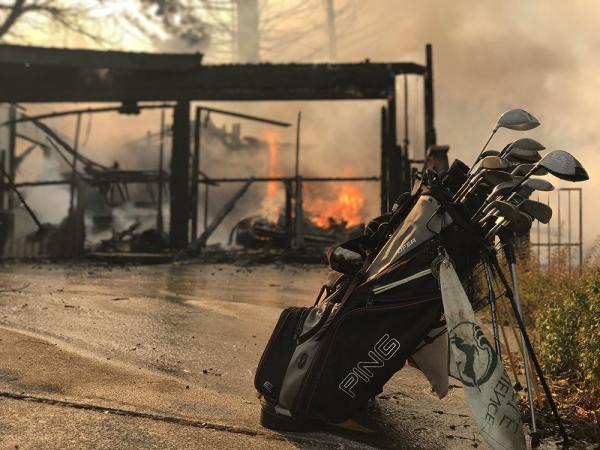 After all, golf is just a game. Golf also is a business, and when golf courses are threatened by floods and fires, the loss of property and jobs is about as real-world as it gets.
There are a lot of golf courses in the crosshairs of the wildfires in California, but none more so than Mayacama Golf Club in Santa Rosa and the Silverado Resort in Napa, where Brendan Steele successfully defended his title at the PGA Tour's smoke-plagued Safeway Open held Oct. 5-8. 
"We all left our stuff, ran for our cars and got the hell out of there," tournament director Jeff Sanders told the San Francisco Chronicle..
It was reported on Twitter Oct. 11 that P.J. Ringenberger, director of agronomy at Silverado, lost his home to the wildfires in Santa Rosa late Sunday night. Ringenberger's sister, Corey Gines, has created a
GoFundMe
campaign to aid the Ringenberger family.
Gines posted: "They had to evacuate their home very fast on Sunday evening around 10:30 p.m., leaving with very few possessions. They camped out in a Home Depot parking lot in their car that evening, but they were all safe! Wednesday we found out that their house was completely gone. . . . They have a friend that has been so generous as to let them stay at their guest studio for the time being, but they left with very little." 
Jeff Jensen, GCSAA Southwest Regional Representative, posted on
his blog
: "I spoke with Silverado Superintendent Ryan Nicholson who provided me with the following:  "We are anticipating increasingly dry winds out of the north this evening and the entire town of Napa is under an evacuation watch at this time. The entire area around Silverado and Napa valley C.C. is under mandatory evacuation. The golf course sustained moderate damage with our maintenance facilities, equipment, and clubhouse still intact. A large percentage of residence were damaged, however. Many tournament structures from the Safeway open were leveled as well. In the process Director of Agronomy PJ Ringenberger lost his house and everything in it, just narrowly escaping the fires."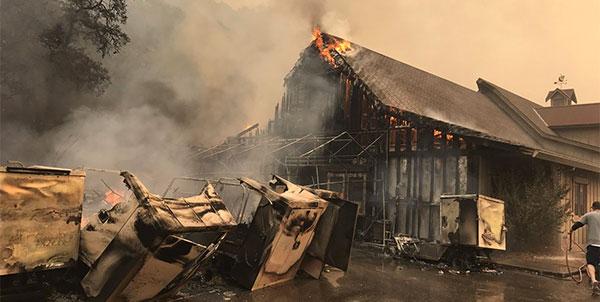 The maintenance facility at Mayacama.  Photo courtesy of Dale Engman via Jeff Jensen's blog.
The University of California San Francisco Medical Center Celebrity Golf Classic scheduled for Oct. 8-9 at Mayacama was canceled when wildfires in Northern California threatened the property and sent celebrity athletes scrambling for safety.
The event, founded by NFL Hall of Famer Ronnie Lott, raises funds for the UCSF Benioff Children's Hospital in San Francisco and The Michael J. Fox Foundation. Since it began in 2011, the event has raised more than $3 million for medical research. Among the celebrities scheduled to play this year were Barry Bonds, Bret Saberhagen, Dan Jansen, Grant Fuhr and Eric Gagne.
Saberhagen and Jansen told the Chronicle that when they fled The Timbers resort hotel at Mayacama on Oct. 9 they had to drive about 130 miles before finding safe haven for the night. 
UFC fighter Henry Cejudo also was in Santa Rosa for the golf tournament. He evacuated the hotel at Mayacama and relocated to the Fountaingrove Inn about 10 miles away.
The Tubbs fire burning in the Santa Rosa area eventually made its way to the Fountaingrove and Cujedo, who slept through the hotel's fire alarm and had to jump to safety from a second-floor balcony when the fire entered his room. He landed in a tree that already was ablaze before finally making his way to the ground, literally with only the clothes on his back. An Olympic gold medalist in wrestling in 2008, Cujedo said he lost his medal in the fire.
The fires sweeping through Northern California have burned more than 200,000 acres and almost 4,000 buildings. So far, 31 people have died, including an elderly Napa couple, making it the deadliest fire event ever in California. In Santa Rosa alone, the Tubbs fire has destroyed 2,800 homes.