When it comes to facing - and overcoming - adversity, John Colo knows a thing or two. During the past several years, he's dealt with job loss and personal adversity that can test a person to their limits.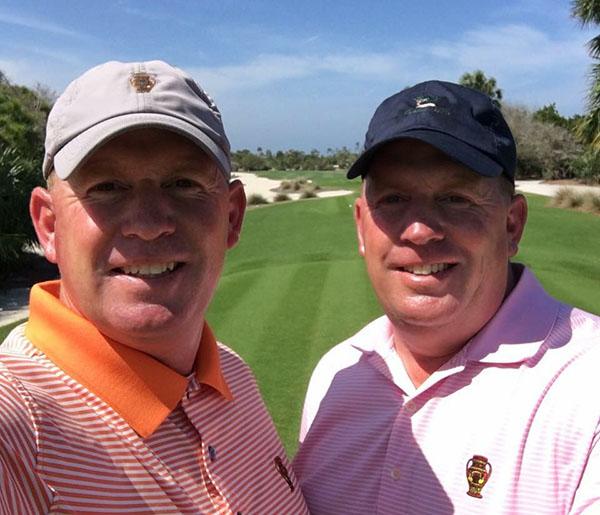 "My biggest challenge was when I was let go from Hartefeld National Golf Club in August 2013 and then found out two days later that (wife) Peggy was diagnosed with stage III esophageal cancer," said Colo, now superintendent of the Hills Course at Jupiter Hills Club in Tequesta, Florida.
Rather than let such life-altering challenges keep him down, Colo, 46, prefers to be defined by how he gets up. His wife's cancer has progressed to stage IV and she continues to undergo treatment. Meanwhile, his seemingly endless supply of energy and positivity provide the couple's two teenage sons with an in-your-face lesson about overcoming misfortune that would make Norman Vincent Peale and Steven Covey blush.
"I'm just a glass half-full guy," Colo said. "I've never looked through rear-view mirror. My philosophy is to always look out the windshield and be better tomorrow than you were today."
To help keep him pointed straight ahead, Colo also has the luxury of a solid support network buoyed by a sibling.
Jim Colo is not just any brother. As twins, Jim and John are close. As twins who happen to be golf course superintendents, they share a bond that others hardly can understand. 
When John worked in Pennsylvania at Hartefeld National or the Country Club of York and Jim worked at The Alotian Club in Arkansas, they talked on the phone nearly every day on everything from labor and agronomics to club politics to checking on each other's children and spouses.
"We don't get too far away from each other in thought," said Jim, superintendent at Naples National Golf Club in coastal Southwest Florida since 2012. "We talk at least once a day. I've already talked to him once, and I'll talk to him again this afternoon. I'll ask 'What did you do at the course. How's Peggy? How are the boys?'We are both at clubs that demand perfection. It's about work and family, and we share that pretty closely."
The "elder" Colo echoed those sentiments - nearly verbatim. 
"We talk once, sometimes two times a day," John said. "We talk shop every day. We talk about crew, hiring, equipment. Jim and I already have talked this morning, and I'll call him again this afternoon on my way home.
"Jim and I have always talked with each other - I think it's the twin thing happening - just about every day.  We are always talking shop.  It feels like the golf course has an extra superintendent working for them with the information and advice we discuss. We text and share pictures. We have great conversations on the phone on our way home from work - very open and honest.  Seems like Jim and I are leaving work just about at the same time.
"Jim has given me a lot of advice, guidance and a ton of support. It has been great to have Jim to lean on and discuss things with. We challenge each other."
Natives of Painesville, Ohio, which is along Lake Erie northeast of Cleveland, the Colo brothers share a similar career path as well. Both are graduates of the two-year turf program at Rutgers. 
I never lost my passion for the golf course," John said. "I knew what I wanted to do and what I didn't want to do. I stayed true to what I knew, and I believed the right opportunity would be there to get back in the saddle as a golf course superintendent.
John prepped early in his career for legendary Jim Loke first at Quail Hollow Country Club in Painesville, and again during the construction and grow-in of Bent Creek Country Club in Lancaster, Pennsylvania. It was a grueling time that served John well in the years since both on and off the golf course.
"Jim showed me the ins and outs of the business then," John said. "He showed me a lot about turf - the hard way. And I learned.
"I learned how he dealt with the many chiefs in the clubhouse. I read his newsletters to the membership and I modeled what I learned from him and all the things that are thrown to you at one time. You have to keep moving forward."
Jim learned the trade in Florida under Steve Ehrbar, another Loke disciple and now his brother's supervisor at Jupiter Hills.
"Steve was Jim Loke's assistant at Quail Hollow," Jim said. "Steve worked for Loke, John worked for Loke and I worked for Bob Blaylock who worked for Loke, then I was Steve's assistant for seven years at Old Marsh."
Those experiences working for Loke and his prodigies helped toughen the Colo brothers for life on and off the course. When job loss struck John for the second time four years ago, he did what he had to do to get buy, staying busy driving a limousine and a UPS truck, plowing snow in the winter and working a landscape job in the summer so he could spend time at home taking care of his wife and their two sons. Still, he never waffled from what he believed to be his true calling - being a golf course superintendent.
"I never lost my passion for the golf course," John said. "I knew what I wanted to do and what I didn't want to do. I stayed true to what I knew, and I believed the right opportunity would be there to get back in the saddle as a golf course superintendent. I had been away from the golf course for 20 months before landing a job as a superintendent, so I knew the challenge to get back after being away would be tough, but I knew I had the knowledge and the experience and a solid network to help me succeed."
That includes his brother.
Although they live in the same state, the Colo brothers are separated by 175 miles, so it's not exactly easy to pop in on each other, but they do see on another more often than they did when they lived 1,000 miles or more apart.
"We try to see Peggy as much as possible, and that's comforting," Jim said. "And we're there if they ever need help or help with the boys."
Said John: "We used to see each other only once or twice a year. We see each other a lot more since moving to Florida. One of the reasons we moved here was to be closer to Jim and his family."
It's a twin thing.