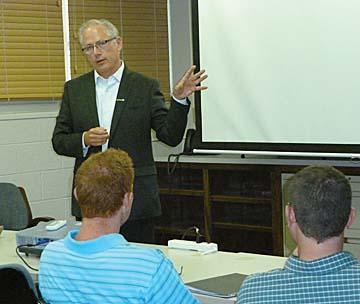 When Pat Finlen spoke recently about the importance of establishing a line of communications between the maintenance facility and the golf shop, support for his viewpoint came from, of all people, a golf pro.
Bob Baldassari, director of youth golf development for the PGA of America, has been a golf professional and general manager at courses around the country. During the recent Green Start Academy, a career-development and educational event for assistant superintendents held by Bayer Environmental Science and John Deere Golf near their respective facilities in the Raleigh, N.C. area, Baldassari spoke of informal 6 a.m. meetings he held with superintendents at the courses where he worked as a club pro. Those casual meetings typically included breakfast or playing 3, 6 or 9 holes of golf, and allowed each party to better understand the other. Those meetings, he said, also ensured that any challenges were confronted with a team approach, not an adversarial one. It was a concept that others in the golf shop and maintenance building where he worked were force fed as well.
"I told them 'you're going to bring your lunch down there and spend time with maintenance,' " Baldassari said of golf shop staff. " 'You're going to get on the course with those guys. You're going to learn their names and what they are doing.' "
Chris Condon, superintendent at Tetherow Golf Club in Bend, Ore., said building interdepartmental relationships, like those proposed by Finlen and Baldassari bridges gaps between maintenance and the golf shop and sets an example that will be obvious to members and administration, said Chris Condon, superintendent at Tetherow Golf Club in Bend, Ore.
"It shows that you're a cohesive unit," Condon said. "It shows these guys know what they're doing and that they can work together."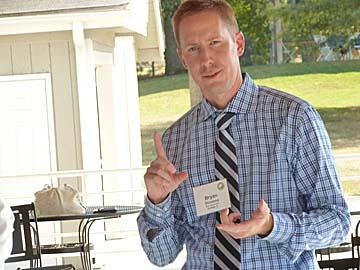 An adversarial relationship between golf staff and maintenance is a stereotype nearly as old as the game itself. But the importance of a positive relationship cannot be overstated, Finlen said. 
"The worst thing that can happen to you is that a member or patron complains about the golf course, and someone in the golf shops says 'I don't know. They don't tell me anything,' " he said. 
"Who is your mouthpiece when you are not there? The more information you can give (the golf shop), the better you are going to be."
Although golf patrons and customers stewing about conditions, whether it is remnansts of a recent aerification project or the onset of disease from summer stress, can be a troubling time for superintendents, what is worse is not having answers or solutions when conditions are not up to snuff.
Equally important, said Bryan Stromme, regional director of agronomy for Billy Casper Golf, is communicating up the chain of command, especially during difficult times.
Stromme, who oversees operations at 36 BCG courses throughout the Midwest, has a four-point plan to help superintendents survive stressful times.
Communicate
When conditions are not what they should be, regardless of the reason, Stromme says superintendents should be upfront and honest about conditions and have a recovery plan.
"I don't like to call it getting fired. I like to call it making someone available to the industry. And I've never done that because someone has lost turf," Stromme said. "The only reason I've done that is because of a breakdown in communication, and it's not a breakdown on my part. I'm the one communicating. But when (superintendents) clam up, when they're hiding and not talking, when they don't have any solutions, that's how you lose jobs."
Positive attitude
Maintaining a positive attitude is not always easy when the going gets tough, but doing so can be the difference between keeping a job and being forced to search for a new one.
"Don't adopt the victim attitude,"Stromme said. "Be positive with everyone around you, above you, below you, guests. Nobody likes working with someone who complains."
Know your staff
A manager is only as good as those who work for him, yet too many superintendents don't take the time to get to know or understand their staff or learn what makes them happy.
"I hear it all the time, 'oh, they're an $8-an-hour employee. I can't talk to them,' " he said.
"You have to understand what motivates them to come to work. That comes from talking to them."
Business communication
Stromme says he stresses the importance of effective business communications to his staff of superintendents. That includes checking emails for correct spelling and grammar as well as proper phone etiquette.
"Return emails and phone calls, and understand the importance of that," he said. "With so many properties to manage, I have to prioritize my day. If someone calls me and leaves a voicemail, I will call them back 100 percent of the time. But, if I see a missed call, I assume that it's not that important. If you call someone, leave a voicemail."