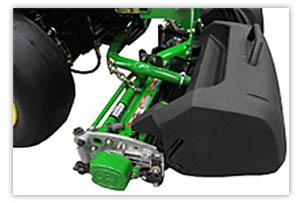 In response to customer feedback, especially from those managing turf on uneven surfaces,
John Deere Golf
recently released a
direct-mounted grass catcher
.
The unit, which Deere says allows for better contouring and retention of clippings, attaches easily to the 2500 riding greens mower as well as the 180 and 220 E-Cut hybrid walk mowers.
Constructed from polyethylene, the grass catcher features molded-in grooves that allow it to easily attach to the cutting unit, and is designed to slow air volume and route air out of the catcher, while retaining more clippings.  
It attaches to the cutting unit, allowing it to follow contours more freely.
"We are constantly speaking with superintendents and their crews to gain a better understanding of their best practices and methods," said Tracy Lanier, product marketing manager for John Deere Golf. "We have learned many professionals have unique preferences and needs based on their course, which is why the new direct mount grass catcher and current weight transfer catcher systems are key offerings when it comes to accommodating needs of our customers."
Since the unit attaches directly to the cutting unit, that can mean added weight to the unit as the catcher fills with clippings. Therefore, Deere also now offers an easy-to-use weight-transfer system.