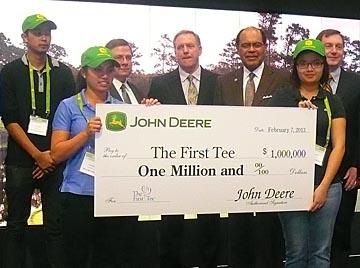 When it comes to growing the game of golf,
John Deere
is more than a silent partner. 
The same company that donated $1 million to The First Tee during the 2013 Golf Industry Show in San Diego has erected a First Tee exhibit to be displayed at the PGA Tour's Valero Texas Open designed to educated tournament patrons about the life and leadership skills youth development program promotes. The tournament is scheduled for this week in San Antonio.
The First Tee helps promote life skills such as how to manage emotions, set goals, resolve conflict, introduce themselves to and communicate with others. A 501©(3) entity, The First Tee also focuses on helping juniors develop core values that include honesty, integrity, sportsmanship, respect, confidence, responsibility, perseverance, courtesy and judgment, and finally reinforces healthy habits like energy, play, safety, vision, mind, family, friends, school and community.
According to the organization, it has helped more than 9 million youths in programs operating in all 50 states and four international locations and has helped more than 9 million youths since it was formed in 1997.
Golf patrons also will be able to visit the John Deere-First Tee display at other PGA Tour events, including the Shell Houston Open (March 31-April 6); the HP Byron Nelson Championship in Dallas (May 12-18); the Principal Charity Classic in Des Moines, Iowa (May 27-June 1); the Deutsche Bank Championship in Boston (Aug. 27-Sept. 1); the TOUR Championship presented by Coca Cola in Atlanta (Sept. 11-14); the SAS Championship in Raleigh, N.C. (Oct. 6-12); and the Charles Schwab Cup Championship in Scottsdale, Ariz. (Oct. 30-Nov. 2).