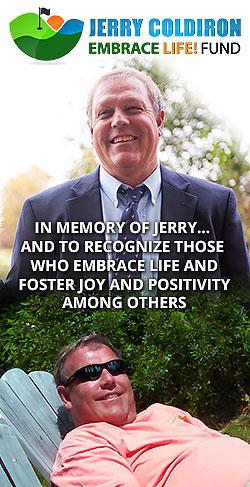 The TurfNet Beer & Pretzels Gala was a favorite event in Jerry Coldiron's year, so it was the perfect venue to announce the first four Jerry Coldiron Positivity Awards Tuesday night at the Quarry Golf Club in San Antonio. Jerry's wife Susan and son Jake presented the first awards.
Named for the late career superintendent turned Caribbean sales pro and long-time friend of TurfNet, the Coldiron Positivity Awards are $2500 cash stipends from the Jerry Coldiron Embrace Life! Fund and TurfNet to recognize individuals within the golf turf industry who live lives of positivity, caring, sharing and compassion for others... or who are experiencing personal hardship due to illness, natural events or job loss... or who do something special for the natural world (a special thing to Jerry). 
More about Jerry here.
The four recipients announced Tuesday are:
Marcos "Mike" Morales of the Buccaneer Golf Club in St. Croix, US Virgin Islands
John and Peggy Colo, Jupiter Hills Golf Club, Tequesta, Florida
Adam and Erin Engle, Lake Shore Yacht and Golf Club, Cicero, NY
John and Nick Paquette, Indian Hills Country Club, Northport, NY
When Hurricane Maria devastated much of the Caribbean in late September, several members of Mike Morales's staff at the Buccaneer lost their homes. Mike found one living under a tree but with his uniform washed and drying on a branch so he wouldn't miss work the next day. Morales launched a GoFundMe campaign to raise money for his staff members, and Jerry Coldiron picked up on it and promoted it on Twitter. Morales was a customer-turned-friend of Jerry's, who covered the Caribbean for Hector Turf, the Toro/Club Car distributor in Deerfield Beach, Florida.
Mike and his wife and daughter were on hand at Beer & Pretzels to receive his $2500 check from Susan and Jake Coldiron.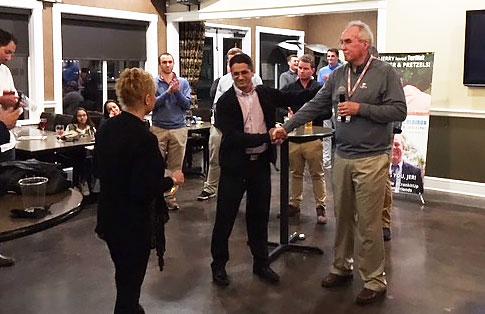 John Colo is another long-time TurfNet member who many will remember for organizing the globe-trotting "Where's TurfNet" banner program back in 2009/10, for which he was recognized at B&P 2011 as TurfNet Member of the Year 2010 (our only such award).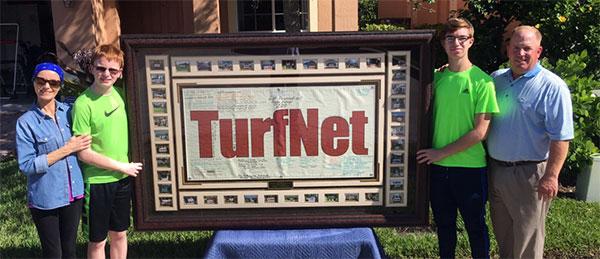 Superintendent at the Country Club of York, PA, at the time, Colo ultimately lost his job there. Two days after getting the pink slip at CCY, Colo's wife Peggy was diagnosed with esophageal cancer. With two young sons, John utilized his time off to care for Peggy and their two sons, Robert and Kevin. Long story short, John spent the next several years pursuing his next superintendent job while doing whatever he could to support his family... and keeping a positive attitude the entire time. After a year at a club in his hometown in Ohio, he landed the superintendent position at the Hills Course of Jupiter Hills Club.
Peggy's health issues persist, but she and John both maintain a positive attitude and serve as role models for Robert and Kevin. All now live in Florida.
John's identical twin brother Jim, superintendent at Naples National Golf Club, was on hand for the award.  More on the Colo brothers here.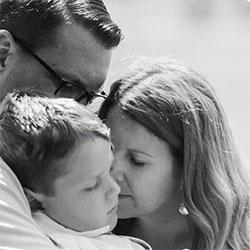 Adam and Erin Engle lost their 7-year old son Griffin to a rare pediatric brain cancer in 2014. Although devastated by their loss, the Engles formed Griffin's Guardians, a recognized nonprofit 501©(3) organization that provides support and financial assistance to children battling cancer in central New York. In the three years since its inception, Griffin's Guardians has raised over $500,000 to fund cancer research... but also to comfort children and the families of those going through the same battle that Griffin did.
Griffin's Guardians is now Erin Engle's full-time volunteer job. They have involved the entire Syracuse-area community in it's fund-raising efforts.
Adam and Erin's daughter Grace created Grace's Sibling Sunshine to make crafts and raise money through school group involvement because the siblings of cancer patients "are going through a hard time, too."
Adam has played for a dozen years on Team TurfNet in the annual Golf Course Hockey Challenge tournament for superintendents, assistants and suppliers, held in Niagara Falls, Ontario each January.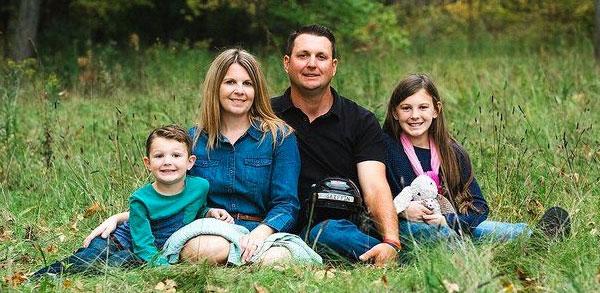 John Reitman profiled the Engles last year here. Both Adam and Erin were on hand to accept the $2500 check from Susan and Jake Coldiron.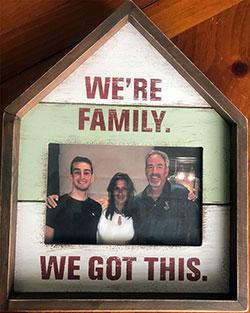 John Paquette has been a long-time friend of TurfNet and member since our first year in 1994. He and his wife Roxanne's (only) son Nick is a talented basketball player who contracted chronic myeloid leukemia (CML) in late April, 2017. John started a thread in the TurfNet Forum (members can follow it here) the following week to seek any help or guidance the TurfNet community could offer. The response was astounding, to all.
John, Roxanne and Nick's attitude during the summer of chemo and other treatments was WE GOT THIS! Long story short: Nick finished the treatment, returned to SUNY New Paltz in late August and is back on the basketball court. Read about Nick's journey here.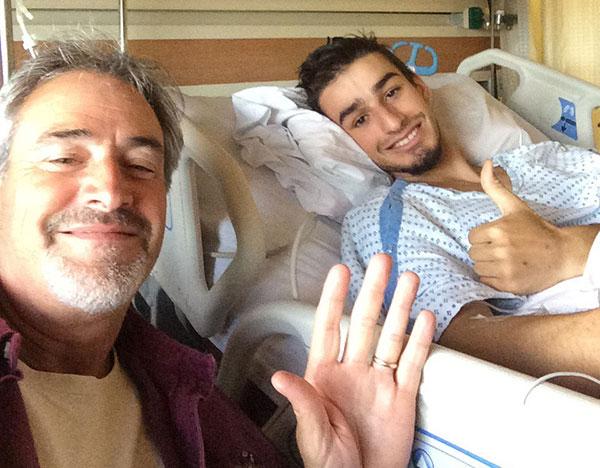 The story gets better. Less than a month ago, Nick learned that University of Texas Longhorns guard and NBA prospect Andrew Jones had been diagnosed with leukemia, and wrote Jones an open letter via Yahoo Sports. After many local news networks around the country picked up the story, Nick was contacted by ESPN, who visited the New Paltz campus on January 27 to shoot a yet-to-be-aired segment on Nick at the college Athletic Center. Read about that here.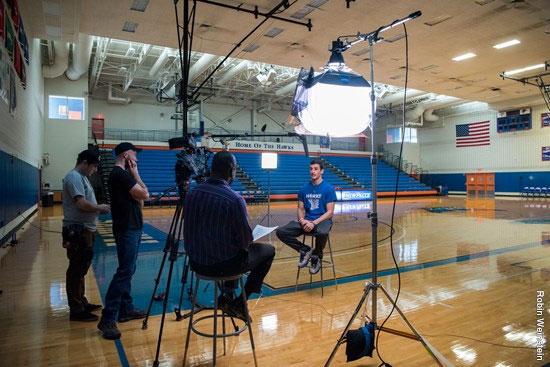 "While losing a great friend -- one of my best friends, personally -- is devastating, good can always arise out of that," said Peter McCormick, TurfNet founder and organizer of the Coldiron fund and awards. "Jerry was an amazingly positive person, a real cheerleader among men. We are happy to continue that legacy through these awards, and hope to keep shining Jerry's light well into the future."