When the golf course superintendent's position at Findlay Country Club in Ohio became vacant earlier this year, Brian Heydinger thought it was as good a time as any to come home. In many respects it was if Heydinger, who had worked at the club years ago, had never left.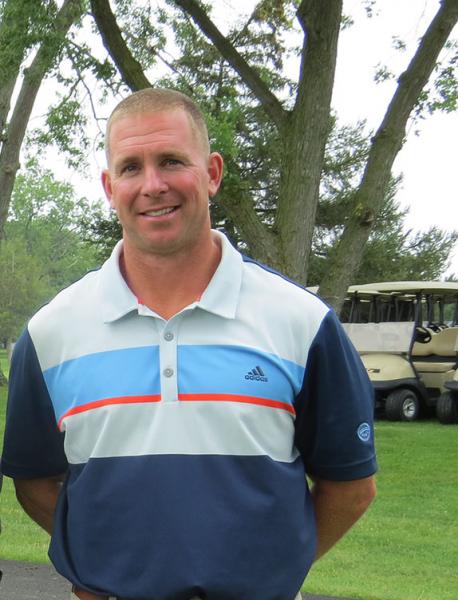 Heydinger, a former assistant superintendent at FCC from 1998 to 2005, succeeded Dan Koops as head greenkeeper May 23 after spending the past 12 years in the same position at Stone Ridge Golf Club in Bowling Green. Almost immediately, Heydinger was confronted by a challenging situation that proved to the club's members that they had picked the right man for the job.
"The primary quality in Brian that we saw was his leadership ability," said Chad Bain, Findlay Country Club's director of golf, membership and marketing. "He led a very good team at Stone Ridge, and the team here has really responded to him."
Starting a new job in the middle of the golf season can be a challenge for any superintendent. Throw in catastrophic flooding less than two months on the job and that can be a recipe for disaster for almost anyone.
In the early morning hours of July 13, torrential rains fell throughout much of northwest Ohio, including 4.25 inches in just a few hours at FCC and 11 inches in 14 days. Flash flooding in creeks throughout the area caused problems on several nearby tracks, most of which receded throughout the day. Things were a bit different at Findlay Country Club, where the flood-prone Blanchard River cuts through the 1908 Thomas Bendelow layout. 
The river crested late on July 14 at about 16.53 feet, more than 5 feet above flood stage of 11 feet and 3 feet above what the U.S. Army Corps of Engineers says is major flood stage of 13.5 feet. The river's depth on July 14 was the fifth highest on record in the city. In 2007, the river crested at 18.46 feet, just missing the all-time mark of 18.5 set in 1913. That 2007 flood caused more than $100 million in damage in Findlay alone.
By the time the river crested July 14 during this year's flood, most of four holes - 1, 8, 9 and 18 - were under water as was much of the rest of the city. Parts of the course that weren't flooded were covered in debris. 
"Silt and debris was everywhere," Heydinger said.
As Heydinger and his crew set up to clean up debris, he received multiple offers by members who wanted to help with the clean up.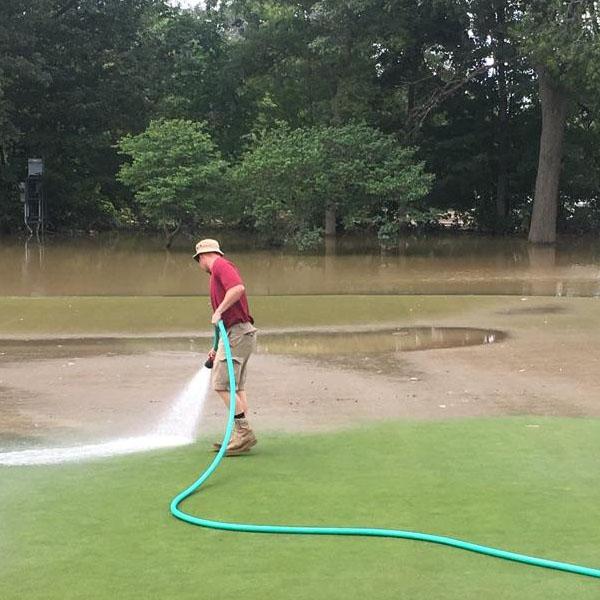 "The members take a lot of pride in the course," Heydinger said.
They also had a great deal of compassion for their new superintendent, and some perhaps were concerned that Heydinger might be second-guessing why he accepted the job. But Heydinger remained unfazed throughout the ordeal, and that impressed a lot of people at the club.
"A few people asked if we still had our new grounds superintendent," Bain said. "He handled it. He was ready. It was a tough thing to handle, but in the end it's been a good thing, because it allows the club to see what we have in Brian and what he has to offer under the most adverse conditions. You'd think anything else that comes after this should be easy."
When floodwaters had receded off the greens by the following Monday morning, Heydinger and his crew were at the ready with hoses in hand, literally removing the silt as soon as the water crept back off the playing surface.
"He was very prepared. That goes back to his leadership skills," Bain said. "He rallied the staff, and they rallied around him. He was efficient, and he made the right decisions. On that Friday, while the course was still flooded, he came to me and told me: This is what we're going to do Monday.' He knew the forecast, and he knew when the water would be down. They were out there with hoses waiting for the water to go down so that the minute it did they could wash the silt off the greens."
A former running back at the University of Findlay who later went on to earn a two-year turf management degree at Rutgers, Heydinger learned a lot about preparedness and organization from fDick Strahm, who won 183 games and four NAIA national championships in 24 seasons as the school's head football coach.
"That was a really good experience. (Strahm) was very detail oriented," Heydinger said. "He was very big on teamwork. Everyone had a responsibility and had to do what they were supposed to for the betterment of the team."
Sounds a lot like life on a golf course maintenance crew.