April showers might bring May flowers, but on golf courses in some parts of the eastern half of the country, May showers bring moss. At least this year.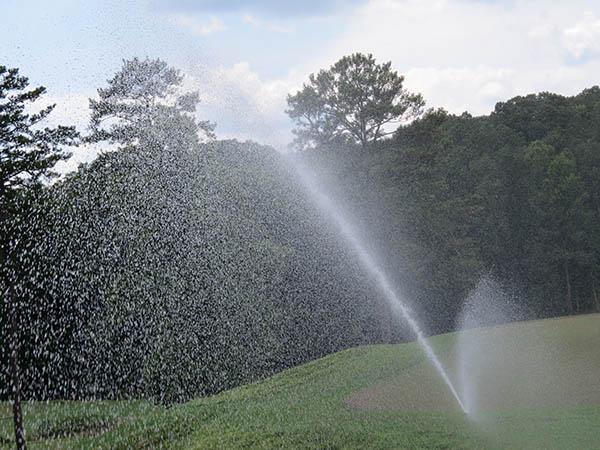 Temperatures have fluctuated wildly so far this spring. Take Columbus, Ohio for example, where temperatures during the Memorial were in the upper 80s in the first couple days of June. Less than a week later, the same area had highs in the low- to mid-60s.
Rainfall throughout central Ohio was up in May by about 26 percent compared with the historic average, according to the National Weather Service. Coupled with the cooler weather that has prevailed throughout much of the spring, these factors have provided an ideal environment for silvery thread moss, according to a
Buckeye Turf video
on spring turfgrass management issues by Joe Rimelspach, Ph.D., and Todd Hicks of OSU's plant pathology department.
Fear not, there is a great deal of research on moss prevention and control available today, including work conducted by OSU's Zane Raudenbush, Ph.D., when he was a graduate student at
Rutgers University
under Rich Hurley, Ph.D.
Two key factors to keep in mind in moss control is that it draws water directly through irrigation, rainfall and dew, not through the soil, and the presence of N, particularly in the form of ammonium sulfate, can exacerbate the problem.
Raudenbush suggested switching to an organic nitrogen source when battling moss.
According to research conducted by Raudenbush and elsewhere, control can be achieved through use of commercially available products as well as through cultural practices. 
Reducing irrigation can help reduce moss growth and prevent it from spreading. If a green that has a moss infestation must be syringed, do not apply water directly to the area where the outbreak is present, according to research.
Spot aerification of infested areas up to five times throughout the season in additional to regularly scheduled aerification days has been effective as well, the research says.
A few commercially available products have exhibited in research the ability to help minimize the spread of moss. A few off-the-shelf products from the corner store have shown some promise, too.
According to research published at Penn State, carfentrazone, iron sulfate and copper hydroxide work, but when all else fails, don't discount the efficacy of Dawn dish soap or a box of baking soda.
Dawn Ultra worked in some cases when mixed with warm water at rates of 2-8 ounces per 1,000 square feet at two-week intervals.
Baking soda was effective as a spot treatment on sunny days.