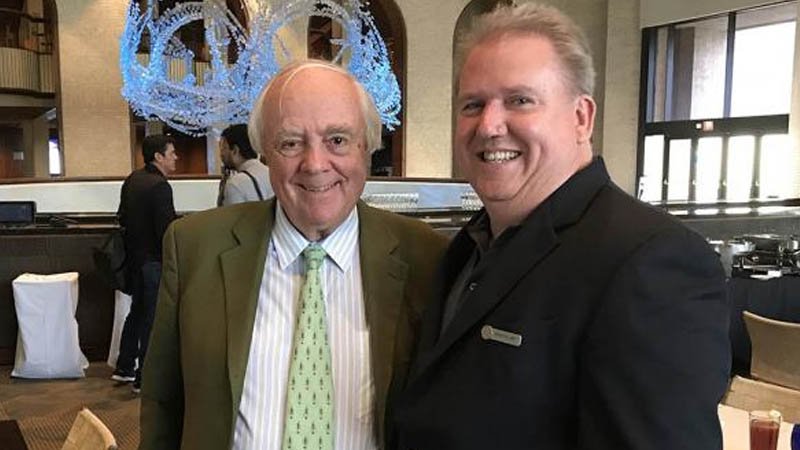 Longtime superintendent Anthony Williams, CGCS, who helped establish statewide BMPs and smart water-use protocols in Georgia and has earned a serpentine list of environmental awards during was inducted this week into the Georgia GCSA Hall of Fame, a group he helped found seven years ago.
A native of Indian Creek, Georgia, Williams has been a superintendent for parts of the past four decades in Georgia and for the past two years has been director of golf course and landscape operations at TPC Four Seasons Golf and Sports Club Dallas at Las Colinas in Irving, Texas.
A year ago, Williams became a winner of one of golf's triple crowns when he was named the Overall and National Private course winner of the Environmental Leaders in Golf Award. Williams also was the winner in the resort division in 2005 at Pine Isle Resort and the public course division a year later at Stone Mountain Golf Club, both in Georgia. He is the first superintendent to win the award in all three domestic categories.
It was the second time Williams, who worked 30 years for Marriott before taking over at the TPC facility in Texas early in 2017. The 2009 TurfNet Superintendent of the Year, Williams has a long list of awards to his credit including: Georgia GCSA Superintendent of the Year (2014), GCSAA Excellence in Government Relations Award (2014), Turf and Ornamental Communicators Association Environmental Communicator of the Year (2011), GCSAA President's Award for Stewardship (2010) and the J.W. Marriott Award of Excellence (2008).
Induction into the Georgia GCSA Hall of Fame, which he helped start, was especially meaningful. 
"What is so special is being recognized by the people who voted for me," Williams said. "I wanted to start this to recognize people who are a whole lot smarter than I am. To be part of that group is quite an honor."
Williams was recognized during the recent Georgia GCSA annual meeting in Adairsville, Georgia.
Also recognized was Kyle Marshall, from Capital City Club in Atlanta who was named the association's Superintendent of the Year. The son of a superintendent, Marshall is director of golf course management with oversight of Capital City Club's Brookhaven and Crabapple courses.
I wanted to start this to recognize people who are a whole lot smarter than I am. To be part of that group is quite an honor.
Marshall joined the Georgia GCSA in 1897 and arrived at Capital City Club in 2000. Since then he has helped the club host World Golf Championship events, the NCAA Division I Championships, numerous state championships and the 2017 USGA Mid-Amateur. As much as he is respected for his golf course maintenance standards, Marshall is also widely-recognized for his abilities during golf course and facility construction.
"You could take any five superintendents in this room," said Georgia GCSA president Scott Griffith from the University of Georgia Golf Course. "And there's still a good chance Kyle Marshall would have more construction experience than any of them combined."
For the past six years, Marshall has served as a trustee with the Georgia Golf Environmental Foundation and is current secretary-treasurer. The Superintendent of the Year Award is presented in partnership with Corbin Turf and Ornamental Supply.
The association also honored longtime executive director Tenia Workman with its President's Award for her passion for making a positive difference in the lives of others and her tenacity in dealing with breast cancer over the past year. 
In other news, Mike Brown from The Standard Club in Johns Creek received the distinguished service award, Chip Thompson from Cateechee Golf Club in Hartwell was named assistant superintendent of the year and Gary Hawkins, Ph.D., of the University of Georgia received the Environmental Leaders in Golf award.