Perception is not always reality.
The aisles were more narrow than usual at this year's Golf Industry Show, often giving the illusion that the Henry B. Gonzalez Convention Center in San Antonio was more crowded than ever. By the afternoon of the second day, even funneling traffic into a single-file walkway wouldn't have been able to mask the fact that a lot of people clean forgot the Alamo this year.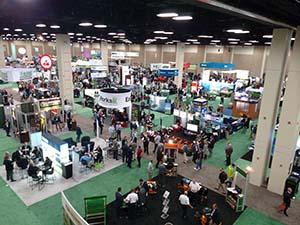 Attendance at this year's show was 11,700. That's 1,900 fewer attendees than last year's show in Orlando, 900 fewer than San Diego in 2016 1,189 below the five-year average attendance of 12,889. It's even down 700 from the last time the show ambled on into San Antonio in 2015.
The number of vendors exhibiting at the show has been hovering in the mid-500s for years, and this show, with 531 exhibitors, was no exception. That mark is down from last year's total of 569 in Orlando. It's down 19 from 2016 in San Diego and down an even 20 from the 2015 show in - San Antonio.
After a brief rebound in 2016 and 2017, when vendors rented out 250,000 square feet of convention center real estate in back-to-back years, booth space rental also was down this year, to 184,900 square feet. That's the least since 2015 (182,000) in San Antonio and well off the five-year average of 210,280 square feet.
None of this should be a shock. The game has been on a steady pace of losing players and rounds for more than a decade, and it's not unrealistic to expect the challenges associated with those losses to trickle down to the turf side of the business.
If there was a bright spot in a show marked by steady decline, it's that 5,600 education seats were filled this year, compared with 5,800 last year in Orlando.