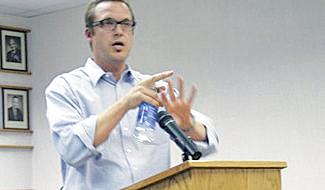 When it opens, Ocotillo Park Community Links will do so with the goal of attracting high-handicap players, not scratch golfers.
Designed by Andy Staples of Staples Golf Resource Group, city-owned Ocotillo Park will include a redesign of the existing 18-hole Ocotillo Park Golf Course in Hobbs, N.M., a new nine-hole executive course with a Starting New at Golf facility that offer age-appropriate instruction for entry level golfers. 
Along with 27 holes, the property will additional elements such as walking trails, trail heads with rest areas and other outdoor spaces within the property that are designed to increase use of the facility by the non-golfing community.
City officials in Hobbs had been seeking ways to boost interest in the game and drive revenue at its money-losing municipal facility when it learned about Community Links, a growth initiative developed by Staples. 
"This course is not unlike many older municipally owned courses across the country," said J.J. Murphy, Hobbs city manager. "The course is deteriorating before our eyes, and, people are just not playing golf like they did in years past. This concept provides a complete paradigm shift as to how the city's course will be viewed within the community and how it will be utilized by its residents."
Construction on the project is scheduled to begin late this year.
"Many courses are looking for reasons to upgrade their facility, but for a variety of reasons, aren't able to garner the support to do it," Staples said. "The concept of a Community Links gives a municipality a verifiable reason to invest in their facility. If it improves the life in a particular city and increases use in a deteriorating asset, why wouldn't they do it?"
Staples has designed more than 125 golf courses around the world since opening his firm in 2002. He implements a sustainable design philosophy in each of his projects, including elements that support water and fuel efficiency and require minimal maintenance input.