Part I in an ongoing series about labor issues affecting the golf industry.
One step forward; two steps back.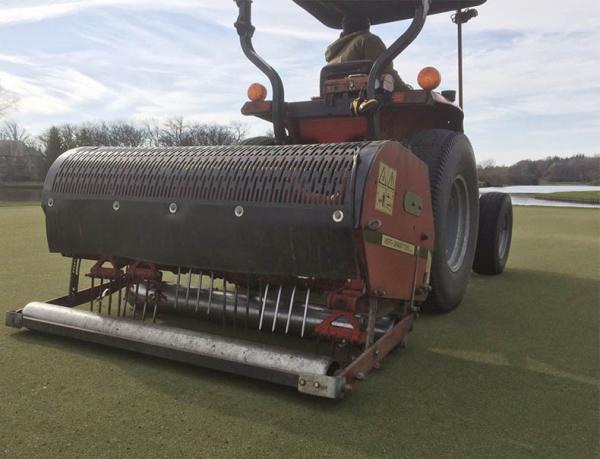 That's how Scott White feels every winter when it is time to hire seasonal help at Urbana Country Club in Illinois.
Whether it's finding high school workers with some semblance of work ethic, or helping Hispanic workers successfully navigate the physical exam process, White spends a lot of time looking for temporary help. And he's not alone.
All over the country the story is the same: superintendents are struggling to find qualified seasonal help, interns and even assistants. White is trying to get creative in finding high school students to round out his seasonal staff that includes Hispanics and retirees.
"It used to be I'd hire just anyone," said White, who is in his third season at Urbana. "Now, I'm looking for kids who want to be here because it excites them. I want kids who want to be outdoors, not just kids who need a job. I'm trying to find kids who are a better fit. That's the culture I want to create here. It seems I'm working four or five times harder to find the right employees who even want to be here. Eventually, robotic mowers will be a necessity because of labor."
Three years ago, White began working with a local high school to recruit summer help. Rather than get kids excited about the prospect of working outdoors all summer, he was getting the exact opposite.
"I was getting kids who didn't even want to be outside," he said. "It was like they were being forced to do it. They were not what I needed, and they didn't want to be here anyway."
This year, White ventured out of town to Mahomet-Seymour High School about 15 miles northwest of Urbana. Located in a more rural area, Mahomet-Seymour has a horticulture program stocked with kids already leaning toward a career spent outdoors.
White is scheduled to speak there next week, but already has hired a player off the basketball team who reached out when he learned a local golf course superintendent was coming to talk about careers in golf.
He is replicating that recruiting tactic at Fisher High School 25 miles north of the Champaign-Urbana area.
"I think I can establish a nice pipeline to Mahomet and Fisher," White said. "Once I get started, through word of mouth I can get their brothers and friends and round out my crew."
Every time I placed an ad, about 30 people would respond; I would schedule interviews for about five and only one of them would show up. I was spending a lot of time for very little return."
Conrad Pannkuk, assistant superintendent at Wynstone Golf Club in North Barrington, Illinois, said he and superintendent Ben McGargill are having similar challenges finding help, especially since his employer, Century Golf, started using the e-Verify system.
This year, Pannkuk spoke to an FFA group at a recent Barrington High School job fair about the careers in turf, including golf course maintenance, sports field management and sod production.
"I spoke about what the job entails, expected salary and what the job entails," Pannkuk said. "I want to show them what career options are available to them. If I'd known about this when I was in high school, I would have been all over it."
In the past, when he worked at the Biltmore Country Club in Illinois, Pannkuk relied on Web sites like Indeed or Craigslist to find temporary help. Results were sporadic at best.
"Every time I placed an ad, about 30 people would respond; I would schedule interviews for about five and only one of them would show up," he said. "I was spending a lot of time for very little return."
Finding new ways to attract talent, he said, is more important now than ever.
"We're working with local community colleges. You have to be creative to get your name out there in as many places as possible," he said. 
Making his case to local high schoolers has been a good fit for Pankkuk, and much better than relying on generic help-wanted Web sites.
"Looking for help through Craigslist and Indeed was tedious and depressing," he said.
"Going out and speaking to high school groups is fun. It's like going out and teaching, and I enjoy teaching."