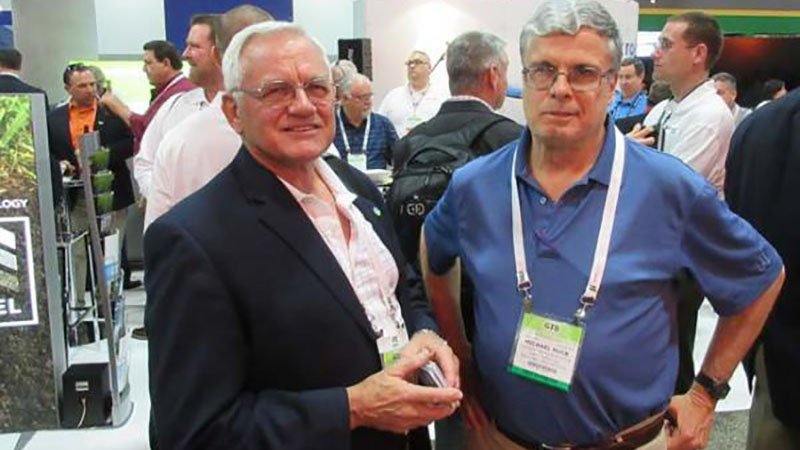 California has been mired in drought for much of recent memory. The state's ability to deliver enough water to 40 million people has reached crisis level that in recent years has included voluntary reductions and state-mandated cutbacks and has changed the way superintendents manage golf courses.
Standing at the center of this issue for the golf industry has been Mike Huck, a former superintendent and USGA Green Section agronomist and, for the better part of two decades, an irrigation consultant and a self-made expert on all things water in the country's most populous state.
Because of his contributions to golf in California and beyond, Huck's former employer will make him the recipient of its highest honor next month when he receives the USGA Green Section Award at the association's annual meeting in San Antonio. The award has been given annually since 1961 to one who exemplifies outstanding contributions and dedication to the game of golf through their work with turfgrass.
Access to adequate supplies of quality water is one of the most significant challenges facing the golf industry, and nowhere is this issue more critical than in California. Huck has taught and talked about water issues for years, and was among the founders of the California Alliance for Golf, a non-profit entity that serves as a unified voice for all aspects of the state's golf industry in a variety of capacities, including environmental issues such as water-use matters.
In a 2016 TurfNet profile on Huck, Russ Myers, the former superintendent at Los Angeles Country Club and now the head greenkeeper at Southern Hills in Tulsa, Oklahoma, spoke about Huck's contributions to golf on the subject of water.
"Mike is the most trusted voice of water issues in the state. Mike is a former golf course superintendent, but he's not a golf guy. He's a water guy," Myers told TurfNet in 2016.
"With Mike, you felt you had a real voice, not a blind advocate or a paid lobbyist. He knows what the issues are, what is realistic and what is not."
Mike is the most trusted voice of water issues in the state.
A native of Wisconsin, Huck has been in the golf business since the early 1970s when he worked at Maplecrest Country Club in Kenosha. He's been a Californian since his days studying turf at Cal Poly Pomona, where he graduated in 1982. While there, he worked at Industry Hills Golf Club at Pacific Palms Resort, first on the crew, then as assistant and later superintendent until 1989. He then moved on to become superintendent at Mission Viejo Country Club and later the Southern California Golf Association Members Club. 
"Mike's continued dedication to elevating the topic of water conservation in golf and advocating for education and dialogue has benefited courses across North America and the world," said Kimberly Erusha, Ph.D., USGA Green Section managing director, in a USGA news release. "His innovative approach, matched with his ability to communicate very complex science in a relatable way, has provided game-changing leadership that helps golf courses and communities."
Previous winners include: (2018) Tim Hiers, CGCS, (2017)    Dr. Norman Hummel, (2016) Dr. Bruce Clarke, (2015) Dr. Pat Vittum, (2014) Dr. Peter Dernoeden, (2013) Dr. Victor Gibeault, (2012) Wayne Hanna, (2011) Dennis Lyon, (2010) Dr. Dan Potter;
(2009) Terry Bonar, (2008) Ted Horton, (2007) Dr. Joseph Vargas, (2006) Dr. Robert Shearman, (2005) Peter Cookingham, (2004) Monroe Miller, (2003) Dr. Houston Couch, (2002) George Thompson, (2001) Dr. Patricia Cobb, (2000) L. Palmer Maples, Jr;
(1999) Dr. Noel Jackson, (1998) B.J. Johnson, (1997) Dr. Paul Rieke, (1996) Robert Williams, (1995) David Stone, (1994) Dr. Kenyon Payne, (1993) Dr. Ralph Engel, (1992) Dr. Richard Skogley, (1991) Dr. Joseph Troll, (1990) Chester Mendenhall;
(1989) Dr. James Beard, (1988) Dr. Roy Goss, (1987) Sherwood Moore, (1986) James Montcrief, (1985) Dr. Victor Youngner (1984) Dr. William Daniel, (1983) Alexander Radko, (1982) Charles Wilson, (1981) Dr. Joseph Duich, (1980) Dr. C. Reed Funk;  
(1979) Arthur Snyder, (1978) Dr. Jess de France (1977) Edward Casey, (1976) Dr. James Watson (1975) Dr. Fanny-Fern Davis, (1974) Dr. Howard Sprague, (1973) Dr. Marvin Ferguson, (1972) Herb and Joe Graffis, (1971) Tom Mascaro, (1970) Eberhand Steiniger;
(1969) Dr. Fred Grau (1968) James Haines (1967) Elmer Michael, (1966) Dr. H. Burton Musser, (1965) Dr. Glenn Burton, (1964) Joseph Valentine, (1963) O.J. Noer, (1962) Dr. Lawrence Dickinson, (1961) Dr. John Monteith, Jr.