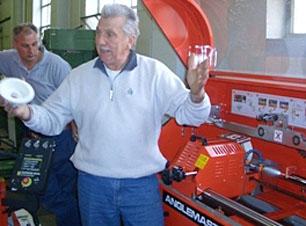 When it comes to describing Tom Hurst, technical specialist for Bernhard and Co., superintendent Dave Delsandro of Nassau Country Club in Glen Cove, N.Y., had four words: "Tom simply gets it."
Hurst, who has more than 30 years of experience serving the turf industry, recently was named as the recipient of the International Golf Course Equipment Managers Association 2013 Edwin Budding Award.
Sponsored by Ransomes-Jacobsen, the seventh-annual award recognizes individuals for their contributions to the golf turf maintenance industry. The award's namesake is credited with inventing the reel mower in 1832 and the adjustable crescent wrench.
"This is difficult to explain, but you rarely find an individual in any industry that has unprecedented technical knowledge and expertise coupled with an incredible work ethic and the understanding of real-world applications," Delsandro said. "Tom has and will undoubtedly continue to elevate the level of our profession. He has left a lasting legacy on everyone he has worked with throughout his career, and I feel honored to be one of those people."
Other finalists for the award were Patrick Callaby, David Kirschner, Fred Peck and Mark Johnson.
"No job is either too big or too small for Tom," said John Zimmers, superintendent at Oakmont Country Club in Pennsylvania. "Simply put, Tom is a constant professional."
The award will be presented during the British and International Golf Greenkeepers Association annual conference scheduled for Jan. 21-24 in Harrogate, England.
Previous winners include Dana Lonn of Toro (2012), Wes Danielewicz of Forest District of DuPage County, Ill. (2011), Vollie Carr of Jacobsen (2010), Eddie Konrad of Seneca College (2009), Eric Kulaas of The Vinoy Renaissance Resort (2008) and Ed Combest of Lake City (Fla.) Community College, now Florida Gateway College (2010).