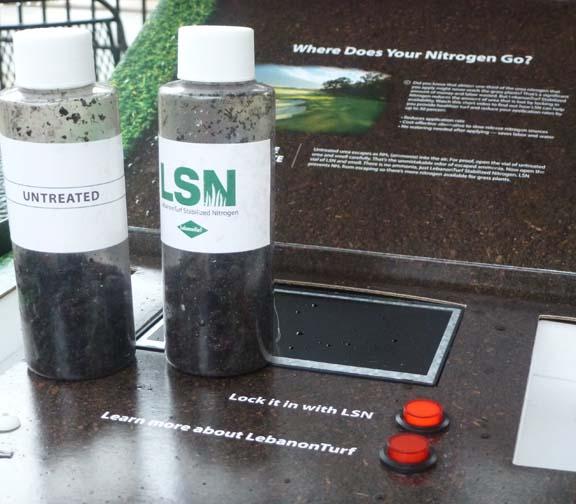 As a media company, TurfNet receives a lot of press kits, some of which are better than others. Some of the most innovative ones have included things like turf-scented cologne and Bigfoot slippers designed to help introduce new products. But you know you have a good media kit when it's one that won't make it through airport security.
Imagine the alarm caused by a large, yet deceptively light package that contains two clear vials of an unknown substance and an electronic device with flashing red lights flashing and a small video display screen. 
It wasn't an incendiary device, or an anthrax hoax gone awry. It was an ingenious video-in-a-box sent by former superintendent and current Lebanon marketing manager Chris Gray promoting the company's Pro line of products formulated with
Lebanon Stabilized Nitrogen
.
Unfortunately, the Samsonite gorilla must now work at the post office because by the time the package arrived, the lights were flashing uncontrollably and the onboard power source seemed to have expended itself. But we liked the idea so much we went online to learn more about LSN anyway.
Without the benefit of the video, here is what we learned.
LSN is found in the Lebanon Pro portfolio of stabilized nitrogen products, as well as herbicides on nitrogen and insecticides on nitrogen that are formulated to reduce volatilization, making more N available to the plant.
According to Lebanon, as much as 30 percent of nitrogen in urea-based fertilizers can be lost into the atmosphere if the product is not watered in after application. Treated with a urease inhibitor, LSN is stabilized and reduces volatilization.
According to research in the scientific community, ammonia in fertilizer is activated by the enzyme urease, but it also is easily lost into the atmosphere since ammonia naturally occurs in a gaseous state when released, thus requiring watering in after application.
Urease inhibitors act as a substrate for the urease enzyme, allowing the ammonia to stay in the solution longer. It's technology that has been popular in agriculture for many years, but is a relative newcomer to turf.
In the case of Lebanon's LSN, reduced volatilization can help superintendents reduce fertilizer rates by as much as 30 percent.
Lebanon's LSN portfolio includes straight fertilizer products as well as herbicide on fertilizer containing Prodiamine or Dimension, and insecticide on fertilizers formulated with Merit.